#RelationshipGoals: Cebu lovers both board topnotchers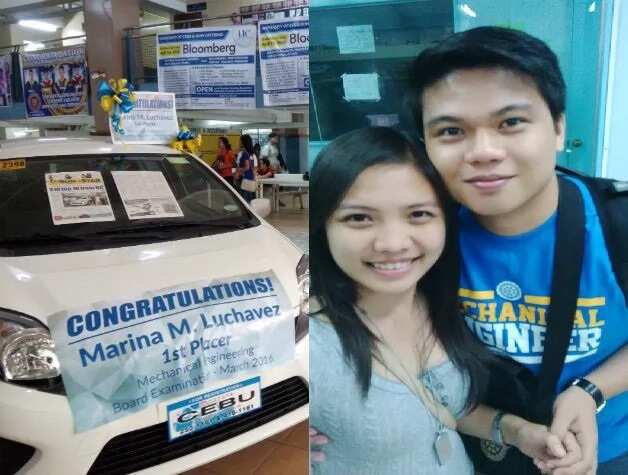 Now, whose car will they use for date night?
Marina Luchavez was rewarded a brand new car by her alma mater, the University of Cebu, after she topped the 2016 mechanical engineering licensure exam this March.
Just half a year ago, her boyfriend Micah Arceño also received a car from the same university when he topped the same board exam in September 2015.
Now, their unique back-to-back feat is inspiring Filipino netizens, pegging them as #relationshipgoals!
READ ALSO: University of Cebu rewards its top board placer with brand new car
"I'm very thankful to the Lord because this achievement is an answered prayer. I'm very thankful to my churchmates who helped me pray to achieve this. I really am overjoyed I achieved my goal," said Marina in an interview with Rappler.
It was Micah who inspired his girlfriend to push for the top.
Marina was reviewing for the boards when Micah topped his and got a red Toyota Wigo as reward.
He told her: "My love, if I could do it, you can too. So let's make it our goal."
Six months later, Marina received her brand new white Toyota Wigo.
The young couple said their achievements, which has gone viral, are all rooted in God.
"Everything comes from the Lord," said Micah.
Marina added: "Try their best in studying. Don't forget to pray always, especially when they feel down and hopeless because of pressure. And always keep in mind that God is with them to help."
Source: KAMI.com.gh