University of Cebu rewards its top board placer with brand new car
HIGHLIGHT: Topping this year's licensure exams for mechanical engineers with 91.6% is Marina Luchavez -she is also the latest recipient of a brand new car and P100,000 cash from the University of Cebu (UC) which has made it a tradition to gift their top students with this special reward.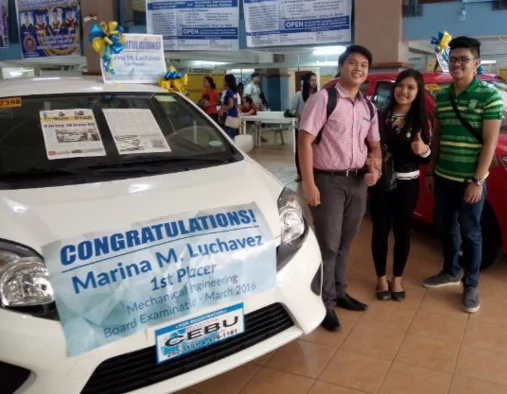 UC student Nina Luchavez is the latest recipient of not one, but two Tyota Wigos -for her great performance at the recently-concluded Mechanical Engineering Licensure Exams.
Luchavez chose a white car in memory of her sister who died a decade ago. While the other Wigo -a red one, will be for her two mentors Engrs. Ronnie and Rodel Nava. They decided to convert the car's worth to cash and will split it.
Rappler reports that UC president and owner Augusto Go, said that this serves as an incentive to students who strive to be on top by working hard.
"A reward of a car for a topnotcher is very appropriate since its very hard to get the spot in any board exam. They deserve it," Go said.
Luchavez was not the first in 51 years of UC's history to receive such a remarkable incentive. Previously the institution has given out cars and hefty amounts to its topnotchers in law, education and architecture
"We don't require our topnotchers to give back to the school. They've done enough," Go said. "We even paid for car registrations, insurance and taxes. So there'd be no hassle on their part."
 Three graduates of the University of Cebu made it to the top 10 in the 2016 Mechanical Engineer Licensure Examination.
Others were Neil Ivan Jon Buquing Domingo, who placed second with a score of 91.15 percent, and Jay Rald Quiachon on fourth place with a score of 88.5 percent.
Photo Credits
Toyota Wigo Image AutoSearch Manila
Richale Cabauatan/Rappler
Source: KAMI.com.gh