CamSur Jeepney Crash: It's The End For Graduating College Student
HIGHLIGHT: A 21-year-old graduating college student died when the jeepney he was riding on fell into a 15-foot ravine in Camarines Sur (CamSur), south of Manila, last Friday.
 Jerome Fajardo tried to jump off the jeepney he was riding, but instead as the jeep was falling into the ravine, it fell on the student's body.
The jeep driver named Estelito Lumabi recalled traversing Barangay Olag Pequeño, Tinambac when an approaching vehicle made him hesitate so he hit the brakes but it failed and he eventually lost control of the vehicle.
Fajardo family was reported to have reached for an out of court settlement with the driver according to the local police.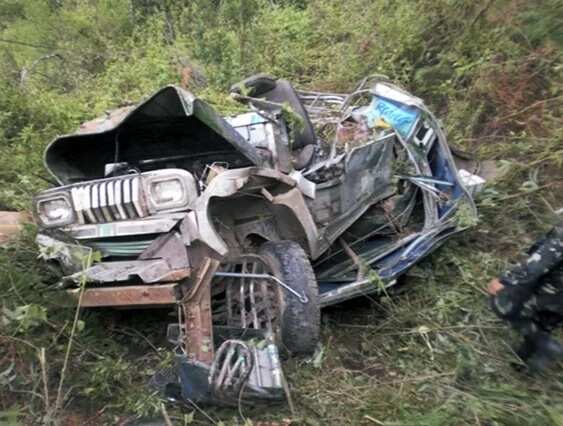 GMA File Photo">
In August 2015, the Philippine National Police through its Highway Patrol Group recorded 567 deaths, 5, 220 injuries from about 11 thousand traffic accidents nationwide.
Accidents on national roads recorded are 3,884, 1,576 on the expressways, 2,806 on city roads, 1,557 on village roads, 568 on municipal roads and 735 on provincial roads. While in 2012, the Metropolitan Manila Development Authority (MMDA) data indicate an average of 227 road accidents per day.
In a press briefing spokesperson Supt. Oliver Tanseco said that the rise in the number of road accidents are mainly due to "human errors and lack of road discipline."
The most common errors are due to: drunk driving, over speeding, mechanical malfunctions, lost brakes, overtaking, sudden manoeuvres and bad turns or reverses.
Photo Credits Very Share Image
Source: KAMI.com.gh