Duterte supporters bash Aiza Seguerra, UP student
Actress Aiza Seguerra and a law student from the University of the Philippines who recently released a statement against President-elect Rodrigo Duterte are now reaping invectives from the latter's supporters.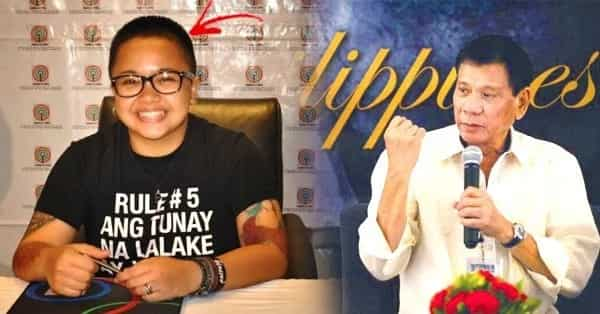 Seguerra, known for her apparent support for the outgoing Davao City mayor, has encouraged fellow Duterte well-wishers to respect contradicting opinions of other people towards the future president.
"As a Duterte supporter, I would encourage na sana wag naman tayo maging (others not to be) blind followers. It will help our President kung hindi tayo (if we are not) one-sided at marunong tayong magbigay ng respeto sa opinion ng iba (and for us to learn to respect the opinions of others) instead of fanning the flames of hatred towards people who don't share the same point of view or opinion," the celebrity singer wrote on her Instagram account.
However, some supporters of Duterte took Seguerra's pronouncement in a negative way. Others even slammed the actress. One Instagram user said: "Nakakahiya totoo ba kayong supporters ni mayor duterte? Wag nyong pakialam kung anong lumabas sa bunganga niya, pakialaman nyo kung may masama siyang ginawa, sinabi na nya he is trying to change kung uupo na siya diba?"
(What a shame, are you really supporters of Mayor Duterte? Don't meddle with what comes out of his mouth, watch out rather for whatever misconduct he may do, he already said he would try to change once he takes office, right?)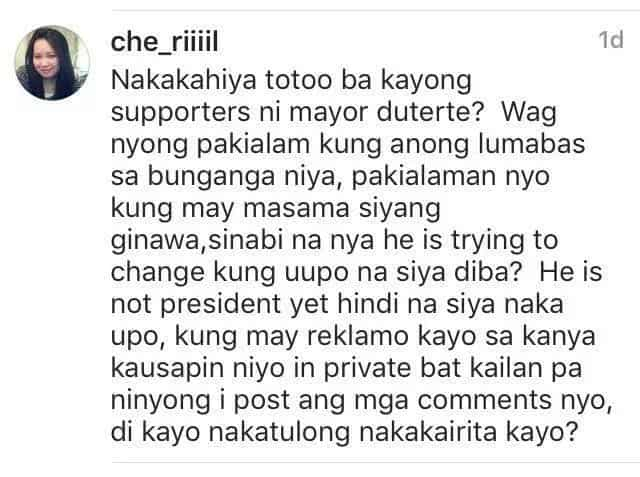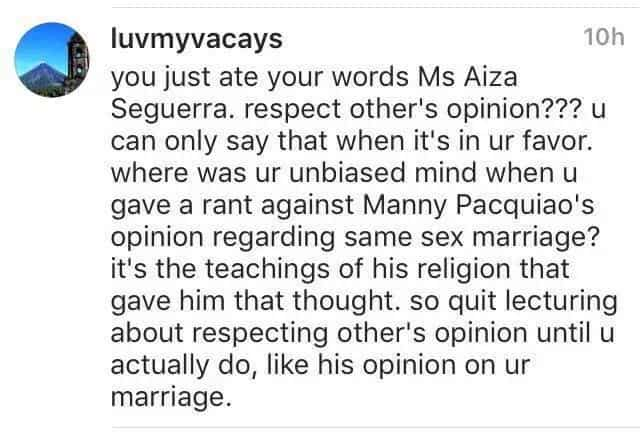 Meanwhile, UP Law student Chad Patrick Osorio found himself in the middle of social media firestorm after posting on his Facebook page a satire piece about the bad-mouthed, crime-busting politician. His opinion piece – Congrats Mayor! – that went viral online has rewarded him death threats.
Dann Navarro, a Facebook user has threatened Osorio that he will personally find the law student and kill him, which in exact words the former says in his comments: "hahanapin ka namin putqngna mo! Ako na papatay sau!ruwang tuwa ka g*go ka!!! nagpost kp animal ka!!!"
(We will find you [curse]! I will be the one to kill you! You're happy, aren't you, [curse]! You even had the guts to post, you animal!!!)
As a response, Osorio wrote in a separate Facebook post expecting that Filipinos would wake up from a "fascist, uncultured, nightmare of an administration."
"I wrote a sarcastic article to criticize an incoming politician, which is well within my right to speech. It's less vulgar and less insulting than a President of the country catcalling a female reporter on live TV. But his rabid fans are angry at me for mirroring the way they think…Good night, Philippines. May we wake up from this fascist, uncultured nightmare of an administration soon," he stated.
RELATED: Drug lords offer 50M bounty to kill Digong and PNP chief
Source: KAMI.com.gh