Devin Booker bio: Net worth, stats, girlfriend, parents
Devin Armani Booker, famously known as Devin Booker, is an American professional basketball player currently playing for the Phoenix Suns in the National Basketball Association (NBA). The tales of many NBA players echo sentiments of stars who curved their careers out of nothing but this is not the case with Devin Booker. Unlike many, Devin Booker's father is also a basketball star. This might have given Devin a father as a role model, but those were also enormous shoes to fill if he had to live to the expectations.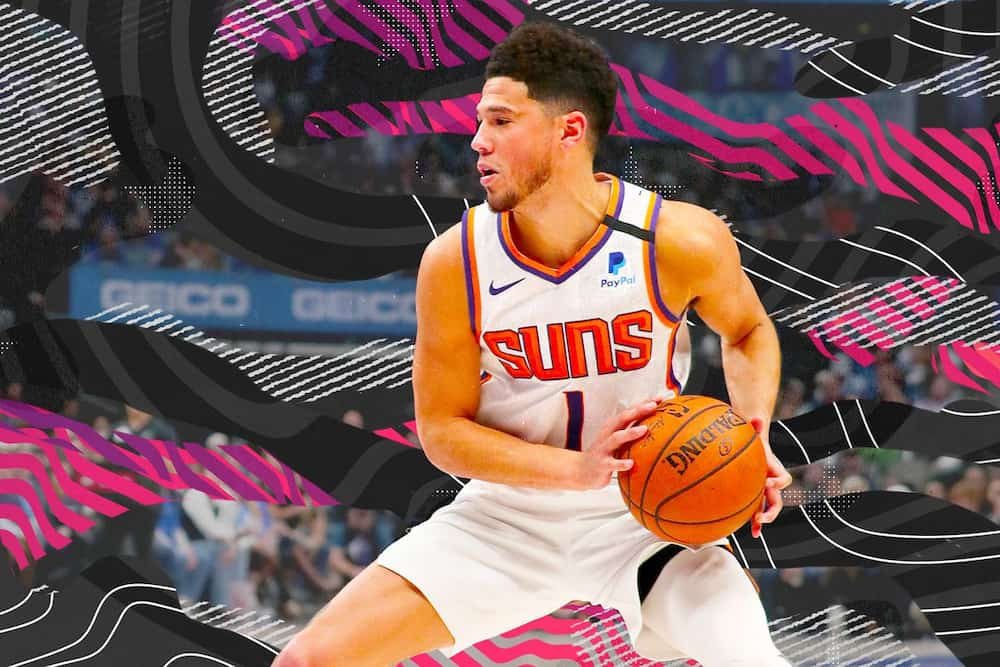 The influence of Melvin Booker, Devin Booker's father, is probably what made the star who he is today. He had just finished high school and was keen on moving from Mississippi to Michigan, where his mother was. His father had to do a lot of convincing for Devin to move away from his mother so that he could focus more on his basketball dream. This is what led to a career in the NBA and a strong bond with his father.
Devin Booker profile summary
Name: Devin Armani Booker
Date of birth: October 30th, 1996
Place of birth: Grand Rapids, Michigan
Devin Booker age: 23 years
Star sign: Scorpio
Nationality: American
Father: Melvin Booker
Mother: Victoria Gutiérrez
Occupation: Basketball player
Devin Booker biography
Devin Armani Booker was born on October 30th, 1996 in a place called Grand Rapids, Michigan, USA. His father, Melvin Booker, is of African-American descent and he played for the Continental Basketball Association Grand Rapids Mackers during the 1995-96 season.
His mother is Victoria Gutiérrez, and she is of Mexican-American heritage. This makes his ethnicity to be multi-racial. Devin's mother has two other children though not with Melvin Booker. Although they had a son, Melvin and Victoria never got married, but they shared the responsibility of raising their son.
He spent most of his childhood with his mother in Grandville because of his father's professional basketball career. He would spend his summers with his dad in Moss Point, Mississippi. Little information is available about Devin Booker brother, but he is understood to be a basketball lover who attends all his brother's games.
Parents
Devin Booker parents never got married to each other, thus leading a separate life. Melvin Booker, Devin's father, was a professional basketball player and was not present always due to the nature of his career. Melvin lived in Moss Point, Mississippi, a predominantly black neighbourhood while his mother lived in Grandville, Michigan.
This meant that He got to see his father only during the summer holidays. Devin and his father could practice basketball whenever they got the chance hence making him gain interest in the game from a very young age. Victoria Gutiérrez, Devin's mother, lived in the suburban neighbourhood of Grand Rapids.
This was a white neighbourhood completely different from Moss Point. Despite this, Victoria facilitated her son's meetings with his father and was very supportive of the father-son relationship. Melvin and Victoria met during one of Melvin's tours for the Continental Basketball Association, but their relationship did not lead to marriage despite the two remaining in good terms.
READ ALSO: Trae Young bio: Age, parents, nickname, stats
Girlfriend
Devin Booker girlfriend is an Instagram model called Hannah Harrison. Hannah also happens to be the co-owner of a beauty salon in Los Angeles. Rumours of the relationship emerged when the two started following each other on Instagram and liking each other's posts.
Before that, Booker had been in a short-term relationship with Jordyn Woods. Devin Booker Instagram account gave away this relationship to the public even though the star had previously kept it low-key.
Devin Booker stats
Although he had been playing basketball all his life, Devin asserted his prowess in the game in High School when he registered 17 points in the 5th game of the season against Gulfport High School. This score was higher than the total of the rest of his teammates combined. He averaged 22.7 points in the season making him one of the best players on the coast.
NBA teams were already in contact with Devin's father looking to sign the young star. Devin joined the University of Kentucky where he continued to excel academically and as a player. While playing against the University of Pikeville on November 2nd, 2014, He scored 16 points in what was a turning point in his college basketball career. In the same month, he scored a season-high 18 points against Montana State.
He set another season-high score in the next match against Texas-Arlington where he scored 19 points. He averaged 10 points in his first college season. A year later, he signed for the NBA Draft and put his college education on hold.
In June 2015, He was selected by the Phoenix Suns as their 13th overall pick. He was a member of the 'Summer League' games, and he averaged 15 points per game earning him a professional debut just two days before he turned 19. This made him the first player to debut as a professional basketball player in the history of the NBA with only one year of college basketball experience.
In January of 2016, he scored a season-high of 21 points while playing against the Sacramento Kings. In the same month, he registered 32 points against the Indiana Pacers making him the youngest Suns' player and the third-youngest NBA player to achieve the milestone of more than 30 points in a single game.
The best performance of Devin's career was achieved in March 2016 when he registered 34 points against the Miami Heat. Within that month, Devin had recorded 30 or more points in 5 matches. At the end of his rookie season, he had scored a total of 1,048 points for the Phoenix Suns. With an average of 13.8 points per game, he became the fourth-youngest player to register over 1000 points in the first season.
In November 2016, Devin reached another career-high of 38 points against New Orleans Pelicans and even bettered the record a few days later when he registered 39 points against the Los Angeles Lakers. This made him the only Phoenix Suns player to reach the 38-point mark in two consecutive games in 28 years.
In January 2017, He hit 39 points again while playing against both the Dallas Mavericks and the San Antonio Spurs. This earned him another record as the youngest player in the history of the NBA to score 39 points in two consecutive games.
By February of 2017, Devin had become the youngest player in the NBA to score at least 20 points in 16 consecutive games when he hit another 31 points past the Milwaukee Bucks. In that season, his average score was 22.1 points per game.
In March 2018, Devin Booker became the third-youngest NBA player to reach 4,000 points after scoring 39 points against the Oklahoma City Thunder. Overall, he has played 272 games for the Phoenix Suns, and he started 247 of those.
During that time, he has averaged 32.9 minutes per game with a field goal percentage of .437 and a 3-point field goal percentage of .354. His free throw percentage stands at .854 while rebounds per game are at 3.5. He has averaged 4.2 assists per contest and .8 steals per game. His blocks per game stand at .3 while the points per game are 21.4, which is pretty impressive.
Devin Booker All Star debut
Even though he is still very young, it has been a long time coming for Devin Booker to be named in the NBA All-Star team. This honour he was accorded in February 2020, and he did not disappoint. Booker was named as a replacement for Portland Trail Blazers' injured Damian Lillard. Booker became the 24th different Suns player to be named an All-Star.
Devin Booker net worth
The young NBA player's net worth is estimated to be around $2 million according to the Celebrity Net Worth. Since he began his professional career before finishing school, it can be assumed that all his money has come from basketball-related activities. Devin Booker contract with Phoenix is a no-brainer given that the young player signed a max deal worth $158 million.
Although all parents want what's best for their children, they might not always know what the child wants. As a result, a wrong judgment by the parent may lead to strained relationships between them and their children. Luckily for Melvin Booker, he was right to follow his instincts in nurturing the talent of his son. Thanks to him, Devin Booker is now a very accomplished player at a very young age and will continue to shine at the highest level.
READ ALSO: Nash Aguas bio: net worth, age, height, girlfriend
Source: KAMI.com.gh