Deborah Sun biography, daughter, arrest, movies, age
Deborah Sun is an award-winning Philippines actor. She is best known for her mind-boggling roles in Pasan ko ang daigdig (1987), Pakawalan mo ako (1981) and Temptation Island (1980). Sun is one of the oldest actresses in not only the country but also in Asia.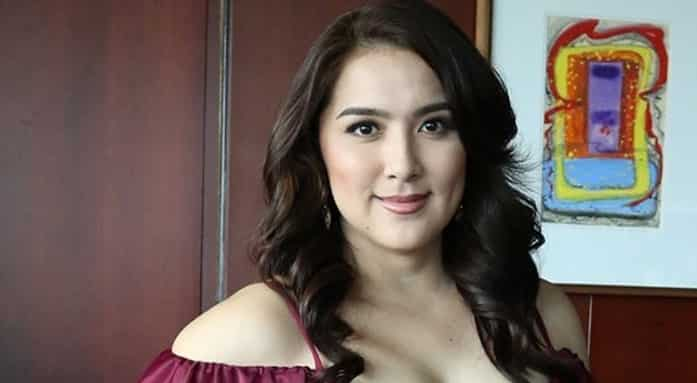 Debora Sun is a proud mother who never lets anything come between her and her family. Despite being 60 years old, she still looks youthful. Here is everything you need to know about Deborah Sun arrest, daughter, biography, movies, age and much more that you envisage.
Deborah Sun profile summary
Name: Jean Louise Porcuna Salvador
Date of Birth: Around 1960
Place of Birth: Philippines
Deborah Sun age: 60 years as of 2020
Nationality: Filipino
Occupation: Former actress
Marital Status: Married
Spouse: Jimi Melendez (Deceased)
Children: A son and two daughters and a stepdaughter.
Deborah Sun biography
Sun was born around 1960 to director Leroy Salvador and mother, Corazon Porcuna. Most Deborah Sun wiki websites suggest that she is currently 60 years old. Little to no details are known about her educational background and childhood life.
Sun is a cousin to Barbra Salvador, Luis Salvador, Michelle Salvador, Janella Salvador, and Maja Salvador. Most of her uncles, cousins and other relatives also ventured into the showbiz. Her uncle, Philip Salvador is a known politician and an actor who has had significant roles in dozens of films.
Deborah Sun actress career
Sun started acting as far as 1975. Her profession is full of significant accomplishments. Her first movie was "Tag-ulan sa tag-araw" where she starred as Jean Salvador. Two years later, she was featured in the "Tutubing kalabaw tutubing karayom" Filipino film.
By 1979 Sun had made it in the entertainment industry. The year saw her win principal cast roles in four films dubbed "Jaguar," "Dakpin si Junior Bumbay," "Bedspacers," and "Diborsyada." The following year Sun took part in some six movies which up to now are loved by lots of Filipinos.
Deborah Sun teleserye (TV show) career had a massive boost in 1981. It is still a mystery how she managed to be part of over 13 films in just one year. Some of her notable 1981 pieces include "Playgirl," "Pabling," "Boljak," and "Huk Hunter." In 1982, she was nominated to the Best Supporting Actress position in FAHAMAS Awards for her role in "Pakawalan mo ako."
Young Deborah Sun was already an icon by the end of the 20th century. She had taken part in popular films such as "1+1 = 12+1," "Jack and Jil," "Stolen Moments," "Till we meet Again," "Somewhere," and much more. Deborah Sun Temptation Island exposed her to modelling. The 1980 movie has a 2011 version which she and Azenith Briones were the only original cast included. The new adaptation was similar to the old one. However, it featured in Computer Graphic Images which histrionically improved its quality.
As from 2007, Sun began to explore TV series opportunities. It is during this period that she was signed in for significant roles in the famous "Boy Golden" TV show, "Amaya," "Munting Heredera," "Ilumuna," "First Time," among others. Her recent film "Tunay na Buhay" released in 2011 has been receiving positive feedback even from critics.
Deborah Sun movies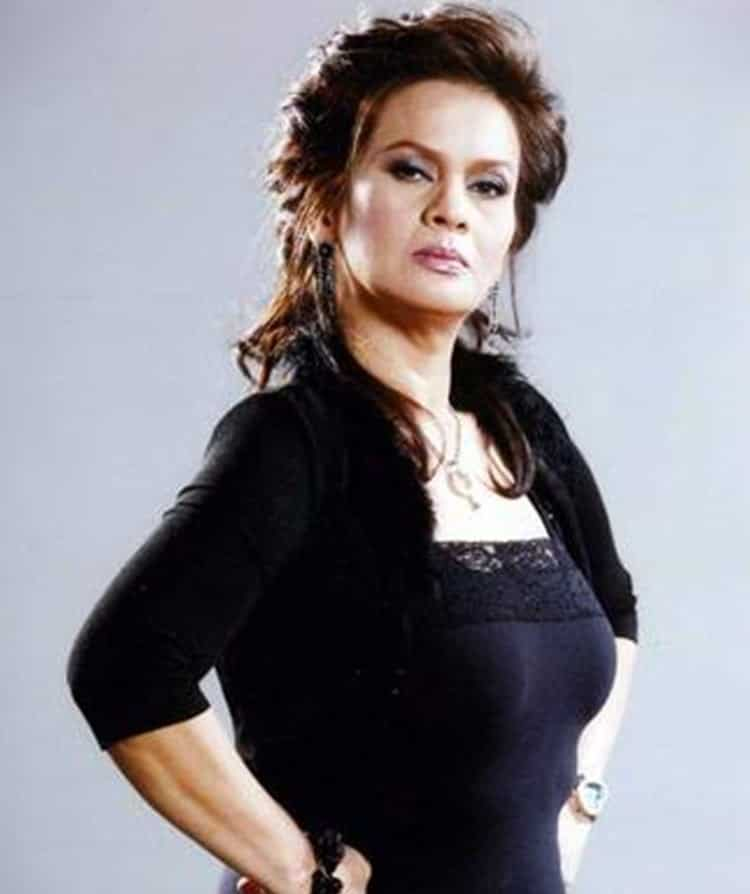 The talented starlet has taken part in the following TV shows and movies:
2014 - Moron 5.2: The Transformation as Mozart's Mother
2013 to 2014 - Magpakailanman as Bebeng and Luz
2013 - Boy Golden as Nanny
2009 to 2013 - Maalaala mo kaya as Nanay, Maria and Connie.
2012 - Magdalena: Anghel sa putikan as Cecilia Soriano
2012 - Moron 5 and the Crying Lady as Mozart Mother
2011 to 2012 - Reputasyon as Mindy
2011 - Kokak as Veronica
2011 - Mula sa puso as Selina's Nanay
2011 - Amaya as Iloy ni Raha Lingayan
2011 - Temptation Island as Nenuca Kikinang
2011 - Munting heredera as Tiya Meding
2010 - Ilumina as Pilar Abella (2010)
2010 - First Time as Principal Liza
2009 - Tinik sa dibdib as Mrs Tupaz
2008 to 2009 - Obra as Pining and Delia
2009 - Ded na si Lolo as Socorro
2009 - Totoy Bato as Matilda Molina
2008 - Magdusa ka as Amanda
2008 - ESP.
2008 - Babangon ako't dudurugin kita as Amparo
2008 - My Bestfriend's Girlfriend as Delia
2007 - La vendetta
2007 - Impostora as Fransisca Manansala
1995 - Minsan May Pangarap: The Guce Family Story
1989 - Bilangin ang bituin sa langit as Anselmo's wife
1988 - Joaquin Bordado
1988 - Pssst Boy! ... Halika
1988 - Ibulong mo sa Diyos
1987 - 1 + 1 = 12 + 1
1987 - Pasan ko ang daigdig as Bunny
1987 - Asawa ko huwag mong agawin as Sarah
1987 - Jack & Jill as Flora
1987 - Stolen Moments
1987 - Humanda ka... Ikaw ang susunod
1987 - Jack en Poy: Hale-Hale Hoy!
1986 - Bukas... uulan ng bala
1986 - Horsey-horsey: Tigidig-tigidig as Weldita
1986 - Yesterday, Today and Tomorrow as Jenny
1985 - Sangley Point Robbery as Marissa
1985 - Till We Meet Again as Debbie
1985 - Ben Tumbling: A People's Journal Story as Nelly
1984 - Baby Tsina as Tomboy
1984 - Somewhere as Beba
1984 - Adultery
1983 - Pieta as Jack's Girl
1983 - Warren Balane
1982 - Diary of Cristina Gaston as Violy
1981 - Tartan
1981 - Tropang bulilit
1981 - Huk Hunter
1981 - Boljak
1981 - Quintin Bilibid
1981 - Pabling
1981 - Estong balisong
1981 - Pakawalan mo ako as Bambi
1981 - Dakpin si pusa as Kumander Erlinda
1981 - Rosang tatak
1981 - Asal hayop
1981 - Bangkusay
1981 - Playgirl
1980 - Tatak munti
1980 - Temptation Island as Maria
1980 - Magno barumbado
1980 - Biktima
1980 - Nympha
1980 - Beach House
1979 - Diborsyada as Wendy
1979 - Bedspacers
1979 - Dakpin si Junior Bumbay as Gigi Salvador
1979 - Jaguar as Apple (Gigi Salvador)
1978 - Boy Apache as Gigi Salvador
1977 - Tutubing kalabaw tutubing karayom as Jean Salvador
1975 - Tag-ulan sa tag-araw as Jean Salvador
2011 - Tunay na Buhay documentary as Herself
READ ALSO: Gloria Diaz biography, age, height, movies, family
Deborah Sun family
Sun is connubial and probably the happiest mother ever. Below is a breakdown of the actress's family details:
1. Deborah Sun husband
The former showbiz starlet is associated with Jim Melendez whom they married in the 20th century. Her spouse was an actor, popularly known for his roles in "Bihagin: Bilibid Boys" (1981), "Rocco, ang batang bato" (1982) and "pabling" (1981). Unfortunately, he departed on 23rd August 1997 while in the Philippines.
2. Deborah Sun Jam Melendez and daughters
Sun is blessed with three children, namely Angela Gelanie Salvador, Jam Melendez and Gemmalyn. She also has a stepdaughter by the name Aiko Melendez, an actress and former politician.
The eldest Deborah Sun daughter, who is now 45 years old, was born when she was barely out of her teens. She got pregnant at 14 and gave birth to Gelanie at 15 years old! While wedded to Jimi Malandez, who already had a daughter by the name Aiko Melendez, she gave birth to Jam Melendez.
Jam is the firstborn son the actor has. Deborah Sun son is an actor who has had significant roles in "Ang erpat kong Asting" (1998), "Squala" (1998), and "I Think I Am in Love" (2002).
Little to no details are known about her third child Gemmalyn.
Deborah Sun scandals
The Temptation Island actress has previously been involved in the following tittle-tattles:
1. Daughter's troubles
When Deborah was a newcomer in the showbiz industry, speculations of her daughter hit the internet after she denied that Gelanie was her descendant. When her child was asked who her mum was, she would bitterly cry after saying, "Si Babe."
As a result of denying that Gelanie was her child, she grew up knowing that the lass was her elder sister, director Leroy Salvador her father, and Corazon Porcuna, her mother.
Gelanie, who is now around 45 years old, was sent to prison after being found in possession with illicit dr*gs. Since then, she has been so close to her mum, and they would hug and kiss every time they see each other.
2. Own troubles
At the height of Deborah Sun young career, she, just like her daughter, got hooked on illicit dr*gs. This forced her to fly to the United States in the year 1989.
In 1989, Lorna Tolentino moved to the court and filed an estafa indictment against the actress.
3. Deborah Sun arrested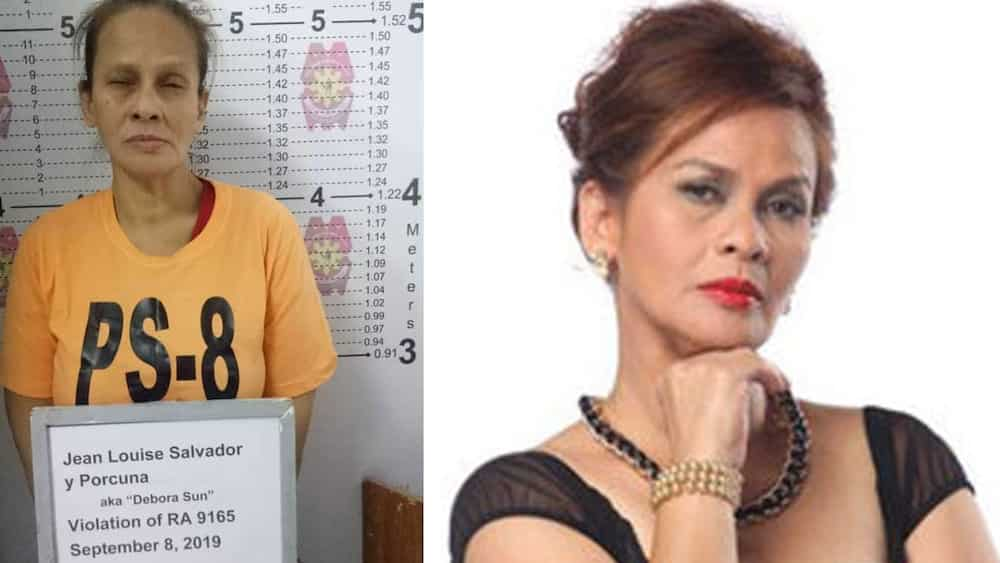 Sun returned to the country in 2004. She was immediately detained for anti-bouncing checks violation. However, she was released on a conditional pardon a year later.
The actress had maintained that she had reformed for the better. She citied she was no longer using illicit dr*gs. Sun added on and pointed out that she was tired and at one point, thought of committing suicide. However, this was not possible as every time she would abandon the idea on the grounds of her children's well-being.
In 2019, she hit the headlines again after being arrested in Quezon city in a buy-bust police operation. Angela Salvador daughter of Deborah Sun was also detained with other three suspects, namely Gerald de Guzman and Gonzalo Gonzales.
The actress and her daughter faced charges in the court for the violation of the Comprehensive Dangerous Dr*gs Act of 2002.
Social media pages
The former sexy actress is not active on Twitter, Facebook, Instagram and Snapchat. This is understandable as she is no longer in the showbiz industry. She is also old and probably concentrating on other important issues.
Debora Sun is one of the oldest actresses in the Philippines. Her career has not been smooth as she has been detained twice on illicit dr*gs' possession charges. Nonetheless, the legacy she left during her active years will be etched into the minds of many Filipinos.
READ ALSO: Kai Sotto height, age, biography, family, stats
Source: KAMI.com.gh