BtoB members profile: Age, facts, birthday, height, religion
BtoB (Born to Beat) is a Korean band that is managed by Cube Entertainment. The group comprises of seven members, namely Seo Eun Kwang, Lee Min Hyuk, Lee Chang Sub, Im Hyun Sik, Peniel Shin, Jung Il Hoon, and Yook Sung Jae. A good number of BtoB members have left for military training, leaving the team with only four active individuals.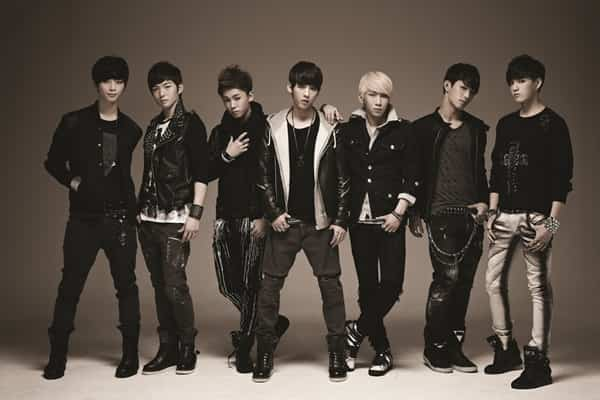 Following the release of their first two singles, 'Insane' and 'Imagine,' the group went on to perform on Mnet countdown and gained accolades around the world. Two years after their debut in Korea, BtoB was once again on an expedition to the Japanese market. Their first Japanese release came in November 2014 and was titled "Wow."
Coupled with the publicity they gained from going international with their amazing content, the band was also awarded handsomely. Some of their awards include "Best Vocal Group Award" in 30th Golden Disc Awards, "Singer of the Year" (2015) KBS Music Festival, and "Ballad Award" in the 25th Seoul Music Awards. Their success can be attributed to the splendid performance of management and choice of BtoB members position.
BtoB members profile
Here are BtoB members birthday dates for each. We have also included the respective BtoB members height, weight, blood type, and other crucial details;
Seo Eunkwang
Stage name: Eunkwang
Birth name: Seo Eun Kwang
Position: Leader, main vocalist
Birthday: November 22, 1990
Zodiac sign: Sagittarius
Height: 173 cm (5'8″) / Real Height: 170.5cm (5'7″)
Weight: 62 kg (136 lbs)
Blood type: A
Specialties: Vocals, piano
Sub-unit: BtoB Blue
Twitter: @btob_sekwang
Instagram: @btob_silver_light
Facts
Eunkwang hails from Seoul in South Korea.
His younger brother's name is Eunchong.
His favorite color is blue.
He partnered with Yoo Sung Eun to release a single titled "Love Virus."
He assumes the role of "father" in the group.
He has proficiency in musical instruments and can play the piano.
He likes to listen to emotional songs.
He attended an all-male middle and high school.
Together with his friend, Eunkwang opened a cafe in Singapore and named it after Korea's country code +82.
He appeared in the musicals "Monte Cristo," "Bachelor's Vegetable Store," "Hamlet," "Goddess is Watching," "The Three Musketeers." He was the starring in all instances.
He enlisted in the military on August 21, 2018.
Lee Minhyuk
Stage name: Minhyuk
Birth name: Lee Min Hyuk
Position: Lead Rapper, lead dancer, vocalist, visual
Birthday: November 29, 1990
Zodiac sign: Sagittarius
Height: 173 cm (5'8″)
Weight: 61 kg (134 lbs)
Blood type: A
Specialties: Composing music, writing lyrics, exercising, rap making, acrobatics
Instagram: @hutazone
Twitter: @btob2mh
BtoB members Minhyuk (facts)
Minhyuk was born in Seoul, South Korea.
His older brother is called Jungmin.
His favorite colors are black and white.
He was a cast member of the second season of "The Romantic & Idol."
He is a 'Holiday Star' according to his friends.
He's a seasoned athlete, having won several gold medals at "Idol Athletics."
He holds the record of the highest vault jump, reaching 2.75 m after his 2014 attempt.
Growing up, he wanted to be a professional soccer player.
He owns a puppy named Hamo.
His instrumental skills include playing the piano.
He played in web-dramas starring ('Nightmare Teacher' and 'Unexpected Heroes').
He was featured in the movie 'The Swordsman' and also played a role in the drama "Monstar".
He was enlisted into the military on February 7, 2019.
READ ALSO: Bigbang members profile: age, height, military, dating
Lee Changsub
Stage name: Changsub
Birth name: Lee Chang Sub
Position: Lead Vocalist
Birthday: February 26, 1991
Zodiac sign: Pisces
Height: 177 cm (5'10")
Weight: 64 kg (141 lbs)
Blood type: O
Specialties: Piano and drums
Sub-unit: BtoB Blue
Instagram: @lee_cs_btob
Twitter: @LeeCS_BTOB
Facts
Changsub hails from Suwon, Gyeonggi-do, South Kor. His younger sister is named Jungeun.
His favorite color is black.
His instrumental skills include drums, guitar, and the bass.
He was once a skateboard athlete.
He has a fear of heights (acrophobia).
He attended Howon University.
Talking of BtoB members' tattoo styles, Changsub has one on his shoulder with the writing "Don't be defeated from yourself."
He enlisted into the military on February 15, 2019.
Hyusink
Stage name: Hyunsik (현식)
Birth name: Im Hyun Sik (임현식)
Position: Main Dancer, lead vocalist
Birthday: March 7, 1992
Zodiac sign: Pisces
Height: 177 cm (5'10")
Weight: 66 kg (145 lbs)
Blood type: A
Specialties: Vocal, Composition, Lyrics, Guitar, Piano
Sub-unit: BtoB Blue
Instagram: @imhyunsik
Twitter: @BTOB_IMHYUNSIK
Facts
He has a brother who is older than him (Yoonsik)
Hyusink was born and raised in Seoul, South Korea.
Hyusink's favorite color is red.
His hobbies includes singing, writing, and composing music.
Hyunsik has five tattoos. On his neck, he has a star/moon design; on his arm - a triangle (an "M" for Melody, a peeled banana, and a fish (pisces) design with the numbers 3 and 7 representing his date of birth).
He has instrumental skills and can play both acoustic and electric guitars, as well as the piano.
He is a song composer and writer.
His father, Im Jihoonr, is a singer.
He studied in Shanghai for two years.
His favorite season is winter.
He has a good athletic body but is more confident with his shoulders than abs.
Peniel Shin
Stage name: Peniel
Birth name: Shin Dong Geun
Position: Lead rapper, vocalist
Birthday: March 10, 1993
Zodiac sign: Pisces
Height: 175 cm (5'9″)
Weight: 63 kg (139 lbs)
Blood type: AB
Specialties: Acting, guitar
Instagram: @btobpeniel
Twitter: @PenielShin
YouTube: POV
Facts
Peniel was born and raised in Chicago, Illinois, United States.
He is not the firstborn - He has an older sister named Jennifer.
He is a former JYPE trainee.
He is fluent in English.
His hobbies include listening to music.
He was the last member to join BtoB.
Peniel can play bass guitar.
He likes to take food pictures before eating; he is allergic to watermelon.
He has a cat allergy.
He suffers from a condition known as alopecia (hair loss).
To tell his fans the true reason why he went bald, Peniel opted for a role in a TV show, 'Hello Counselor.'
Ilhoon
Stage name: Ilhoon
Birth name: Jung Il Hoon
Position: Main rapper, vocalist
Birthday: October 4, 1994
Zodiac sign: Libra
Height: 176 cm (5'9″)
Weight: 64 kg (141 lbs)
Blood type: B
Specialties: Rap, writing lyrics
Instagram: @ilhoonmj
Twitter: @BTOB_ILL
Facts
Ilihoon was born and raised in Seoul, South Korea.
His older sister is named JOO.
One of his hobbies is shopping.
He hates cold weather.
Ilhoon can play the piano.
He invented the name 'Melody' as the fandom's name.
Ilhoon has four tattoos. On his chest, he has "Nadie Puede ser Como Dios" ("No one can be like God"); on his wrist - paw prints (friendship tattoo); on his ribs - "1004"; and on his forearm - the labarum.
He was featured on HyunA's Roll Deep MV.
Made his official solo debut "She's Gone" MV on March 8, 2018.
He has released his solo debut album "Big Wave" in March 2018.
Yook Sungjae
Stage name: Sungjae
Birth name: Yook Sung Jae
Position: Temporary leader, lead vocalist, face of the group
Birthday: May 2, 1995
Zodiac sign: Taurus
Height: 180 cm (5'11")
Weight: 68 kg (149 lbs)
Blood type: A
Specialties: Vocals, snowboarding
Sub-unit: BtoB Blue
Instagram: @yook_can_do_it
Twitter: @BTOB_6SJ
Facts
Sungjae was born in Yongin, Gyeonggi, South Korea.
He has an older sister named Sungyoung.
He prefers black and red colors.
Sungjae's hobbies include fishing, snowboarding, and shopping.
During the final round of a JYP open audition, Sungjae was dropped from the list.
He can play acoustic and bass guitar.
He has a Snow Bengal cat in the name of Sami.
Together with Red Velvet's Joy, he filmed "We Got Married."
Sungjae and Ong Seongwoo from Wanna One were classmates in Hanlim Arts School.
He was part of the cast in the drama "Monstar."
Has featured in various Korean dramas.
Official accounts of BtoB
Check out the BtoB members' official Instagram and other social media accounts;
Official Facebook handle: BTOBofficial
Official Twitter account: @officialbtob
Official YouTube account: officialbtob
BtoB members facts
Here are some facts about the group;
Pre-debut
Initially, the group was formed by Cube Entertainment. The original BtoB members names include Seo Eunkwang, Lee Minhyuk, Im Hyunsik, Jung Ilhoon, and Lee Minwoo. One of their initial programs was JTBC sitcom "I Live in Cheongdam-dong" as one of their debut projects.
Debut
BtoB's debut was in 2012. The event to mark their debut was held in Seoul, which was live on their YouTube channel. In the launch, they performed their original tracks.
The group released its first reality program titled Amazon in April 2012. It was live on Mnet. In May 2012, the group released another single titled "Father."
Philanthropic activities
One striking feature about BtoB is their philanthropy. Regardless of BtoB members religion, they have come together and donated safety gloves during "The Winter's tale" held in January 2015.
BtoB members age difference has never been a major concern. The group has been on the front run as the ambassadors for Juvenile Diabetes Association since 2017.
BtoB subgroups
There is only one sub-unit born by the group;
BtoB Blue
BtoB Blue is the first subgroup under BtoB group. It comprises of members with different specialties, including vocalists Eunkwang, Changsub, Hyunsik, and Sungjae. Their debut digital single "Stand by Me" was released on September 19, 2016. Their second release was on August 2018, and it was titled "When It Rains."
Current active members
There are a total of seven members in BtoB. Four are active members at the moment while three are out on military service.
Active members
Hyunsik
Peniel
Ilhoon
Sungjae
Current inactive members
Eunkwang
Minhyuk
Changsub
Concerts and tours
BtoB has carried out tours and concerts across Korea and Japan. They include;
Tours
BtoB Zepp Tour 2016 B-Loved (2016)
BtoB Zepp Tour BtoB Time Japan (2017)
Headlining concerts
2014: Happy Summer Vacation with BtoB
2014- 2015: 1st concert: Hello Melody
2015: 1st solo concert: 'The Secret Diary.'
2015-2016: 2nd concert: Born to Beat Time
2016: Born To Beat Time ~ Encore
2017: 3rd concert: BtoB Time
2017-2018: 4th concert: BtoB Time – Our Concert
2018: 5th Concert: BtoB Time – This Is Us
"I'll be Your Melody" concerts
2015: Be Your Melody
2016: You and Me, Memories of Spring
2017: Like A Movie
2018: Missing Melody
2018: Can't Live Without Melody
Since its debut, BtoB has been on the forefront as one of the best performing boy-bands in Korea. Their works transcend from their local setting to Japan and the world at large. They have released albums and hit singles that have won them awards. Some BtoB members are not active at the moment but the group is still soaring high.
READ ALSO: Shinee members' profile: age, height, girlfriends, are they close
Source: KAMI.com.gh