A snatcher, as the robbers are called, saw a girl's bag. He quickly assumed that he will gain something from it so he went for the steal. WATCH what happens.
Ang lakas! Young girl beating up a snatcher is the best thing to watch today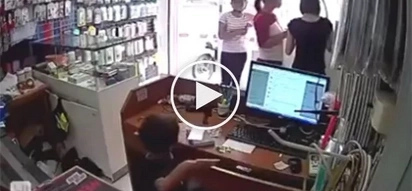 This mother and her son went in a cellphone store, not to buy a phone, but to steal one. Sad part is, it was the mother who taught her son to do the stealing.
Walanghiyang ina! Mother teaches son to steal and it was captured on CCTV
Online users were amused and shocked by a recent CCTV footage that went viral which shows a burglar getting scared to death as he is beaten up by a resident.
Bugbog sarado! Shocking CCTV footage shows brave resident beating up scared burglar