Warriors win again sans Stephen Curry
Even without Stephen Curry, the Warriors are doing well.
The Golden State Warriors took a 2-0 edge in their Western Conference semifinal series against the Portland Trail Blazers with a 110-99 victory on Tuesday night (Wednesday morning, Manila time).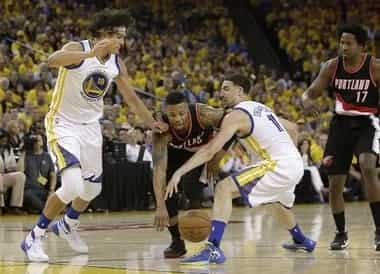 The reigning NBA champions looked lost without Curry as they trailed by double digits in the first three quarters. The Warriors were thoroughly outplayed by the Blazers. They were staring at a 17-point deficit midway through the second quarter and 11 heading to the final period.
Curry's backcourt partner came to the rescue for the Warriors. After a 37-point output in Game 1, Klay Thompson led the Golden State with 27 points, including 10 in the fourth quarter run. Draymond Green finished with 17 points, while Andre Iguodala and Shaun Livingston combined for 29 markers.
Seldom-used Festus Ezeli sparked the Warriors' defense, so they were able to mount a comeback late in the fourth quarter. His defense on Damian Lillard stifled Portland's offense. Golden State made a 28-6 run to outscore Portland in the payoff period by 22 points.
Lillard paced the Trail Blazers with 25 points. He scored 17 of his 25 points in the third frame when the Warriors started chipping away their lead. C.J. McCollum supported Lillard's output with 22 points, but it was not enough to steal one win on the road.
Game 3 is headed to Portland on Saturday. The Trail Blazers will have obvious home court advantage, but it might be negated when Curry returns for Golden State. It was earlier reported that the reigning MVP might suit up for Game 3 or 4 in the series, depending on his conditioning and recovery after suffering an MCL sprain in his right knee.
Source: KAMI.com.gh