BREAKING: Pacquiao wins over Bradley, fight analysis and conclusion
Pacquiao wins over Bradley
In what looks to be his final career match, Manny Pacquiao wins a unanimous and solid victory over his rival Timothy Bradley in the conclusion of their trilogy. The final score of the judges were 116-110, 116-110, 116-110, cementing Pacquiao's legacy with a historic final win. Pacquiao wins and becomes the World Welterweight Champion.
https://twitter.com/RapplerSports/status/719022374356516865
Round analysis
In an explosive 12-round match, Manny Pacquiao pulled no punches and gained the early lead. The first round was an evenly matched round. Both players were testing the waters and feeling each other out. In rounds 2 and 3, Pacquiao was gaining the upper-hand in points, though Bradley was just around the corner. Bradley is very sharp and focused, looking take the early momentum from Pacquiao. As rounds 3 and 4 start, Manny's footwork becomes more agile and well coordinated. This puts pressure on Bradley, as his right jabs are answered with equally destructive left hooks. Bradley sticks to body and head shots as he works to weaken the Pacman. The crowd's excitement grows.
In round 5, Pacquiao got cornered. Bradley unleashed a slew of punches with Manny unable to connect his own. The crowd goes wild, as they're seeing a good exciting boxing match right in front of them, no holds barred. In late 5th round Pacquiao and Bradley are trading punches. Bradley pulls an uppercut, Pacquiao responds with a flurry of punches.
Round 6 is Manny's turning point. He becomes more aggressive but maintains poise and accuracy of his punches. Pacquiao connects combos to Bradley.
Pacquiao held his ground and matched Bradley's speed and power with his own, all the way to round 7. The aggressive Pacman knocks down Bradley with a right hook when he chased him. Bradley looks to regain his momentum. He's in big trouble, and his trainer Atlas knows it. Pacquiao knows he's in the advantage and works hard to keep that advantage in round 8.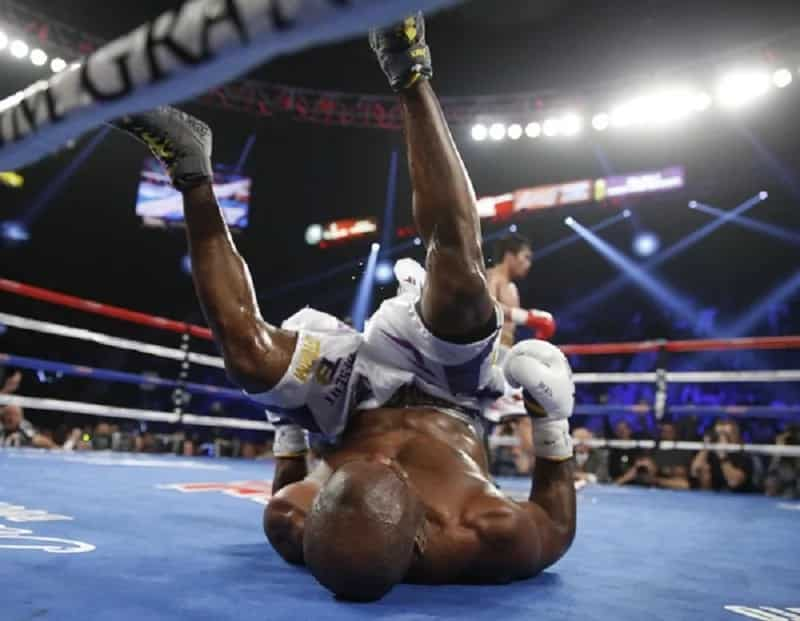 Bradley enters round 9 explosive and ready to pounce. He matches Pacquiao's footwork with aggression. In a flurry of punch exchanges Manny manages to knock down Bradley even harder with an unorthodox hook! Bradley tumbles and gets back on his feet. Bradley is every energetic, looking to regain after two knock downs.
Round 10 and 11 was a slow pace, with neither fighter giving an inch. In the final 12th round of this historic match, both fighter regain their vitality and give it their all. As the last minute of the match arrives, the crowd cheers even louder for what may be Pacquiao's final match. The energy around the arena is massive. Pacquiao is still looking in fine form in the last round. In the last 30 seconds of round 12, Bradley's desperation grows. He's more aggressive close to reckless. This slightly catches Pacquiao off-guard. Manny still able to keep up with his footwork and fast reflexes. In the final 10 seconds of the fight, Bradley charges Pacquiao with a barrage of punches. Pacquiao elegantly wades them off in a side-step, and Bradley gets caught in ropes. In the last three seconds, seeing the opportunity, Pacquiao unleashes all his fury on the rope-caught Bradley finishing the match with a punch combo.
The final punch landed to punch thrown ration was 122/439 for Pacquiao, while 92/201 for Bradley.
Conclusion
In the post-fight interview, Manny is questioned if he will indeed retire. Manny responds: "Yes... Physically I can still fight, but I've made the decision to serve the Philippines and to spend more time with my family."
Source: KAMI.com.gh