Is Albert Pagara ready to be the next Pacquiao?
- Filipino legend Manny Pacquiao said he is done with boxing
- Boxing fans are now on the lookout for the next generation of fighters to take up the mantle that Pacman has left behind
- One of those fighters may be Albert Pagara, a junior featherweight from Cagayan de Oro City
- Pagara is undefeated (26-0), with 18 knockouts
Ever since Manny Pacquiao retired from boxing, Filipino boxing fans are searching for the next would-be boxing superstar - a fighter or fighters to wave the Philippine flag up high.
Could a 22-year-old undefeated junior featherweight from Cagayan de Oro City be the one?
Albert Pagara has slowly risen among the ranks and has now become a top attraction for ALA Promotions's Pinoy Pride cards.
Pagara holds a 26-0 undefeated record, with 18 knockouts.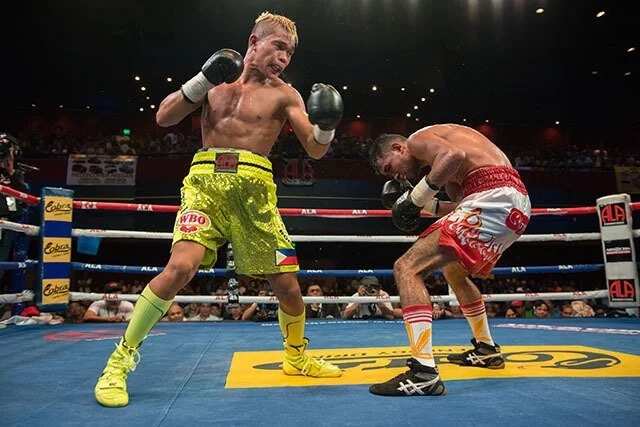 He is set to fight against Mexico's Cesar Juarez (17-5, 13 KOs) on Saturday, July 9 (Sunday PST) at the San Mateo Event Center in San Mateo, California.
Juarez gave Nonito Donaire Jr one the toughest fights of his career in December 2015.
Pagara is confident he can take on Juarez: "I feel this is the right time for this kind of fight because I've been ready for a big one."
READ ALSO: Pacquiao declares retirement with finality
Born in Maasin City in Southern Leyte, Pagara was a son of a former boxer who introduced him to the sport at the age of 8. He and his older brother Jason were both trained in the sport.
As a teen, Pagara competed every Sunday in amateur fights. He stacked up around 400 fights before going pro.
Like Pacquiao in his early rise, Pagara also dons an electric dyed blonde hair. He is also training now at the Wild Card Gym for his upcoming fight with Juarez.
But aside from the superfluous similarities and their common roots in Leyte, Pagara and Pacquiao's fighting styles are very different. Pagara tends to be a more conservative fighter compared to Pacquiao's whirling dervish.
"I tell them I'm different from Pacquiao. I will always strive to be one of the Philippines's best, but I can never be like him. I want to carry the Philippines's tradition of boxing in my own way," asserted Pagara.
READ ALSO: PH boxers bid goodbye to Olympics
Source: KAMI.com.gh