Taal volcanic smog detected, health advisory issued
- The Philippine Institute of Volcanology and Seismology (Phivolcs) said that volcanic smog or vog has been observed at Taal Volcano in Batangas
- Phivolcs said there is an upwelling of hot volcanic fluids in the Main Crater Lake, causing steam plumes to rise as high as 2,400 meters high adrift west-northwest
- The institution issued a health advisory as volcanic smog persists
- Authorities also suspended Friday classes in several parts of Metro Manila, Cavite, Laguna, and Batangas
The Philippine Institute of Volcanology and Seismology (Phivolcs) said that the Taal Volcano in Batangas has been observed omitting vog.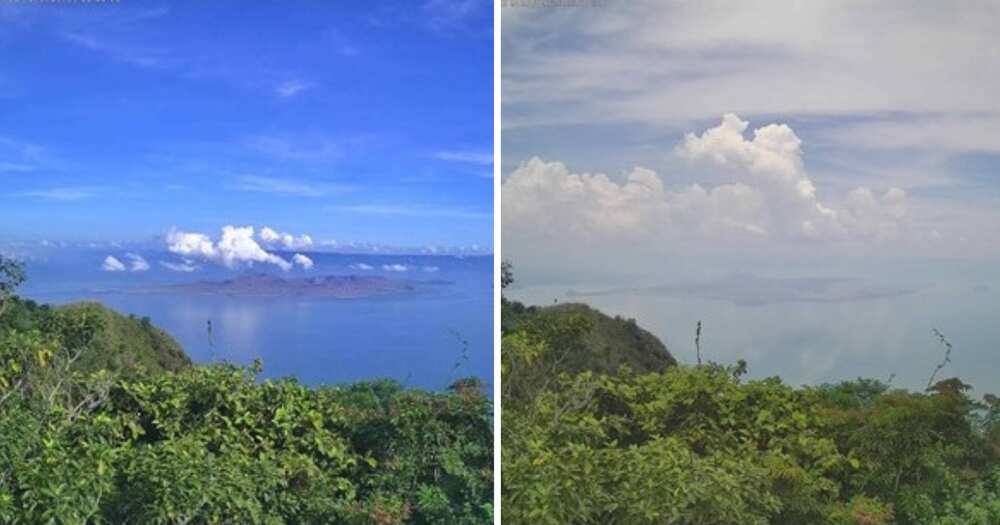 In a report by Philstar, state volcanologists monitored an upwelling of hot volcanic fluids in the Taal Main Crater Lake, which brings steam plumes rising at 2,400 meters high adrift west-northwest.
"Vog has been affecting the Taal region since the first week of September 2023 as an average of 3,402 tons per day SO2 has been degassed from Taal Volcano for the month," the report wrote, quoting Phivolcs.
According to Manila Bulletin, Phivolcs explained that the composition of vog can cause eye, throat, and respiratory tract irritation "with severities depending on the gas concentrations and durations of exposure."
The institution advised the elderly and those with health conditions such as asthma, lung, and heart diseases to limit their exposure to vog and reduce outdoor time. It also advised people to wear an N95 facemask and drink plenty of water to soothe throat irritation.
As per Inquirer, classes at all levels in public and private schools in several parts of Metro Manila, Cavite, Laguna, and Batangas are suspended on Friday.
Taal Volcano, referred to as Bulkang Taal by locals, is a huge caldera filled with water and is referred to as Taal Lake located in the province of Batangas. The volcano is among the most active in the country with 34 recorded eruptions so far, all of which occur on Volcano Island near the center of Taal Lake. Scientists say there is likelihood that prehistoric eruptions formed the caldera. Until now, experts are unable to determine if such formation continues to play a factor in the very active status of the volcano.
A video of the eruption of Taal Volcano also surfaced online. It can be recalled that the volcano has been showing unrest since the year 2020, just before the COVID-19 pandemic hit Philippine soil.
Last 2022, Taal Volcano suddenly exploded forcing around nine thousand residents living within the vicinity to flee the area. Experts call it a "phreatomagmatic burst," which occurs when hot magma comes into contact with water. The eruption also unleashed gray smoke that reached three kilometers into the sky.
Source: KAMI.com.gh