Chesca Garcia pens heartfelt message for her "two baby girls" as she watches them growing up
- Chesca Garcia recently shared a heartfelt post dedicated to her daughters, Kendra and Scarlett Kramer
- It shows several photos of the lovely celebrity mom with her "two baby girls"
- In the caption, Chesca penned a lengthy message for her daughters, who she said have all grown so much
- Kendra and Scarlett took to the comments section to write sweet replies to their mother
Chesca Garcia's recent post on her Instagram page captured the hearts of her followers.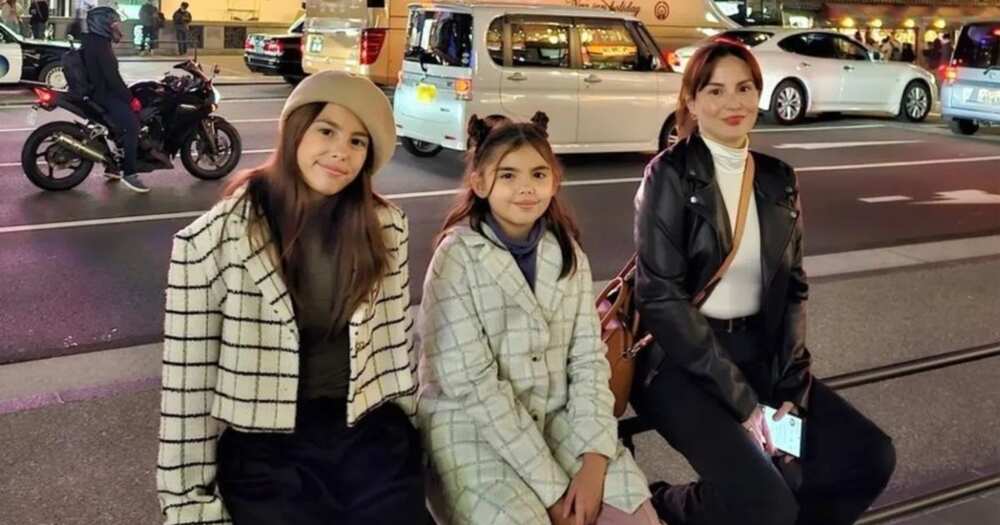 Her post shows several photos of herself with her and Doug Kramer's two daughters, Kendra and Scarlett.
Alongside the snaps, the celebrity mom penned a lengthy caption where she expressed her heartfelt message to her "two baby girls."
"My two baby girls! Time really flies by so fast. In a blink of an eye, one is as tall as me and the other one is not far behind from catching up."
"I have to stare at you two to see how you've all grown so much. Yet, my mind still chooses to see you two as my little girls."
Chesca went on to share that she is so thankful about how both Kendra and Scarlett still want to be around her.
"I love how clingy you both still are. I love how you both come to me to do fun things, but, at the same time know that you can count on me whenever your hearts are troubled. I love that you find comfort in me. I love that what I have to say matters, and you believe in my guidance and wisdom."
She also told her two beautiful kids, "But, shall the time come when the tides of your life changes, and you drift, and let go a bit. I want you both to know that I will not get tired of pursuing you."
"I will always be here for you, and my arms will always be ready to welcome and embrace you. And, I will never stop letting you know that I am just here and that I will always love you. Because, I know when you're ready you'll always find your way back to me."
"Ilove you my @kramer.kendra and @scarlettkramer let's always stay the way we are! I love being with the both of you!" Chesca added.
Meanwhile, the two celebrity kids took to the comments section and wrote their sweet replies to their mother.
"AWWWW THANK YOUUU MOMMY!!! DW WE'LL NEVER DRIFT," said Kendra.
"Thank you mommy!!! I LOVE U!!!" Scarlett commented.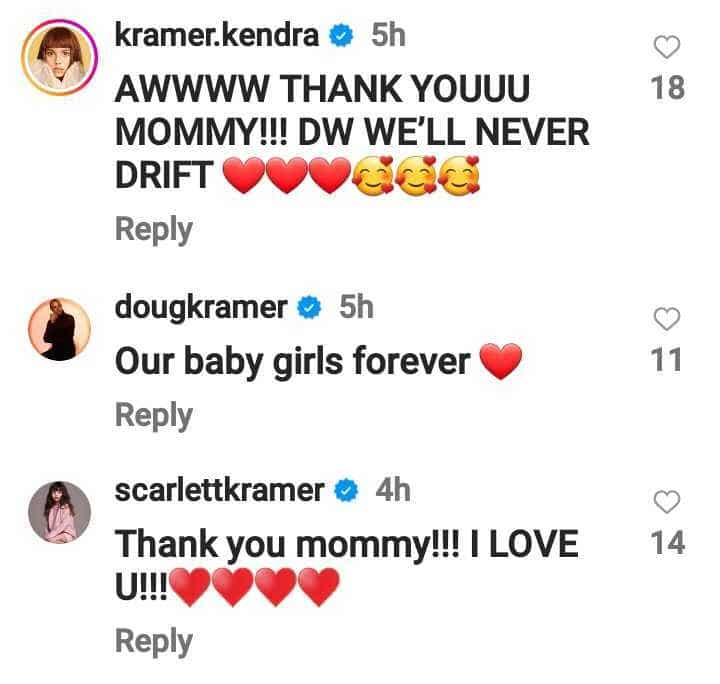 Chesca Garcia and Doug Kramer tied the knot on Oct. 9, 2008, at the Blue Leaf Events Place in McKinley Hill, Taguig City. The event was attended by their closest friends and family. They have three adorable kids – Clair Kendra Kramer, Scarlett Louvelle Kramer, and Gavin Phoenix Kramer.
In a previous report by KAMI, Chesca wowed her followers on Instagram with some stunning photos that she uploaded. In the photos, she is with her beautiful daughters, Kendra and Scarlett. The three of them are wearing stunning outfits in the said pictures. Furthermore, the celebrity mom's post has gained numerous comments from netizens.
Earlier, Chesca took to social media to greet Doug a happy birthday. On her Instagram account, the celebrity mom uploaded a reel containing photos she and Doug took back in the day. According to Chesca, she and her adorable kids are extremely blessed to have Doug in their lives. She also expressed her gratitude to Doug and how proud she was to have Doug by her side.
Source: KAMI.com.gh