Bahay ni Maggie Wilson, muling sinalakay ng mahigit umano 30 ka tao: "You called her a liar"
- Maggie Wilson took to IG Stories and decried how about 30 people allegedly went to her house in Manila
- She said that it was around 10 p.m. and that they were allegedly with a lawyer who did not identify himself
- The model said that these people should make sure that they are arresting the correct person, and that when asked for a warrant, they couldn't produce one
- Maggie also posted screenshots of the video that they have recorded when the said men came to her house
Maggie Wilson took to Instagram Stories and addressed "Authorities" who came to her house in Manila at around 10 in the evening.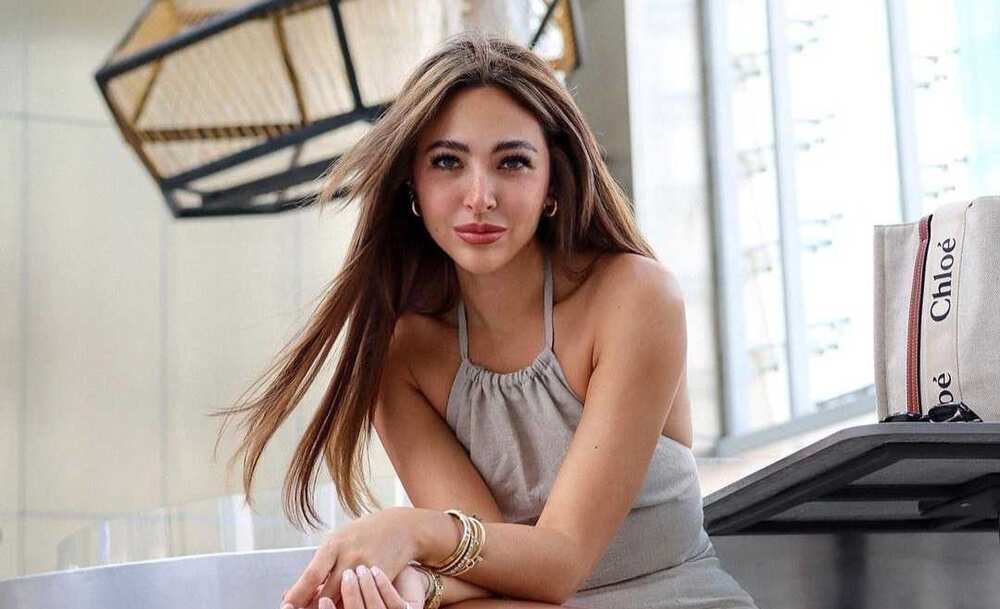 The model said that about 30 men came, tried to break down the door of her house and arrest her sister, and when they claimed that they had a lawyer with them, the said lawyer would not give identification.
She also stated that when they asked for a warrant, they could not even produce one.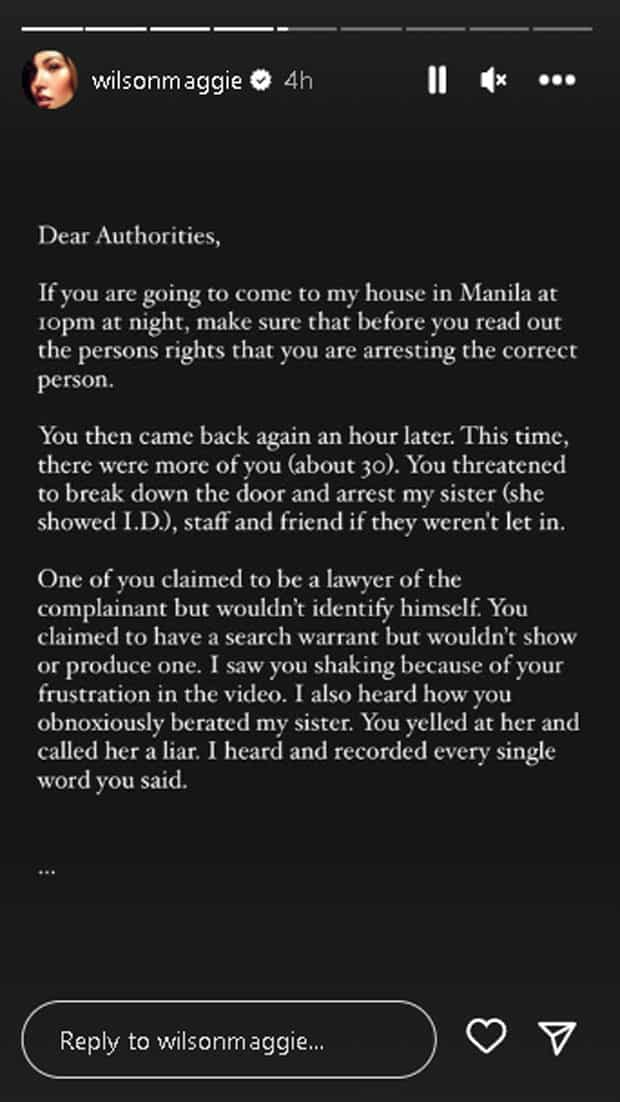 According to Maggie, they also berated her sister, yelled at her and called her a liar.
She then commended her sister for standing her ground and hit at the "reliable" source of the said "authorities."
"It's a good thing my sister stood her ground has a sense of humour about this whole debacle."
"Whoever your 'reliable' source is, is NOT reliable and is embarrassing ALL of you. Whoever it is, you should charge him/her for wasting the authorties time."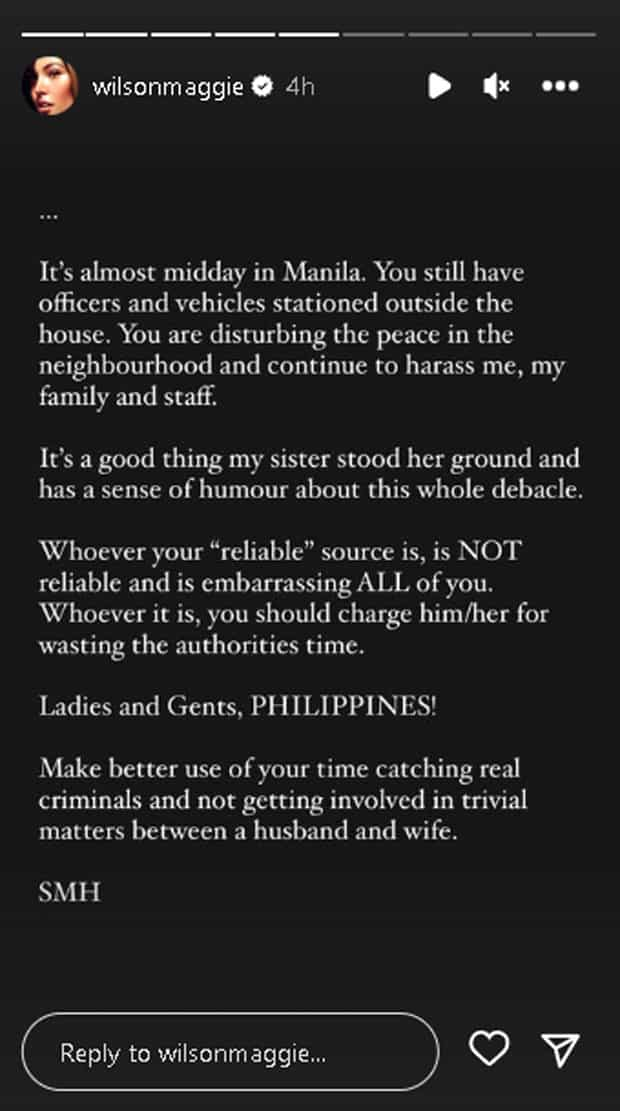 Here is the screenshot of the men who allegedly came to her house.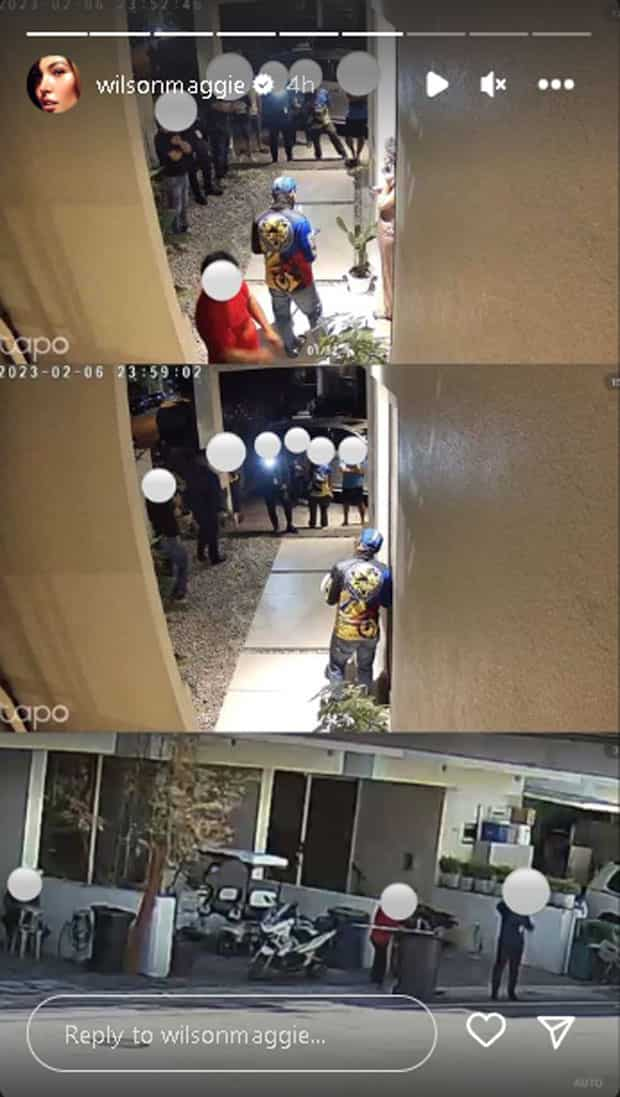 Maggie Wilson is a TV Actress, beauty queen, model and entrepreneur. She was nominated as Miss Pilipinas-World and represented the country in the 57th Miss World Pageant. He also acted as Litgarda in the series Darna. Several months ago, she parted ways with her husband, real estate titan Victor B. Consunji.
Maggie, in a social media post, gave advice about how to deal with people who make up stories. She said that one should trust his or her intuition about the stories these people tell and not mind what they say but rather pay more attention to how such individuals behave. The model and beauty queen reminded everyone that actions "speak louder than words" and is very difficult to fake.
She has refuted the adultery allegations of Victor Consunji in a series of Instagram stories. Previously, Victor made headlines when he filed a case of adultery against Maggie and her business partner, Tim Connor. Following this news, Maggie took to social media to even post a video as her alleged evidence against his claims.
Source: KAMI.com.gh