Isabelle Daza shows intense workout; treats herself to some pizza after exercise
- Isabelle Daza shared a video of her intense workout session
- She is seen in the video doing some cardio, core work, split squats, overhead presses, and rows for a full-body workout
- The actress also included the caption: "Discomfort is temporary. Yeeahhh right"
- At the end of the video, Isabelle treated herself to some pizza after burning calories in the gym
Actress Isabelle Daza inspired and motivated her fans and followers through her new Instagram video. The viral video shows Isabelle going to the gym for an intense workout session.
The celebrity mom is seen in the video compilation doing cardio, core work, split squats for her quads, dumbbell overhead presses for her shoulders, and some rows for her back.
Her workout video is accompanied by a quote that reads: "Discomfort is temporary. Yeeahhh right." The workout video ends with a clip of Isabelle treating herself to a cheese pizza after burning some calories.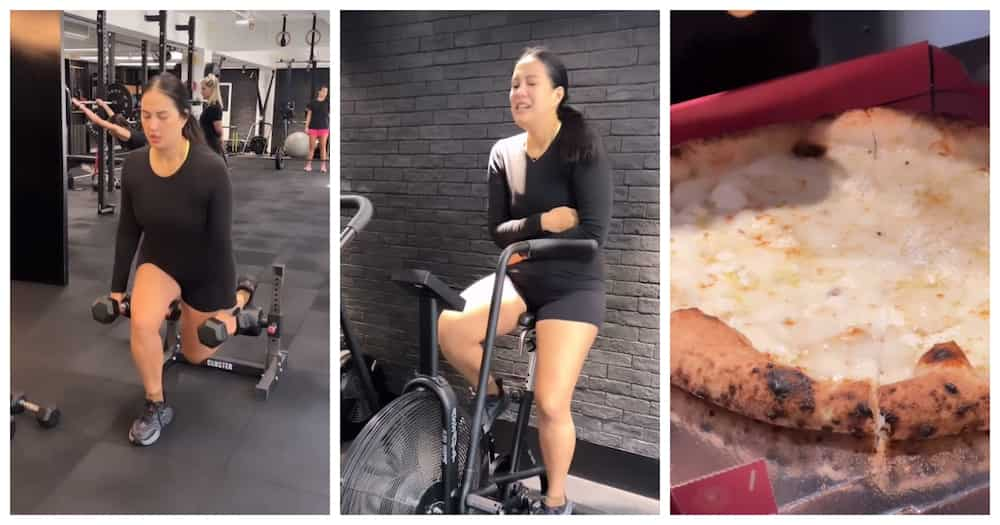 Here are some of the comments of netizens who watched the video:
"HAHAHAHAHAHHAHAHAHA THE ENDING!!!"
"Napakatotoo tlga hahaha! Love it!"
"Excited to see the result next month. Go mami!"
Isabelle Daza is a Filipina actress, model, and celebrity mom whose mother is Miss Universe winner Gloria Diaz. She is married to Adrien Semblat, a French businessman. Isabelle and Adrien matrimony service was held on September 10, 2016. The colorful yet private wedding was held at the historic San Francesco Church in the city of Tuscany, Italy.
Recently, the actress took to IG Stories and shared the story of Wilma Santos. Ate Wilma lives in Cavite, a single parent and she has five children. As per Ate Wilma, she hand-makes the piggy banks with a neighbor every day and travels to Manila to sell them on the streets. The celeb mom bought a bunch from Ate Wilma and even advised her that she should increase her price from P150 to P250.
She also previously took to IG and jokingly shared that her passion in life is collecting reimbursements from the insurance company. The actress then included a funny caption, which reflects what is normally told her. In the first part, it was to fill out a form, sign, and have the doctor sign, including missing a signature. At the end of the statement was a clincher, saying that she needed to submit within 24 hours or else they could not refund.
Source: KAMI.com.gh