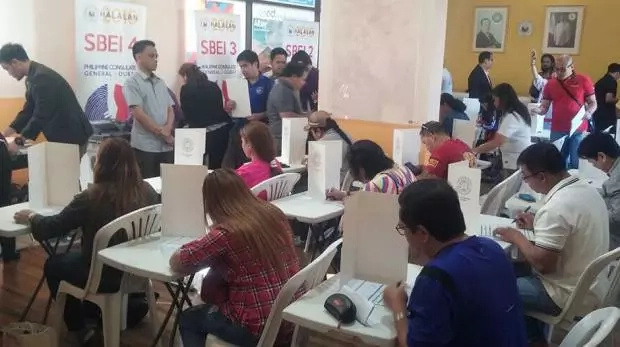 The Commission on Elections (Comelec) reported on Saturday that the overseas absentee votes (OAV) canvassing has already been completed.
Comelec Commissioner and chair of Comelec Office for Overseas Filipinos (OFOV) Arthur Lim said that all of the 58 certificates of canvass (COCs) from 82 Philippine posts all over the world had been admitted and canvassed at the national canvassing center of the Commission on Elections.
Based on the results shown by the Comelec, Senator Ferdinand "Bongbong" Marcos was leading the vice presidential race with 176,669 votes, while Camarines Sur Representative Leni Robredo got 89,935 votes.
Robredo, who is now leading in the overall partial and unofficial tally, won in 10 posts – Agana, United States, Canberra, Jakarta, Vatican, New Delhi, Yangon, Berne, The Hague and Port Moresby, while Marcos took the rest.
Lim said that 432,706 actually voted out of the 1.37 million registered overseas absentee voters. This is reportedly the second highest voters' turn out since absentee voting started in 2014.
Comelec-OFOV Secretariat head Jane Valeza noted that some 30,000 overseas Filipinos in North America, Latin America and Africa were not able to vote. She lamented that the official ballots sent by the poll body sent through postal service as early as February did not reach the registered voters.
The other reasons given by the Comelec for a relatively lower voter turnout compared to the rest of the country are the high mobility of the Filipinos living overseas, distance of Philippine embassies and consular offices from the places of work of these voters, and employers who did not allow them to vote.
 The May 9 elections posted the highest voter turn-out of 81% and are generally regarded by the Comelec as a success.
In a parallel count by the Parish Pastoral Council for Responsible Voting (PPCRV), Robredo is leading by more than 216,000 votes. She had 14,016,126 votes, while Marcos had 13,799,835 votes with 96.07 percent of precincts transmitting.
Based on the PPCRV data, Marcos got the most number of votes in the overseas absentee voting and in 7 regions: the National Capital Region, Cordillera Autonomous Region, Cagayan Valley, Central Luzon, Eastern Visayas, Soccsksargen regions, and his bailiwick, the Ilocos region.
Robredo, on the other hand, got the most number of votes in 10 regions: the Autonomous Region in Muslim Mindanao, Negros Island, Calabarzon, Mimaropa, Zamboanga Peninsula, Western and Central Visayas, Northern Mindanao  and Caraga regions, and Bicol, despite having several vice presidential candidates from that region.
Before the elections, there were speculations that there will be cheating in the elections, and allegations have surfaced about how some overseas absentee votes were rigged to favor the administration bet over now presumptive President Mayor Rodrigo Duterte.
Source: Kami.com.ph