With her beautiful bright eyes, skin as white as snow, and natural talent in acting, this mestiza beauty has been conquering the nation's TV screens since she was young. Mika Dela Cruz, the known Goin' Bulilit star and Kara Mia actress, is no stranger to the world of show business as she has been in the industry since 2006.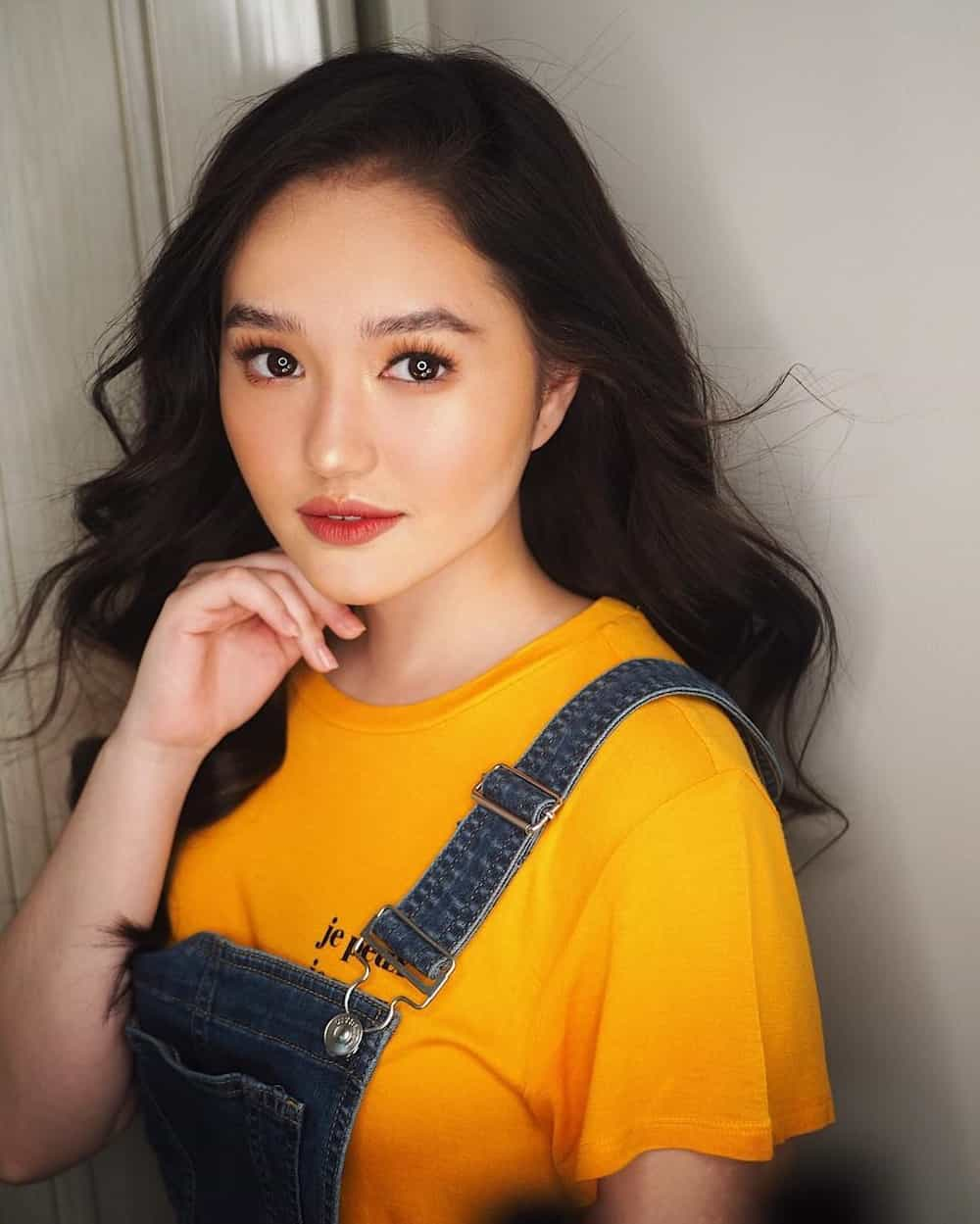 With her experience and bright career ahead of her, there is so much to get to know about the actress especially behind the glitz and glam of celebrity life.
Mika Dela Cruz real name and profile summary
Name: Mariko Nicolette Egger Dela Cruz
Birthday: December 09, 1998
Birthplace: Tokyo, Japan
Age: 20 years old
Zodiac: Sagittarius
Height: 1.56 m or 5'1"
Mother: Angelika Egger
Father: Ernie Dela Cruz
Profession: Actress, model, singer
Instagram: @mikadlacruz
Twitter: @mikadlacruz
Fun facts about Mika Dela Cruz
Mika revealed in her Get to Know Me YouTube vlog that she can finish up to four cups of rice in the unli rice fast-food chain Mang Inasal. Meanwhile, she can eat up to two or three cheese whoppers from Burger King.
In the same vlog, she says that she has fallen in love and gotten her heart broken twice.
For Mika, a new skill she would want to master would be gaming skills specifically in Counter-strike: Global Offensive (CS: GO) and PlayerUnknown's Battleground (PUBG).
She is scared of Chucky dolls, especially life-sized ones.
When she was in grade school, she loved to eat and bring raw carrots as snacks. Her friends found this rather out of the ordinary.
Mika loves the color black. She explains that wearing black clothes makes her feel more beautiful and confident. In general, most of her belongings are also in shades of black.
Because she considers herself to be a very honest and transparent person, she dislikes liars.
She is fond of happy and vibrant people that are easy to get along with.
When she's not going to shoots, studying, or vlogging, she loves playing computer games.
Her favorite drink is iced tea. One time, she was enjoying her iced tea drink so much that she mistakenly took her glass of iced tea with her out of the fast-food restaurant (Jollibee) and a crew had to chase after her to take it back.
She is a supporter of the LGBT community. She has many friends who are part of the community and she finds them one of the most genuine people she has ever met.
During her Goin' Bulilit days, she had a crush on fellow child actor Nash Aguas. She even says that he was her first crush ever.
She chooses the boyish style over girly styles. In detail, her personal style leans more on being comfortable and simple.
Her most memorable experience in her Goin' Bulilit days was when she got lost in Disneyland Hongkong during a shoot because of friend and fellow child actor, Nikki Bagaporo They entered a store together and Nikki left her behind. Mika went through the wrong exit and she wound up in an area where no one was around.
Her ideal man has to be god-fearing and a guy that loves his family and sticks to his values.
Instead of a Filipino passport, Mika owns an Austrian passport. She likes it that way since she won't need a Visa when she travels.
She wore braces before. She wore ceramic braces for a year and a half, metal braces for five months and Invisalign braces for two years.
She considers her top three flaws to be her wide forehead, long teeth, and lack of self-confidence.
She loves the series Buffy the Vampire Slayer, Suits, Vampire Diaries, Gossip Girl, and Prison Break.
When it comes to make-up needs, Mika cannot go without her lip and cheek stain. These items are what she uses on a regular basis and on days when she does not feel like putting on a full face of make-up.
She loves the ocean and even collects anything related to it. She used to have several Ariel collectibles from The Little Mermaid.
When she is feeling sad, she indulges herself in food and watching animated movies to lift her spirits.
Mika Dela Cruz age and career
As a child actor, Mika practically grew up in the entertainment industry. When she was just eight years old, she joined the Star Circle Summer Kid Quest and won second place. This opportunity was able to jumpstart her career and she was later on asked to join Goin' Bulilit, one of the country's longest-running kiddie comedy show that was watched every Sunday by both kids and adults.
In the show, she acted alongside big names such as Kathryn Bernardo, Nash Aguas, Julia Montes, Sharlene San Pedro, and Miles Ocampo. In 2011, Mika was old enough to bid farewell to her Goin' Bulilit family after five years on the show. She was part of the seven graduates that year together with Nash Aguas, Noemi Oineza, and Aaliyah Benisano.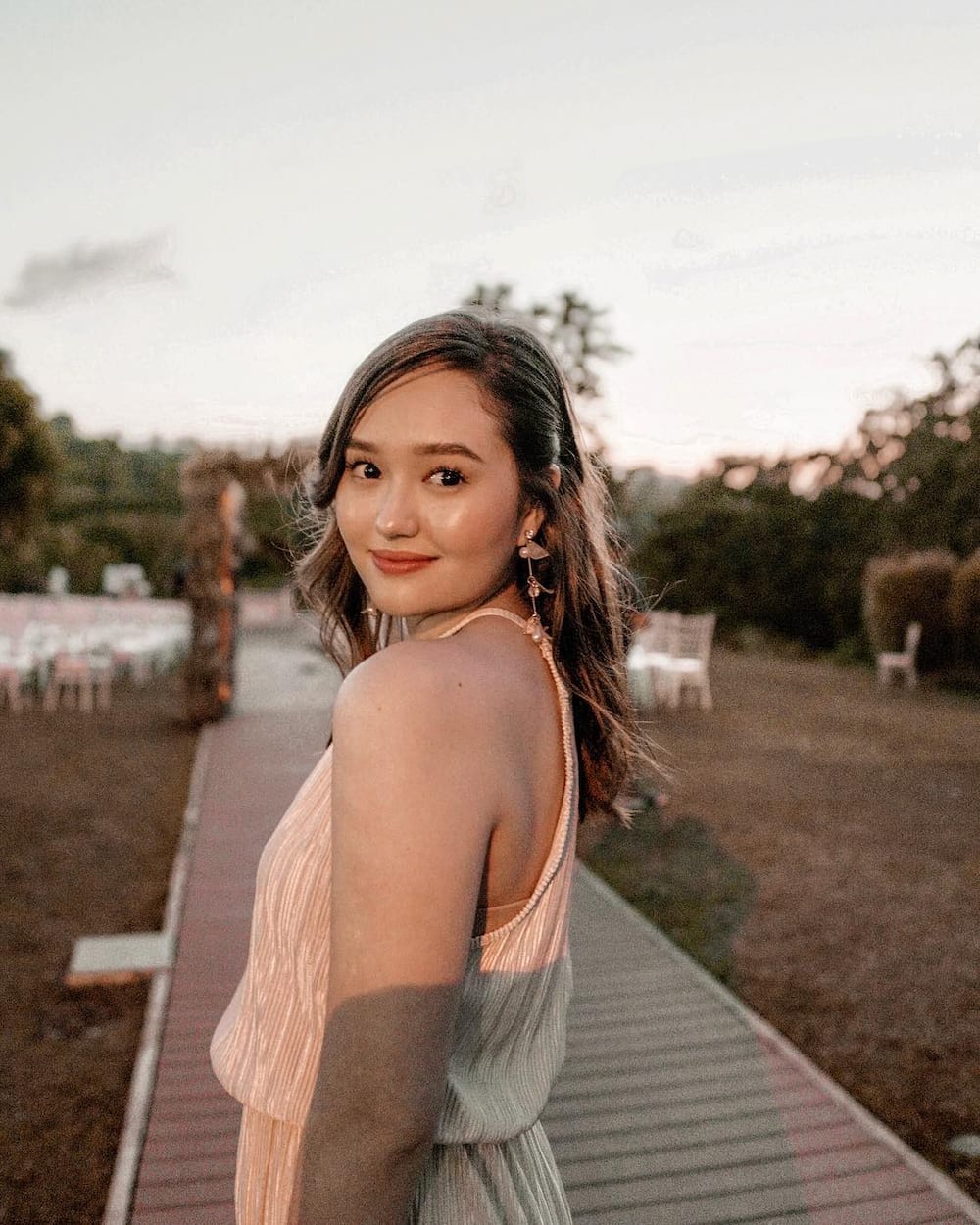 From there, she dabbled in many television series. She made appearances in Wansapanataym (2011), Ikaw ay Pag-Ibig (2012), and the teen romance series Luv U in 2013. The following year, she landed her first lead role in the show Mirabella. She played the antagonist role, Iris, against protagonist Julia Barreto.
In 2016, Mika decided to leave her Kapamilya family and transfer to rival network GMA Entertainment. The actress explains that her decision to leave ABS-CBN leaned more towards exploring a new experience rather than leaving with hard feelings.
READ MORE: Mika dela Cruz gets rushed to the hospital, shares photo of her current condition
She said they treated her very well but as she was growing older, she wanted to branch out and experience something new. Aside from this, she wanted to be in the same network as her older sister, actress Angelika Dela Cruz.
Almost immediately after being accepted as a new Kapuso star, she starred in the 2017 GMA-7 TV series wherein she once again played the role of an antagonist named Mariko Altamirano. In this, she acted alongside Barbie Forteza, Ken Chan, Jak Roberto, Ivan Dorschner, and Addy Raj. In 2018, she landed a spot in the comedy-drama series Pamilya Roces where she again played the villain role.
After two years of being a Kapuso star, Mika was given her first lead role in the show Kara Mia this year, 2019. She shares the spotlight with fellow actress Barbie Forteza where they are actually twins in the series. Originally titled Dalawang Mukha ni Guadalupe, the plot is based on twins who share the same body. Contrary to her former antagonistic roles, Mika is playing a kinder role as Mia.
Mika Dela Cruz education, tattoo, and family
Despite being a TV actress, Mika did not totally put aside her academics. She attended the St. Mary's Academy in Caloocan City for her studies. For what she's currently studying, she mentioned in her Get to Know Me vlog that she is taking an online course while juggling projects.
When it comes to the Mika Dela Cruz tattoo that everyone has been talking about, the star documented the moment she got it and posted it on her Youtube. The video, posted July 06, 2019, already has over two million views as it shows how Mika and her sister Angelika both impulsively thought of getting tattoos as well as ear-piercings.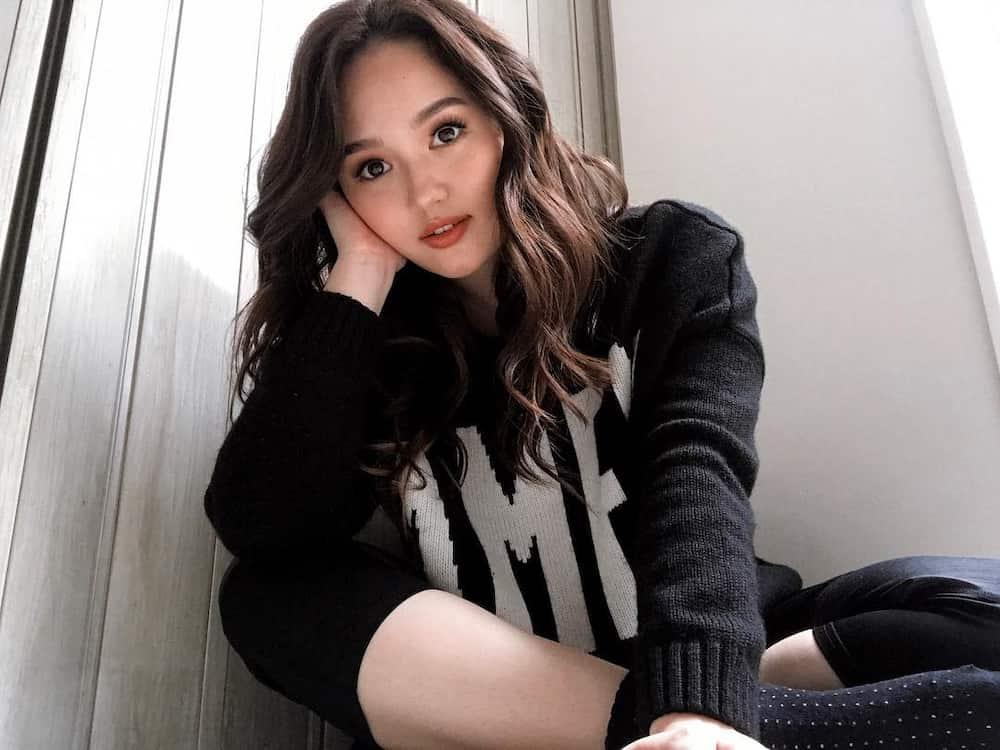 Although the thought of getting a tattoo was impulsive, Mika's tattoo of choice meant a great deal to her. She got a tattoo of a hand with the index finger pointing upward. She had it placed behind her right ear. At the end of the video, she explains the inspiration behind the tattoo and shows a photo of her departed brother, Edward Dela Cruz, doing the pose.
READ MORE: Goin' Bulilit ends 14-year run on television; netizens air various speculations
Mika Dela Cruz family relationship
This shows just how close Mika is with her family. Her mother, Angelika Egger is Austrian and she married Ernie Dela Cruz who is a Filipino. Mika has two older brothers, Edward and Erick. Many are already familiar with the Mika Dela Cruz sister, Angelika Dela Cruz.
Her older sister, Angelika, is also part of the entertainment industry as an actress of GMA-7 Entertainment. In 2010, the Dela Cruz family faced a tragedy when Mika's older brother, Edward, was part of a vehicular accident where a truck hit his car. At just 28 years old, he passed away and was at the time Malabon's councilor.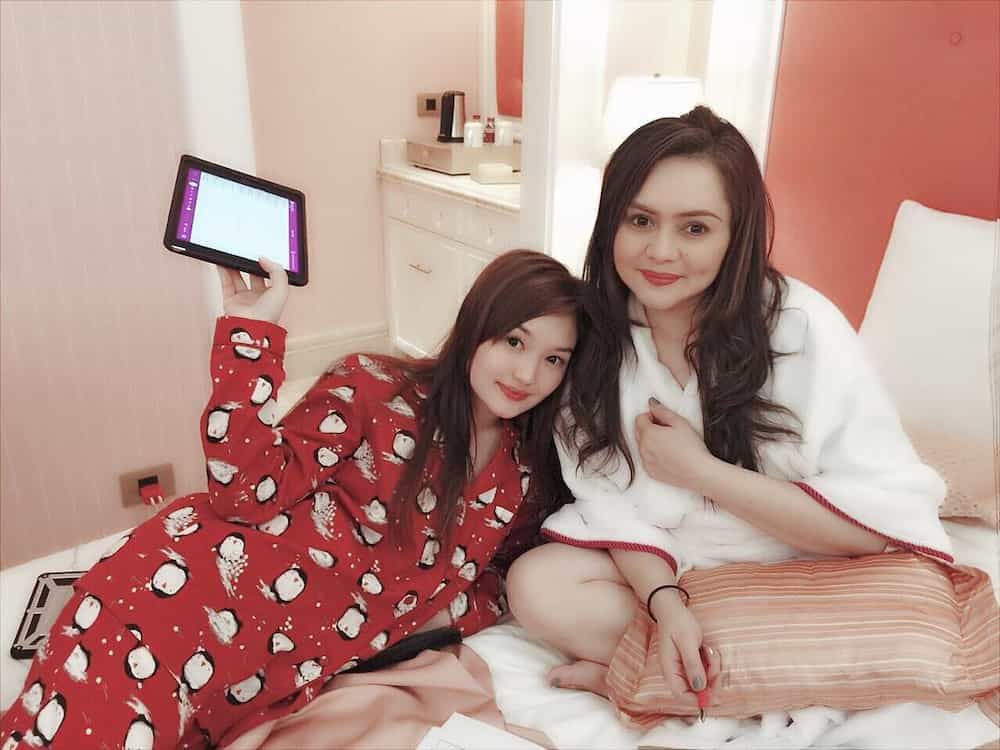 Years have passed since then and Mika and her family are living their lives peacefully. Both her older siblings got into the field of politics in Malabon, where they are residing. Erick became the Kagawad whereas Angelika was elected Barangay Captain in 2018.
Mika Dela Cruz boyfriend and childhood crush
As mentioned, Mika admits to having fellow actor and childhood friend Nash Aguas as her first crush. As fate would have it, their story would not end there. The pair, who practically grew up together, know a great deal about each other.
It turns out, it was not only Mika who was harboring feelings of admiration. Nash admits to having a crush on the actress in 2007 and that even though they were kids, he tried his best to get her attention. As Nash would describe it, their love story took 11 years before having the chance to bloom.
As they grew older, Mika and Nash grew apart and lost contact when she transferred networks while he went to the US. Because of the distance and lack of communication, reaching out would be awkward at that point. However, when Nash returned to the Philippines with his mother, an unexpected reunion happened when they coincidentally met at the Trinoma Mall in Quezon City.
With both of them being of the right age, Nash did not let this opportunity slip. He started courting Mika after receiving permission from her older sister, Angelika. A year of courtship passed and Mika finally gave her sweet 'yes' on October 20, 2018, along with a 15-page love letter.
Mika, Nash, and Alexa: issues arise
From puppy love to relationship goals, Mika and Nash have been both floating on cloud nine ever since announcing that they are officially a couple. They are the type of couple who openly post photos with each other and about their relationship as well. With this, drama arose in October 2019 when Nash's former onscreen love team partner, Alexa Ilacad, relayed her feelings about Mika and Nash's relationship.
READ MORE: 10 Confidently beautiful Pinay celebrities na pretty pa rin kahit walang makeup
Alexa, whom Nash had a mutual understanding with (that did not work out) two months before seeing Mika again, is also a former Goin' Bulilit cast member. She spoke out on Tonight with Boy Abunda about Nash's message dedicated to Mika saying "13 years and I still love you" in which she was questioning why she was seemingly forgotten. She explains that within those years, she was at Nash's side for about four to five years.
Shortly after Alexa's interview, Mika posted a cryptic Instagram story that might just be a reply to Alexa's bold statements. Her post talked about moving on and accepting that there are things people cannot go back to especially if they are already happy with what they have.
Mika did not mention any names as to whom this was intended for but fans speculate that the shoe fits Alexa perfectly. Despite the recent drama, Mika and Nash are both staying strong as a couple.
From the Mika Dela Cruz child actress on Goin' Bulilit to the more matured 20-year old Mika that fans know and love today, there is no denying that the actress has so much to look forward to in her career. As the star gets ready to take on more diverse acting roles like her character in Kara Mia, just what will Mika do next?
READ MORE: Nash Aguas' romantic surprise for Mika Dela Cruz wows netizens