Robert Downey Jr. is a famous Hollywood actor who has incredible charisma and undeniable talent. He gained great popularity and became one of the most respected actors in the world due to his superhero role as Iron Man in Marvel films.
Robert John Downey Jr. was born on April 4, 1965, in New York. The actor came to the limelight after the film about the life of Charlie Chaplin. Robert played the role of Chaplin and conquered the hearts of millions of viewers around the world. Twenty-seven years have passed since the release of the film, and now Downey Jr. is known both to the young generation, who know him thanks to his role as Tony Stark (Iron Man) and to the older generation, who first learned about the actor from the movie, Chaplin. He is a man who knows what drug addiction and prison life is. Now, he is extremely popular and wealthy. What other intriguing facts about Robert Downey Jr do you know?
Robert Downey Jr profile summary
Full name: Robert John Downey Jr.
Nicknames: Bob, RDJ
Date of birth: April 4, 1965
Robert Downey Jr age: 54
Birthplace: Manhattan, New York, United States
Nationality: American
Marital status: Married
Children: 2 sons and 1 daughter
Net worth: $300 million
Profession: Actor
Height: 1.74 m
Robert Downey Jr height
The actor is not among the tallest Hollywood actors, but he is one of the most charismatic, for sure. The Marvel actor is 5' 8½" tall, which is equivalent to 1.74 meters.
Early life
The future Hollywood star was born in the family of an actress and a film producer. His parents had Jewish, German, Scottish, and Irish roots. His mother, Elsie, was an actress while his father was a writer, director, and filmographer.
From an early age, Robert played small roles in his dad's movies. When he was five(in 1970), he starred in Pound, and a few years later in Greaser's Palace.
His parents sent the 10-year-old boy to study classical ballet at the Perry House School in Chelsea. In 1978, Downey's parents decided to break up, and the boy went with his dad to California. However, four years later, the young man returned to New York to pursue acting full time.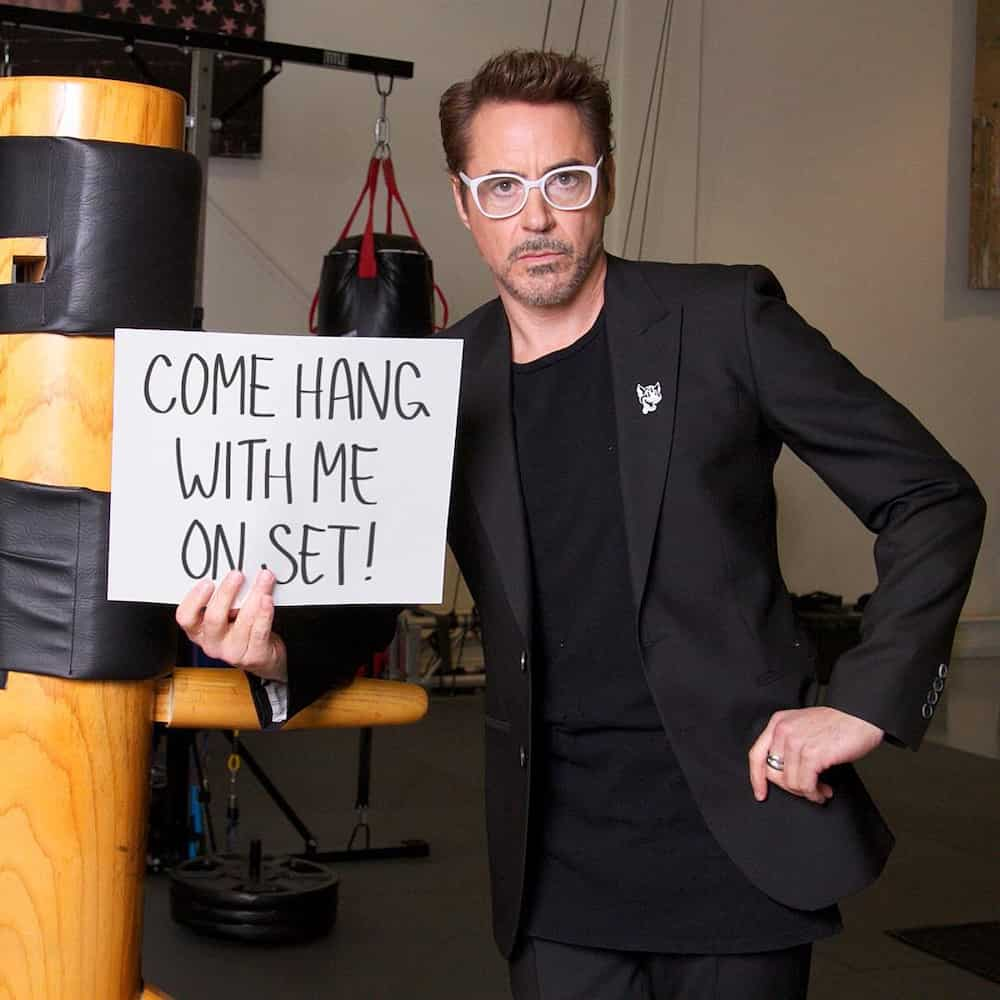 Creative path, films and roles
Some years later, 20-year-old Downey Jr. appeared on television. Working with experienced television gurus allowed the young man to finally choose his career path. Robert played different roles in movies, but the film about Chaplin became a real breakthrough. It was this role that earned him an Oscar nomination. Downey Jr. was recognized as one of the most promising actors of the 90s.
His sudden success turned out to be a real test for Robert as he soon became seriously addicted to heroin. In 1999, he was sentenced to three years in prison for having violated parole from an earlier arrest.
READ ALSO: Tom Holland bio: net worth, age, who is he dating?
However, after returning from prison, Robert found the strength to rise to his feet again. The new breakthrough in the career of the actor became his role in the movie "Iron Man". In this Marvel film, Robert demonstrated his talent and acting skills from a new angle.
His next iconic role was in Sherlock Holmes. The screen version of the famous book was very successful. The different "Iron Man" sequels and the Avengers movies made Robert Downey Jr one of the most popular and highest-paid Hollywood actors.
Robert Downey Jr all movies
The list of his films is quite impressive:
Avengers: Endgame (2019)
Avengers: Infinity War (2018)
Spider-Man: Homecoming (2017)
Captain America: Civil War (2016)
Avengers: Age of Ultron (2015)
The Judge (2014)
Chef (2014)
Iron Man 3 (2013)
The Avengers (2012)
Sherlock Holmes: A Game of Shadows (2011)
Due Date (2010)
Iron Man 2 (2010)
Sherlock Holmes (2009)
The Soloist (2009)
Tropic Thunder (2008)
Iron Man (2008)
Charlie Bartlett (2007)
Lucky You (2007)
Zodiac (2007)
Fur: An Imaginary Portrait of Diane Arbus (2006)
A Guide to Recognizing Your Saints (2006)
Game 6 (2005)
Kiss Kiss, Bang Bang (2005)
Good Night, and Good Luck (2005)
Eros (2004)
Gothika (2003)
Wonder Boys (2000)
Bowfinger (1999)
In Dreams (1999)
Two Girls and a Guy (1997)
One Night Stand (1997)
Richard III (1995)
Home for the Holidays (1995)
Restoration (1994)
Natural Born Killers (1994)
Short Cuts (1993)
Chaplin (1992)
Soapdish (1991)
Air America (1990)
True Believer (1989)
1969 (1989)
Less Than Zero (1987)
The Pick-Up Artist (1987)
Back to School (1986)
Weird Science (1985)
Baby, It's You (1983)
Greaser's Palace (1972)
Pound (1970)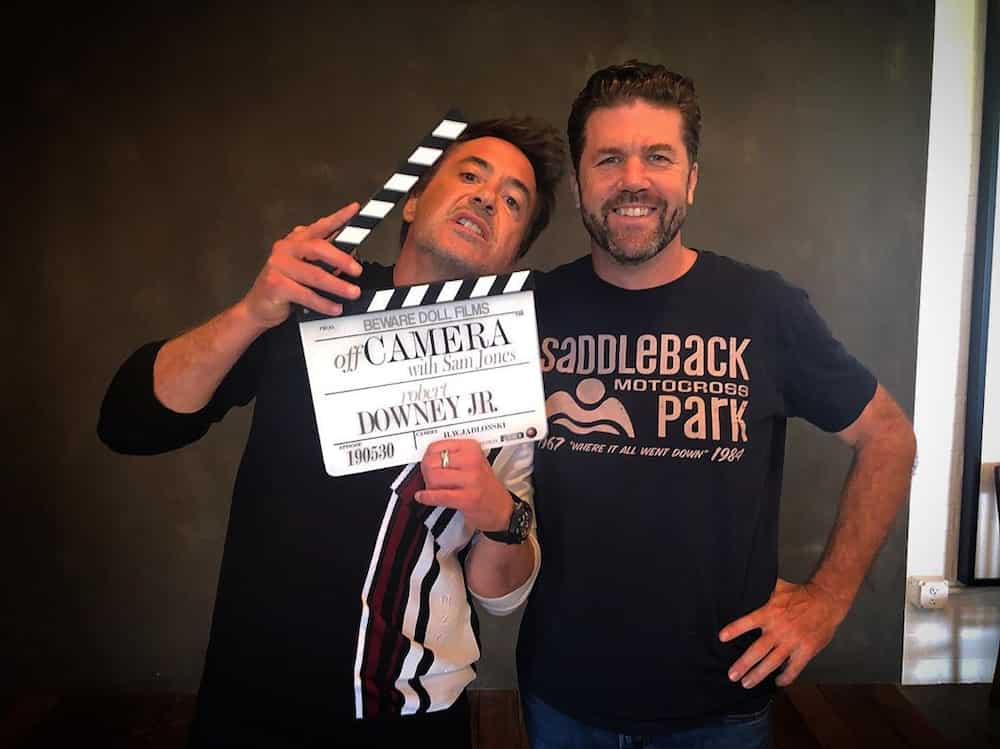 Robert Downey Jr awards
The filmography of the actor is impressive and so is the list of his awards. Downey Jr does not have an Oscar in his collection of awards yet, but twice was nominated for the Academy Awards, in 1993, for Best Actor in a Leading Role (Chaplin) and in 2003, for Best Performance by an Actor in a Supporting Role (Tropic Thunder). Who knows, maybe 2020 will bring Robert the award for his role of Tony Stark in Avengers: Endgame (2019).
Golden Globes, USA
1994: Special Award (Short Cuts)
2001: Best Performance by an Actor in a Supporting Role in a Series, Miniseries or Motion Picture Made for Television (Ally McBeal)
2010: Best Performance by an Actor in a Motion Picture - Comedy or Musical (Sherlock Holmes)
BAFTA Awards
1993: Best Actor (Chaplin)
Academy of Science Fiction, Fantasy & Horror Films, USA
1994: Best Actor
2009: Best Actor
2014: Best Actor
2019: Best Actor
American Cinematheque Gala Tribute 2011
Winner, American Cinematheque Award
BAFTA/LA Britannia Awards
2014: Stanley Kubrick Britannia Award for Excellence in Film
Central Ohio Film Critics Association
2009: Actor of the Year (Iron Man (2008), Tropic Thunder (2008))
Chicago International Film Festival 2003
Golden Schmoes Awards
2008: Favorite Celebrity of the Year
2009: Favorite Celebrity of the Year
Hasty Pudding Theatricals, USA 2004
Irish Film and Television Awards
2009: Best International Actor (Sherlock Holmes)
2010: Best International Actor (Iron Man)
Kids' Choice Awards, USA
2014: Favorite Male Butt Kicker (Iron Man Three)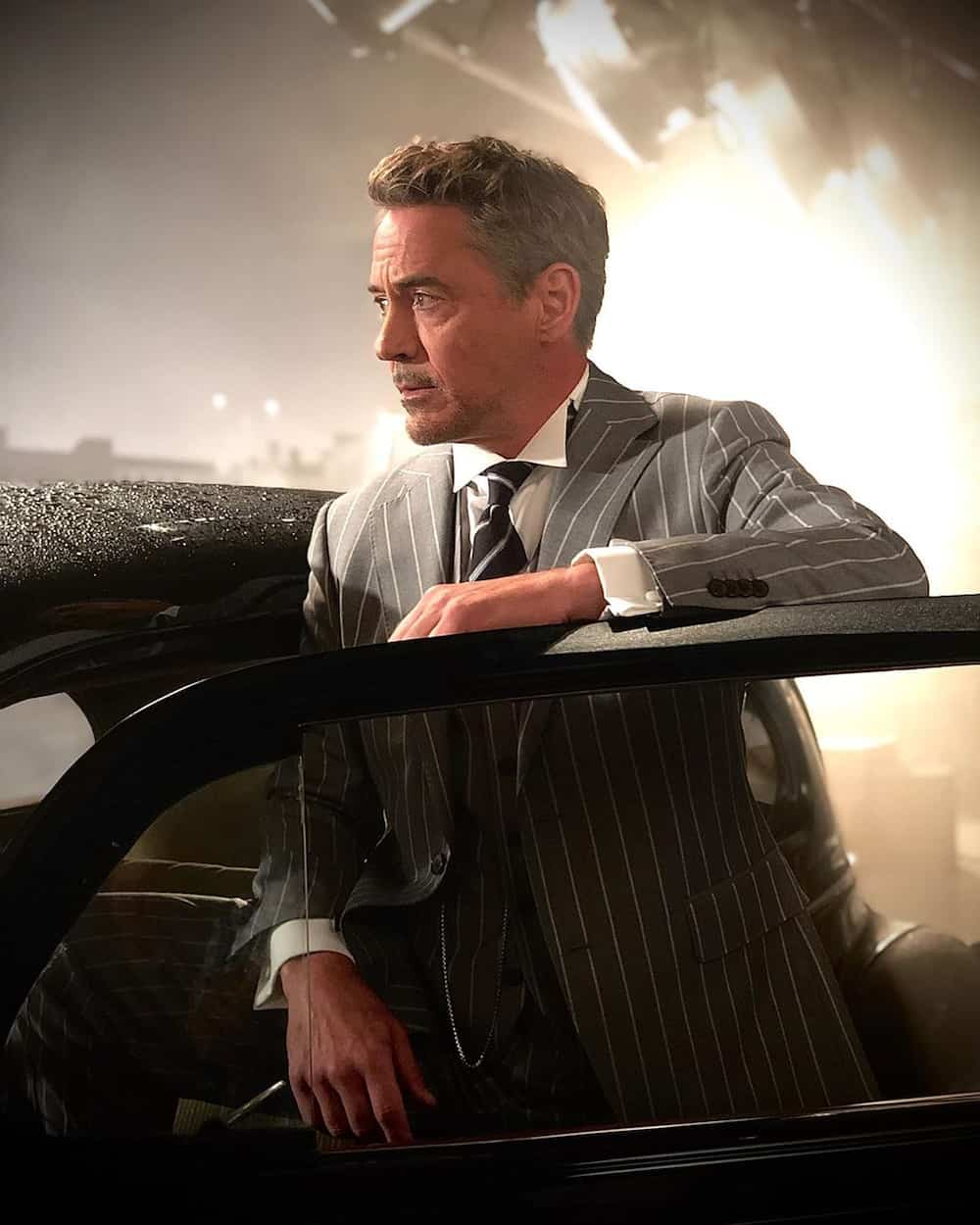 L.A. Outfest
2001: Screen Idol Award (Wonder Boys)
London Critics Circle Film Awards
1993: Actor of the Year (Chaplin)
MTV Movie + TV Awards
2013: Best Fight (The Avengers)
2015: MTV Generation Award
2019: Best Hero (Avengers: Endgame)
People's Choice Awards, USA
2013: Favorite Movie Actor, Favorite Movie Superhero (The Avengers)
2014: Favorite Action Movie Star
2015: Favorite Dramatic Movie Actor, Favorite Movie Actor
2017: Favorite Action Movie Actor
Russian National Movie Awards
2012: Best Foreign Actor of the Year
2013: Best Foreign Actor of the Year
Scream Awards
2010: Best Superhero (Iron Man 2)
Screen Actors Guild Awards
2001: Outstanding Performance by an Ensemble in a Comedy Series (Ally McBeal)
ShoWest Convention, USA
2008: Male Star of the Year
Sitges - Catalonian International Film Festival
2003: The Singing Detective
Sundance Film Festival
2006: Dramatic (A Guide to Recognizing Your Saints)
Teen Choice Awards
2013: Choice Movie Actor: Action (Iron Man Three)
2018: Choice Movie Actor: Action (Avengers: Infinity War)
2019: Choice Action Movie Actor (Avengers: Endgame)
Venice Film Festival
1993: Special Volpi Cup, Short Cuts
Downey Jr net worth
Downey Jr is one of the highest-paid actors in the industry, and it is not surprising that his worth is quite impressive. As of 2019, the net worth of Robert Downey Jr is estimated to be $300 million.
Robert Downey Jr wife
The creative work and net worth of an artist are of big interest to fans, but the personal life of celebrities is another subject that attracts special attention. The private life of Robert Downey Jr is no exception.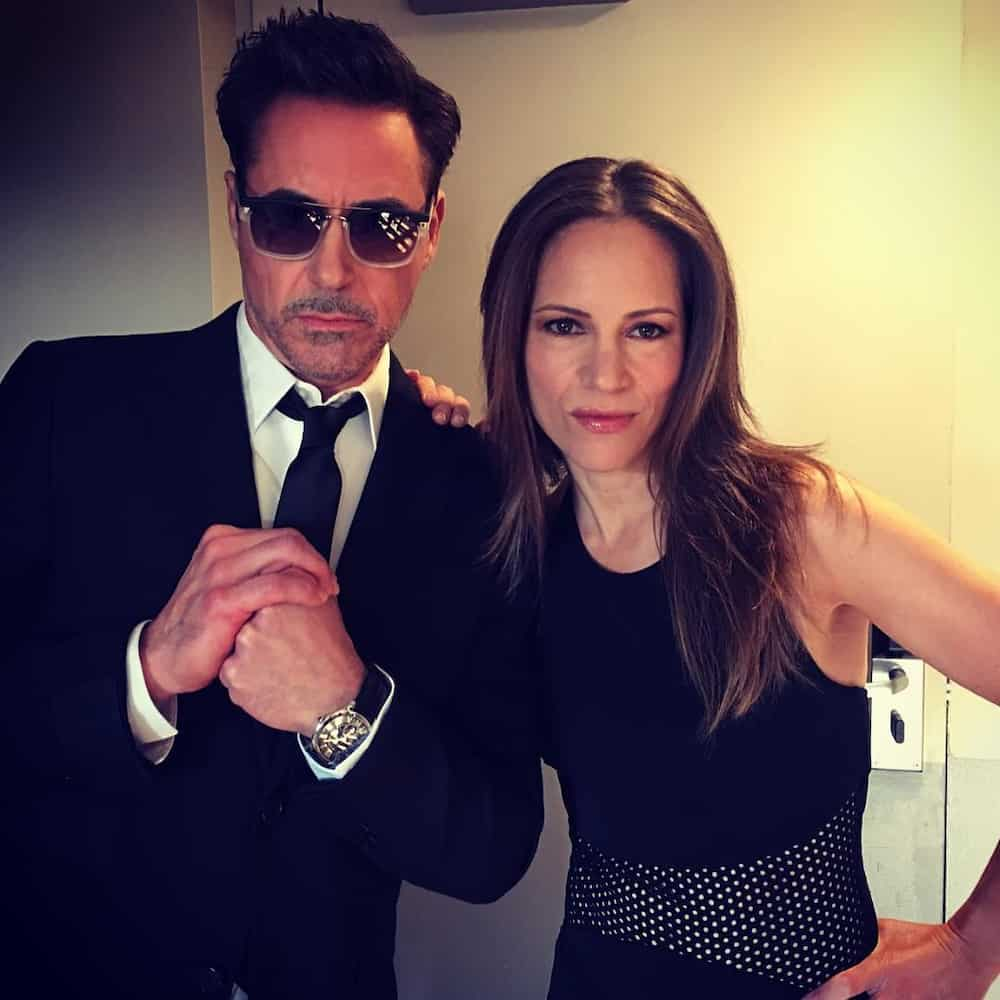 Robert has been married twice. His first wife's name is Deborah Falconer. They got married on 29th May 1992 after only dating for about six weeks and have one child together. Falconer left the actor in 2001. Deborah and Robert divorced officially on the 26th of April 2004. They were married for more than 12 years.
Soon after the divorce, the actor met his future second wife, Susan. They began dating and got married on the 27th of August 2005. Susan and Robert have been happily married since 2005 and have two children together.
Robert Downey Jr children
Downey Jr. has three kids. Their names are Indio, Exton, and Avri. His oldest child is son Indio from Robert's first marriage with Deborah Falconer. The first son of the actor was born in 1993. Downey Jr. also has two children with Susan Levin: son, Exton (2012), and daughter, Avri, (2014). Robert Downey Jr is a Hollywood megastar with a very busy schedule, but he still tries to spend as much time as he can with his wife and kids.
Marvel Cinematic Universe's movies such as Iron Man and Avengers have made Robert Downey Jr. extremely wealthy and popular. It is difficult to imagine another actor playing the role of Tony Stark. This is most probably because of the talent and incredible charisma of the actor. As he sacrificed himself in the latest Avengers movie, fans do not know if they can handle MCU without him.
READ ALSO: Chris Evans bio: net worth, age, height, who is he dating?