Presumptive president Rodrigo Duterte is bringing the Philippines' financial markets back to life with his transformation into a business-friendly leader.
Among its Asian peers, the peso alone is gaining versus the dollar for the month of May, and is also currently the best performer in emerging markets worldwide. It's a sharp contrast to April, when it plummeted against all its regional counterparts because of Duterte's range of controversial comments before the presidential vote. Now that he has won the May 9 election with a wide margin, he said he is open to bigger foreign ownership of businesses and will fight to eradicate corruption in the tax system.
Joey Cuyegkeng, an economist at ING Groep NV in Manila, has noted Duterte's change in tone and manner.
"President-elect Duterte has conducted himself more as a statesman rather than a campaign brawler. He's now toning down and facing reality on what has to be done. Market-friendly actions would help sustain the peso's strength." he said.
It's an added boost to the currency, which is already benefitting from the Philippines' current-account surplus, inflows from OFW's remittances, and revenue from the outsourcing of business processes. Equities are also gaining – the nation's benchmark stock index is the world's third-best performer this month.
Khoon Goh, a senior foreign-exchange strategist at Australia and New Zealand Banking Group Ltd. In Singapore, wrote that the peso's decline before the vote was "excessive", given those advantages.
Thawing Markets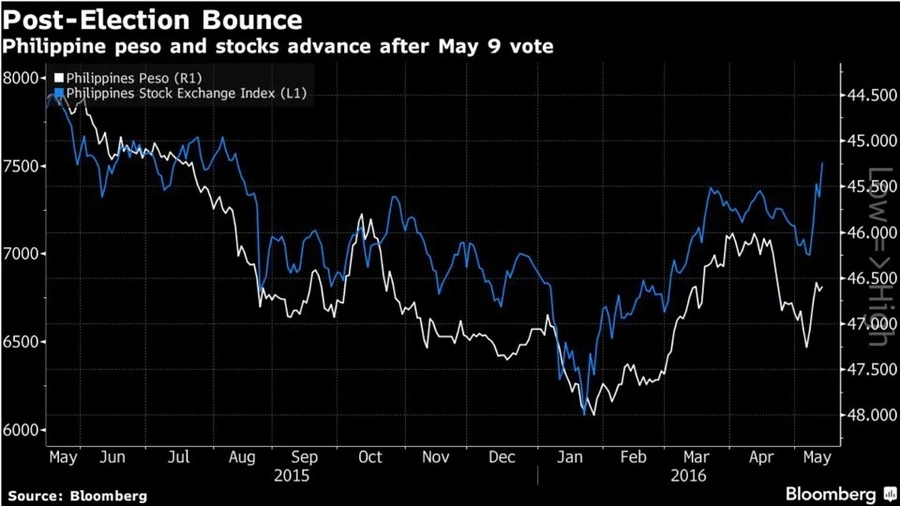 A more stable Philippines is adding to the appeal of emerging markets worldwide. Investors are also gaining confidence that China's economy will avoid an intense slowdown, and there are expectations that the Federal Reserve will delay raising interest rates. In Brazil, the political crisis may be closing in on a resolution, with the nation's senate voting to suspend President Dilma Rousseff.
The peso has leaped 0.7 percent this month to 46.555 per dollar at the close of trading in Manila on Friday, while all its 11 other Asian counterparts weakened. The Philippine Peso dropped 1.7 percent in April, before rising to 1.1 percent in the two days after the election. This is the biggest back-to-back advance since May 2014.
Heightened Confidence
The Philippine Composite Stock Index rose to a nine-month high last Friday and has the highest valuation among Asian equities based on current year-estimated earnings. The country's government bonds returned 0.7 percent in the past month – the best performance in Asia – with 0.5 percent of that coming in the three days after the voting, based on Bloomberg indexes.
Duterte, the tough-talking crime-fighting mayor of 22 years in Davao City, hinted at possible cabinet appointees this week. A notable personality is Carlos Dominguez, former agriculture secretary and businessman Carlos Dominguez. Dominguez said last Thursday that Duterte will preserve the nation's current macroeconomic policy and accelerate infrastructure spending.
"For the moment, everybody is saying the right things," said Paolo Magpale, a treasurer at BDO Private Bank.
Controversial Comments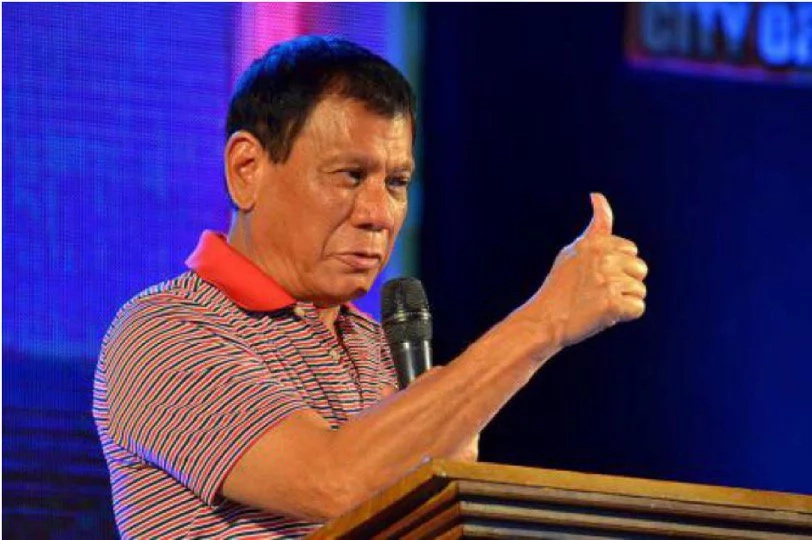 The Philippines' economic landscape is a drastic improvement from last month, when the peso fell after the 71-year old politician refused to apologize for inflammatory comments on the rape of an Australian missionary in a 1989 prison riot. Prior to elections, Bloomberg ranked him behind two of his closest rivals in a survey on which candidate would best steer economic policy.
Duterte's present challenge is to maintain market confidence as he turns his words into actions.
"A forceful campaign against crime and corruption could reap benefits for the Philippine economy over the long run," Andrew Wood, the Singapore-based head of Asia country risk at BMI Research, part of Fitch Group, commented, "however, the methods by which Duterte goes about this will be hugely important. Too aggressive and he risks undermining near-term business sentiment and economic growth."
At a briefing on Thursday, Central bank Deputy Governor Diwa Guinigundo said that market players were waiting for more specific statements from Duterte on his vision and his programs.
"That will further cement market confidence in the process. We may have good fundamentals but if market sentiment is negative, then you would be seeing volatilities in the foreign-exchange markets." Guinigundo said.
Positive Forecasts
National Australia Bank Ltd., the most accurate peso forecaster according to Bloomberg's latest rankings, predict that the currency is read to extend its recent gains. Median estimates put it 2.6 percent weaker by year-end at 47.8 per dollar.
"The peso could continue to see a little more near-term upside as part of the relief rally, especially if the new president is able to convince markets that he's able to combine his strong management track record with vision and political skills," Julian Wee, a senior market strategist at NAB in Singapore, mused, "the Philippines' strong growth rate and healthy balance of payments position should enable the peso to outperform most Asian counterparts."
Source: Kami.com.ph