Obama Exchanges 'Candid' Talks With Xi Over South China Sea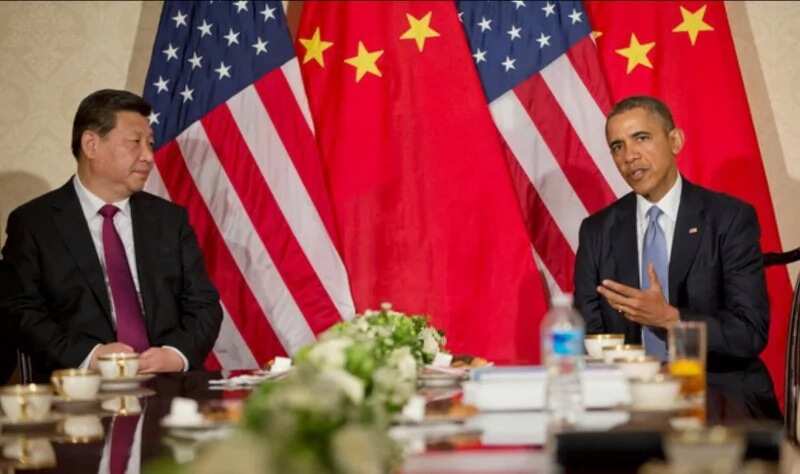 US President Barack Obama promised "candid" talks with Chinese President Xi Jinping over maritime issues in the South China Sea in their private conference in Washington on Thursday, March 31 (Friday, PST).
As he sat at the conference table to start the meeting, Obama stated: "We will have candid exchanges about areas where we have differences, issues like human rights, cyber and maritime issues."
The two world powers have both expressed disapproval of each other's actions in the hotly contested waters.
Washington is concerned over China's sweeping territorial expansion in the South China Sea, which the US believes is inconsistent with their September 2015 agreement that China will not pursue militarization of the strategically vital waterway.
Despite conflicting territorial claims by Brunei, Malaysia, Vietnam, Taiwan and the Philippines, China has continued its island-building expansion over the past months. Some artificial islands are built with airstrips and military facilities.
"We certainly have seen developments, reports that are not consistent with commitments to avoid and to non-militarize the South China Sea," said senior US foreign policy aide Ben Rhodes.
US patrols
Beijing, on the other hand, had also expressed disapproval of the US navy's maritime patrols in the area.
Since October, US warships have sailed within 12 nautical miles of islets claimed by China on two high-profile "freedom of navigation" operations.
In a briefing on Thursday, China's defense ministry spokesman Yang Yujun told reporters: "As for the US ships which came, I can only suggest they be careful."
The defense minister also slammed a newly signed defense agreement between the US and the Philippines, calling it "a reflection of Cold War mentality."
Earlier this month, Manila agreed to give the US forces access to 5 military bases under the Enhanced Defense Cooperation Agreement. This includes Antonio Bautista Air Base on the western island of Palawan, directly on the disputed West Philippine Sea (South China Sea).
"It is in the opposite direction of the trends of the era for peace, development and cooperation," said Yang, adding that bilateral military cooperation "should not undermine a third party's interests".
The bilateral agreement is the result of strategic talks between the US and the Philippines, where the allies reiterated their opposition to the militarization in the disputed seas.
Beijing denies the accusations and says the US patrols have ramped up tensions.
"Now the United States has come back, and is reinforcing its military presence in this region and promoting militarization in the South China Sea," Yang said.
READ ALSO: Pentagon Reaffirms Call for Peace in West Philippine Sea
President Benigno Aquino III had previously stated that the country has no plans to engage in warfare over the territorial dispute.
Malacanang had sought arbitration at The Hague to invalidate China's claim over the West Philippine Sea. According to Philippine diplomats, a final decision is expected on or before May this year.
READ ALSO: Philippines Has No Plans For War Over Sea Dispute, Says PNoy
Source: KAMI.com.gh