Presumptive president Davao City Mayor Rodrigo "Digong" Duterte is to stop operation of money lending under the "5-6" system once he assumes office.
For the mayor, such lending practice is a big burden for the Filipinos. He said that he is willing to talk to Indian Ambassador to ask for help.
"I want to talk to the ambassador of India ... I am sure he would only be glad to help. Sabihin ko talaga sumunod sila or else I will deport you, all of you. Bantay kayo, pag-upo na pag-upo ko, they should stop the practice," Duterte said.
He also noticed that those people lending money would even demand Filipinos to buy stuff from them.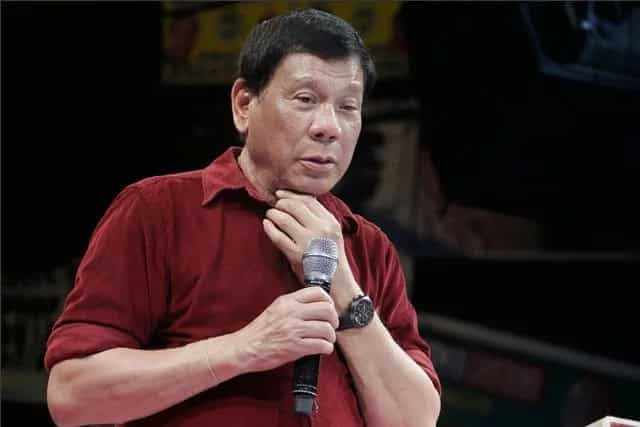 "Itong mga 5-6 ngayon, kung saan-saan, magpapahiram ng pera, pagbilihin pa ng mga kumot, mga furniture. So ang sabihin ko sa ambassador, ang burden ng Filipino, parang pinapaluhod muna talaga. The Filipino is suffering, sad and hungry. I have to stop it," he said.
"I'd like to ask the ambassador of India to help us advise their nationals not to do it, that is too much, or I will deport all of them for acts inimical to the interests of the Filipino people," he reiterated.


The mayor, who is once accused of his alleged extra-judicial killings in Davao City, promises the safety of the Indians.
"We love Indians. They have been good to us," the mayor said.
"They were very good, they acted civilly," he emphasized.
Meanwhile, Peter Lavina, Duterte's spokesperson, also announced that the policies implemented in Davao could be imposed nationwide. It includes late night drinking ban and a 10 p.m. curfew for unescorted minors.
"This liquor ban is because we have to work the next day," he said.
He clarified that it (liquor ban) has "(n)othing to do with denying us of our freedoms."
"Incidentally, we have a ban on loud karaoke [in Davao] because everyone has to go to bed," he added.
RELATED: 8 Things to know about Duterte economic agenda
Source: KAMI.com.gh