Armed Forces of the Philippines (AFP) assured presumptive President and Davao City Mayor Rodrigo "Digong" Duterte of support on Thursday, May 12.
"The AFP, as professional military organization, respects the choice of the Filipino people and will remain solid behind the Constitution and our democratic institutions," the AFP said in a press statement.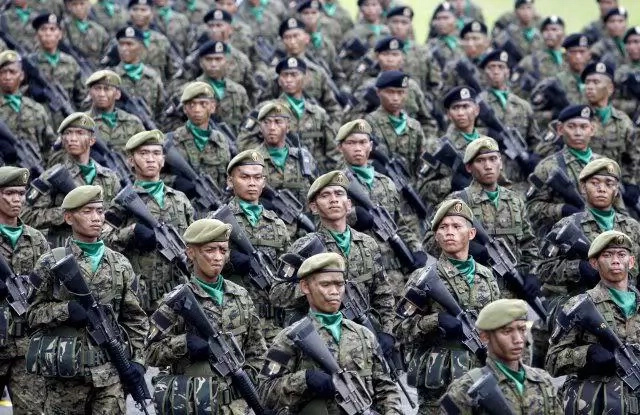 (Photo credit: trendingnewsportal.com)
The AFP said in a statement that it is prepared to execute the new president's peace and security policies.
"We will follow our Commander-in-Chief and will implement the new President's peace and security policies, especially those that will bring the conflicts that ail the country for decades to their just end," the AFP added.
Duterte maintains his staggering lead in the presidential race as mirrored in the partial and unofficial voting results in the Commission on Elections (COMELEC) Transparency Server.
Liutenant Glorioso Miranda, Acting AFP Chief of Staff, declined to share his opinion when asked if the AFP would arrest National Democratic Front Chief Political Consultant Jose Maria Sison if ever he comes back to the country because of his close ties with Duterte.
"Well, the best answer for that is, as you said, we've been fighting for democracy and it's a democratic country. Lahat ng tao, kung ano man ang karapatan dapat gawin ay gagawin nila. We cannot comment on that," Miranda said.
"Well, the AFP from the very start has been very active dito sa peace process. Tulad nga nung sinabi ko nung nag assume ako na acting chief of staff of the AFP, the first best option in conflict resolution is always through the peaceful means," Miranda added.
"Yun lang ang masasabi ko. That is the stand of the AFP, best first option is a peaceful process," he said.
Duterte's rivals, Senator Grace Poe, Vice-President Jejomar Binay, and Liberal Party standard-bearer Manuel "Mar" Roxas have earlier conceded their defeat to the mayor.
RELATED: Doubts on VP unofficial results, explained
Source: Kami.com.ph