Barely three days ago, social media was rife with political tensions and lengthy election posts, now it's filled to the brim with raunchy and satirical story bites from #RP69fanfic, featuring Baste Duterte, Sandro Marcos, Jake Ejercito, Junjun Binay, Brian Poe and Paolo Roxas - the handsome scions of notable candidates who ran for 2016 electoral positions.
This particular trend, which usually involves snippets of sex scenes between two or more of the characters from among these handsome scions come with a quick dialogue that sets the punchline. Some stories feature guest appearances of other politicians, such as Vice President Jejomar Binay, Davao City Mayor Rodrigo Duterte, and even Alma Moreno.
The story bites, limited to 160 characters by standard Twitter rules, are an entertaining mix of naughty and funny. The clincher to the stories is that the characters are often seen delivering their father's statements or assuming their father's role.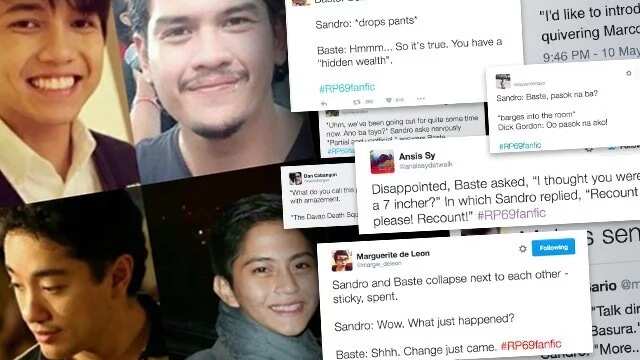 Some of the stories are delivered with a tinge of dark humor, especially when alluding to the hidden wealth and dictatorship of Sandro's grandfather, Ferdinand Marcos Sr.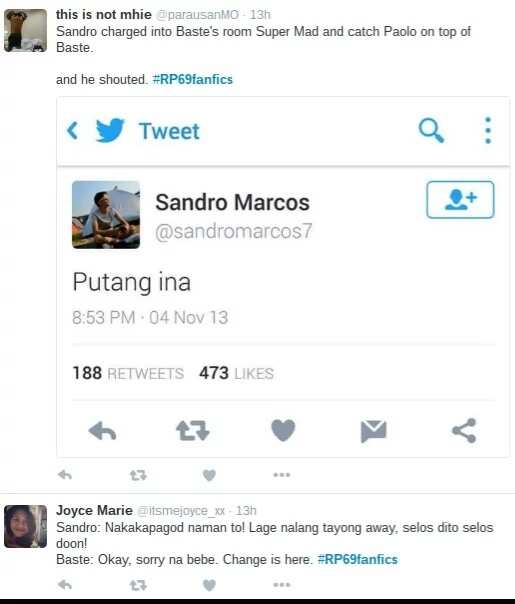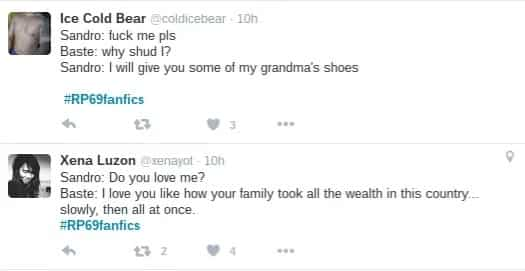 Baste's fanfics, on the other hand, often allude to his father's tough-talking and solid stance against drugs and criminality.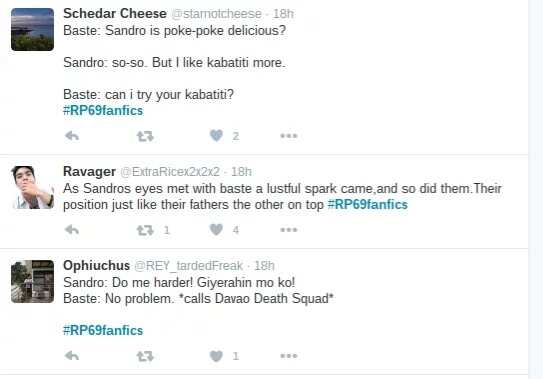 Pairings that include Brian Poe are mostly filled with subtle jabs at his citizenship.
Junjun Binay is often picked on for his father's Makati governance and skin tone. Yes, his skin tone. "Dark" jokes indeed.
  Currently, Paolo Roxas has had an appearance showcasing Mar Roxas and his big "tsinelas" (slippers) statement from during the election.
Jake Ejercito has no recurring theme to their stories, but netizens are sure to find a way to remedy that.
#RP69 started out on May 10, Tuesday, when film critic Philbert Dy came up with the idea of writing saucy fictional tweet stories that featured Sebastian Duterte and Sandro Marcos. Eventually, netizens decided to expand the list of characters by including Junjun Binay, Jake Ejercito and Brian Poe as well.
His idea prompt carried well across the twitterscape, setting of a flood of similar tweets.
As of May 11, Wednesday, #RP69 has topped local Twitter trending list.
Who among the six are you crushing on, and who did you most enjoy reading about? Is there anybody you feel like the twitterscape left out? Comment below!
Source: Kami.com.ph