Senator Pia Cayetano will recommend the presumptive president's transition committee, Duterte's spokesperson Peter Laviña announced during a press conference at the national campaign headquarters of Davao City on May 12, Thursday.
Senator Pia Cayetano is ordered to recommend the presumptive president's transition committee on women leaders who can be involved in his administration as Davao City Mayor Rodrigo "Digong" Duterte is looking at appointing more women for high-level government positions in his administration.
Laviña said that they tapped Cayetano "in view of the fact that we want to identify, vet and select more women leaders to join government."
Cayetano said on Thursday that she is very excited to lend Duterte's administration hand in making sure that it will be gender-sensitive.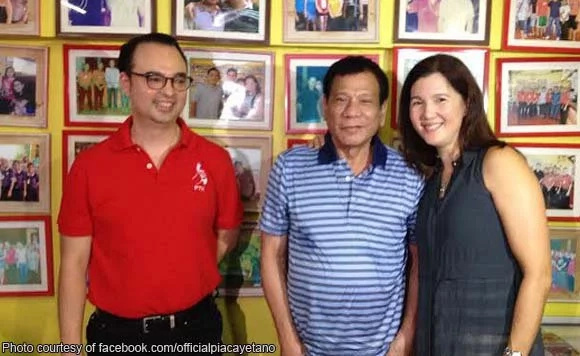 (Photo credit: politics.com.ph)
"We will have a gender-sensitive administration," Cayetano said.
"What I want to ensure is that as early as the selection process, the names of these candidates are given. It's important that we have a gender-balanced leadership, the voice of women are heard, and the concerns of women are addressed at the highest level because it will flow,"  she added.
Laviña clarified that this is not a retort to the issue that the mayor is anti-women.
"This is not a response to criticism that the mayor is anti-women. In Davao City, you will note, the mayor has appointed many women leaders in the city government," said Laviña.
Senator Pia Cayetano is the sister of Duterte's running mate and Senator Alan Peter Cayetano. She is recently elected as Taguig Second District representative.
Meanwhile, Presumptive President Duterte's Transition Committee members are formed on Wednesday, May 11, after President Benigno "Noynoy" Aquino called the former's staff and ordered them to start the transition to his administration.
Peter Laviña, Mayor Duterte's spokesman, posted the names of the committee members on his Facebook account. They are Duterte's campaign officers manager Leoncio "Jun" Evasco, assistant manager and executive assistant Christopher "Bong" Go, finance head Carlos "Sonny" Dominguez and lawyers Salvador Medialdea and Loreto Ata. Laviña is also part of the team.
It was said that Aquino's and Duterte's teams are supposed to coordinate with each other as Duterte's proclamation date, June 30, draws near.
RELATED: Duterte forms transition team
Source: Kami.com.ph