Cayetano: Robredo 'clearly won'
Senator Alan Peter Cayetano, running mate to the presumptive president, Rodrigo Duterte, officially concedes to Liberal Party and Camarines Sur Representative Leni Robredo on Thursday morning, May 12.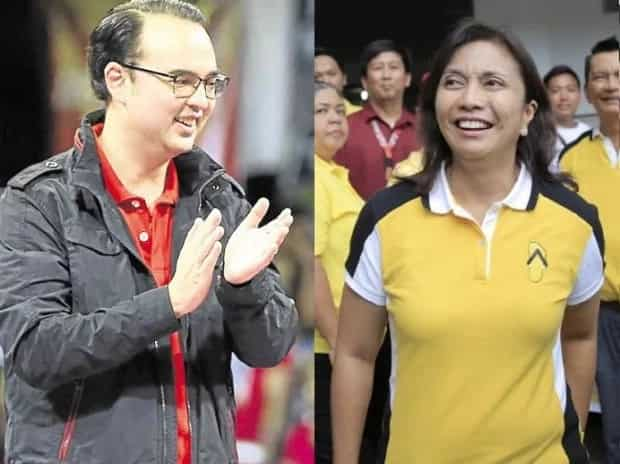 (Photo credit: Inquirer.net)">
"I humbly concede my vice presidential bid to Rep Leni Robredo, who, by all accounts and with 96% of the votes already tallied, is our country's presumptive Vice President-elect. Rep Leni is not only leading the race, she has clearly won it," said Senator Cayetano in his press release officially confirming his .
Although he admits than losing hurts, the sight of a divided country is more painful for him.
"While losing an election hurts, nothing is more painful than the sight of a divided country. Thus, I call on all the other candidates to respect the people's will and rally behind presumptive President-elect Rodrigo "Rody" Duterte and his presumptive Vice President-elect Leni Robredo," Cayetano said.
Cayetano is certain that healing and unification are on their way.
"I am confident that Vice President-elect Leni will likewise respect and value the people's will by giving her full support to the country's new President and his vision to end the disorder in the people's lives and introduce real change to our country," he said.
The Senate Majority Leader also urges the people to give support to the new leaders of the Philippines.
"I call on the people to rally behind our newly elected leaders. It is in this crucial hour that our voice is needed the most. Let us work together and let the process of real change begin," he added.
Cayetano's standard bearer Mayor Duterte seats in the first spot.
"I told the mayor, 'go ahead and form the cabinet.' Give me certain tasks where I can be of help, definitely in formulating his legislative agenda," he said, showing his unwavering support.
Although Cayerano cannot dictate the priority of laws in the Congress when Duterte becomes president, he said that the "easier ones" could be dealt with first.
"The easier ones is of course the pay of the law enforcers because that is a simple amendment to the Salary Standardization law but we have to work with the new DBM (Department of Budget and Management) secretary to make sure the money is there," the Senator said.
RELATED: Miriam questions VP election results
Source: KAMI.com.gh