Cristina Romualdez: "Leni does not deserve such words"
Cristina Romualdez, the newly-elected mayor of Tacloban City, posted an apology on Facebook over a tweet by her 16-year-old daughter cursing Vice Presidential candidate Leni Robredo.
Her daughter took to Twitter after the partial and unofficial results show Leni Robredo leading the Vice Presidential race over Bongbong Marcos.
The tweet read: "P******** leni bobo naman yan walang alam yan t****** nyo."
The Twitter account has already been de-activated after the tweet was widely criticized by netizens.
The newly-elected mayor of the city highly devastated by the Typhoon Yolanda expressed her disapproval of her daughter's tweet.
"IN BEHALF OF MY DAUGHTER SOFIA I APOLOGIZE FOr SUCH WORDS SHE TWEETED ABT LENY. As a mother and most especially as a Christian i do NOT approve of such words," Romualdez said.
"SHE IS VERY APOLOGETIC AND IS LEARNING . SOFIA IS 16 so i believe she didnt realize what she was doing," she added.
Romualdez also appealed for understanding explaining that her children went through a lot during the disaster brought by Typhoon Yolanda in 2013.
"MY KIDS WENT THROUGH A LOT DURING THE DISASTER And WITNESSED EVERYTHING THAT HAPPENED. We all ALMOST LOST OUR LIVES SO I HV BEEN ALWAYS PRAYING FOR MY CHILDREN TO REALLY GET OVER THAT EVENT IN THEIR LIVES. THANK YOU FOR UNDERSTANDING," she said.
Romualdez said that she met Robredo during the wake of the former Interior Secretary Jesse Robredo, who was killed in a plane crash.
"I HV MET LENY WHEN we went TO THE WAKE OF HER HUSBAND AND I KNOW SHE DOes NOT DESERVE SUCH WORDS," she said.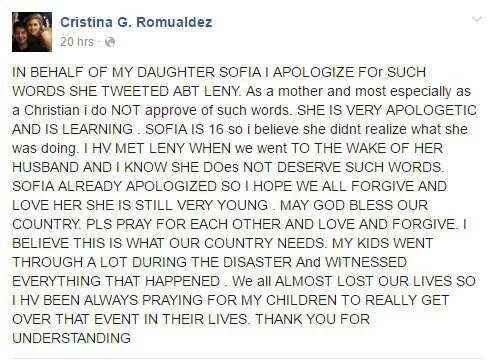 Cristina's husband and predecessor Alfred Romualdez is a cousin of Senator Bongbong Marcos, who now casts doubt on the integrity of the elections. Marcos' camp insinuated that there was cheating in the elections and floated the idea that the administration is pushing for Robredo to be the vice president so that the Liberal Party can still be in power after impeaching the president-elect Rodrigo Duterte.
In the end, the newly-elected mayor appealed to netizens to pray for each other. "MAY GOD BLESS OUR COUNTRY. PLS PRAY FOR EACH OTHER AND LOVE AND FORGIVE. I BELIEVE THIS IS WHAT OUR COUNTRY NEEDS," she said.
Source: KAMI.com.gh