READ: Heart's emotional message to Chiz
Actress Heart Evangelista wrote her husband, vice presidential candidate Senator Francis "Chiz" Escudero, an emotional message after the elections.
In her Instagram account, Heart expressed how much she admires how her better half has remained true to who he is.
"My dear Chiz, the campaign season is over and I toast to your success, though the people have yet to make their choice known. Through it all you have remained true to who you are, no lies, no gimmicks, no exaggerations..." she said.
Posted hours before the votes were started being canvassed, Heart noted that the senator did not engage in smearing other candidates and just focused on the election issues.
"While many slung mud on each other, you kept your hands clean...You stayed sober and focused on what you have done and can do for the country while everybody else went wild chasing victory, hurling insults at their opponents. You taught me that politics need not be dirty or desperate," she added.
Heart's husband ran as independent and was the running-mate of Senator Grace Poe, who was the first to concede the presidential race to Davao City Mayor Rodrigo Duterte.
"And, win or lose, as I watched you talk to the people, shake their hands, listen to their stories, you taught me to have a lot more faith in the Filipino. You gave me hope. You have won me over and over again, especially because you have taught me to love my country, our country, so much more," she said.
The actress ended her post with an expression of love for her husband, whom she got married to more than a year ago.
"It has been a privilege to stand right by your side in this campaign!!! I love you my darling darling sweet love:) #saychiz #HAPPINESS Gods will be done:)," she said.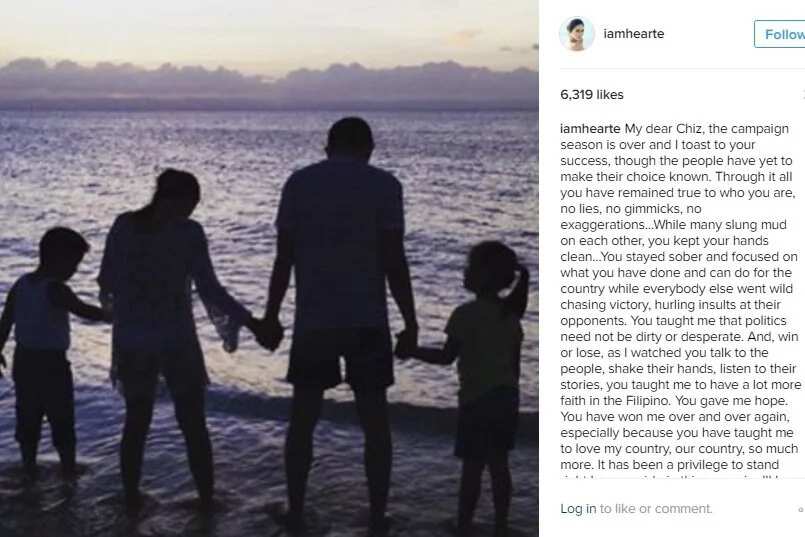 Senator Chiz Escudero already conceded and expressed his preference for someone from his region to be the next Vice President of the Philippines.
The partial and unofficial Vice Presidential results show Camarines Sur Representative Leni Robredo leading narrowly over Senator Ferdinand "Bongbong" Marcos, who comes from the Ilocos Region.
Source: KAMI.com.gh