LOOK: 70 year old woman gives birth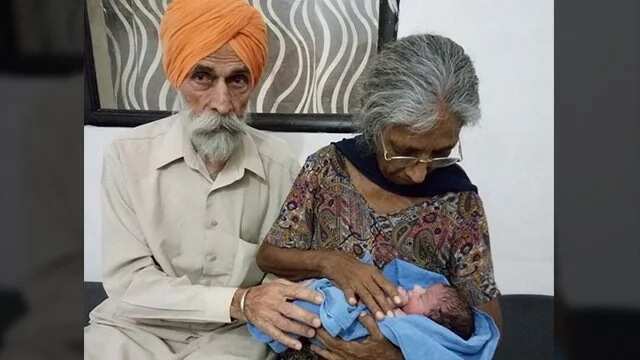 LOOK: 70 year old woman gives birth
Too old? Not this woman. An Indian woman, 70 years old, gave birth to her first child on April 19. She tells people that you're never to old to become a mother, and that with the birth of her first child her life is now complete.
Indian woman Daljinder Kaur gave birth to a healthy baby boy. Her husband, Mohinder Singh Gill, and Kaur were following two years of in-vitro fertilization treatments in a fertility clinic in north eastern Haryana state. Her husband is 9 years older than her, at 79 years old. The couple has been married for 46 years.
The couple has almost lost hope of bearing a child. In India, infertility is sometimes seen as a curse from the gods, adding to their stigma.
All hope seemed lost, until they saw an advert and learned about IVF. The baby was conceived from the couple's own sperm and egg. When the baby was born, it weighed a healthy 4.4 pounds.
"God heard our prayers. My life feels complete now. I am looking after the baby all by myself, I feel so full of energy. My husband is also very caring and helps me as much as he can. When we saw the (IVF) advert, we thought we should also give it a try as I badly wanted to have a baby of my own," said Kaur.
The husband, GIll, is a farmer who owns a farm just outside Amritsar. They never gave up hope despite their age.
"People say what will happen to the child once we die. But I have full faith in God. God is omnipotent and omnipresent, he will take care of everything," said Gill.
Despite this, it's not the first case that an old person has given birth. A 72-year-old woman from Uttar Pradesh state also  reportedly giving birth to twins in 2008, also of course through IVF.
Source: KAMI.com.gh