Marcos calls Duterte, mayor president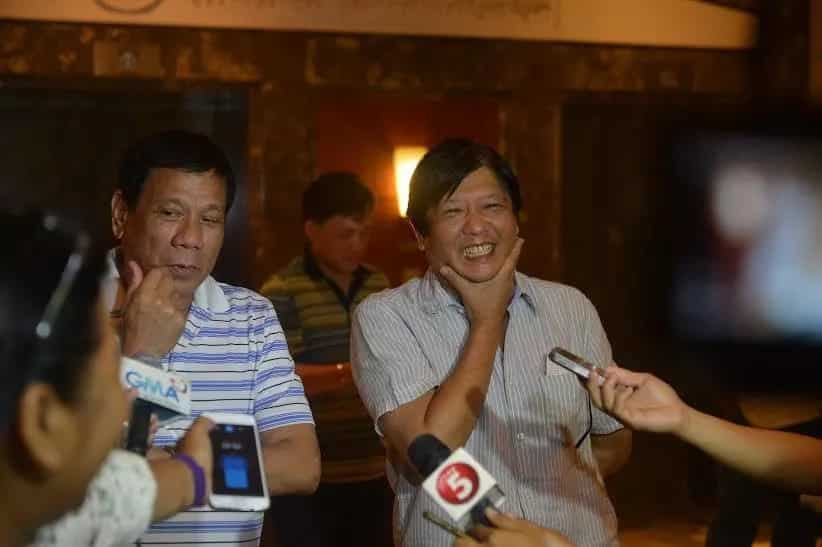 Vice presidential hopeful Bongbong Marcos congratulated Davao City mayor Rodrigo Duterte for becoming the next president of the Republic of the Philippines and called him the country's "mayor president."
Marcos said in a statement on Wednesday that the country's first president from Mindanao is his close friend. "Nais kong batiin ang aking matalik na kaibigan na si 'Mayor President' Rodrigo 'Digong' Duterte (I would like to greet my best friend Mayor President Rodrigo 'Digong' Duterte)," Marcos said.
"As the first president from Mindanao, I am certain you will continue our efforts in the peace process in order to finally usher in a period of harmony and development in the Land of Promise," he said.
Marcos believed that Duterte can certainly lead the peace and order with rebellious Muslims and can guarantee security and peace in the entire region because he is a native of Mindanao.
"I wish nothing but the best for you because when a president does well, so does the country," Marcos added.
Marcos opposed the passage of the Bangsamoro Basic Law (BBL). It is a bill which pursues to generate a more politically independent Bangsamoro region as a result of a peace deal with the Moro Islamic Liberation Front (MILF). He found the said bill unlawful.
Duterte, on the other hand, is advocating for federalism in lieu of the much-disputed BBL.
Up until now, Bongbong Marcos' bid for the vice presidential post is hounded by the human-rights violations under the martial rule of his father as well as his family's ill-gotten wealth under the two decades of Marcos regime.
Nevertheless, Marcos said in the first vice-presidential debate at the University of Santo Tomas that he had nothing to do with his family's alleged ill-gotten wealth and that he cannot give what he does not have.
RELATED: Marcos supporters troop to Luneta
Source: KAMI.com.gh