Duterte to impose FOI as first executive order
PDP-Laban standard bearer and Davao City Mayor Rodrigo "Digong" Duterte reiterates his stand for Freedom of Information (FOI) as he promises to impose it on the executive department from his day one in office.
Davao City Mayor Rodrigo Duterte pushes for FOI as he promised to fight against corruption under his administration. He also mentioned not being able to guarantee prioritizing a law just like what the previous presidents have done before and ended up not doing it at the end of their terms.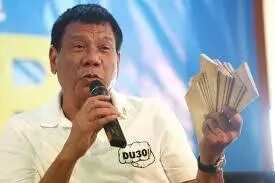 The presumptive president said, "Unahan ko na. I will issue an executive order. All. Hindi na kailangan ng batas," he said.
The media can have free access to the documents of the government by virtue of such order, but it will only cover the executive department.
Meanwhile, Presumptive President and Davao City Mayor Rodrigo "Digong" Duterte is also considering to overhaul the three-decade-old 1987 Constitution of the Philippines and propose a shift to a federal-parliamentary form of government, said Peter Laviña on Tuesday, May 10.
"There will be a major rewriting of the constitution," Lavina said. "We have seen the failure of the presidential form (of government)," he added.
Mayor Duterte will request the Congress to pass a law for the election of members to a constitutional convention that will draft the necessary amendments to the charter. This will be done within the first six months of his term.
"That will require a wide national consensus beginning with asking congress to call for a constitutional convention," Peter Lavina said in a media interview.
He also said that such amendments would be submitted to a plebiscite by year 2019. The first federal elections could possibly be held in 2022 or at the end of his term.
RELATED: 5 changes Duterte promised PH
Source: KAMI.com.gh