Marcos thanks Santiago for support
Vice presidential candidate and Senator Ferdinand "Bongbong" Marcos Jr. thanked his running mate Sen. Miriam Defensor Santiago on May 11 for supporting his claim on the administration's manipulation of surveys to displace him from the VP race.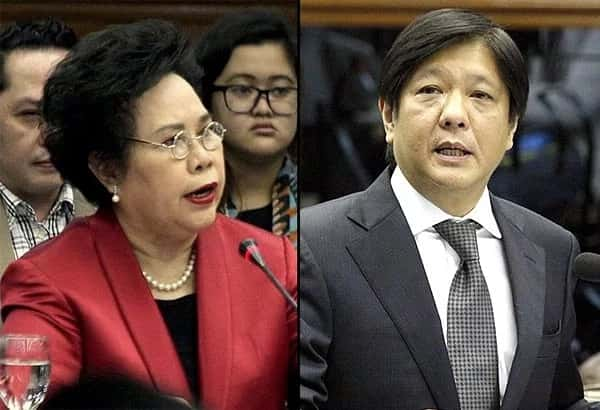 Marcos said the administration changed the surveys to deceive the voting public to make it look like its candidate Camarines Sur Ma. Leonor "Leni" Robredo is the one leading.
In a statement on Wednesday, the senator said Santiago backed his claim that the administration tampered the survey results days before the elections to show that the Liberal Party candidate swift into a statistical tie. Santiago accused the government of "manipulating" the surveys to make Robredo in a statistical tie with Marcos days before the much-coveted national elections.
 "I thank my Presidential running mate, Senator Miriam Defensor Santiago for her statement in support of the concern we raised earlier on the apparent manipulation of survey results in a bid to mislead the people into believing a supposed last-minute surge in the popularity of Administration candidates," Marcos said.
"We all know Miriam for her intelligence, integrity, independence and courage. And so when she speaks, we should listen," Marcos said. 
Robredo leads Marcos by over 200,000 votes opposing the previous survey results where Marcos was the leading. Marcos noted that the unofficial count by the Commission on Elections (Comelec) "give substance to our concern."
"As we warned earlier, this could be part of a plot to mask efforts to rig election results," Marcos said.
On the other hand, Robredo believed that it was unfair for Marcos to accuse her camp of cheating without substantiating it.
"Napakaunfair na masabing nandadaya na hindi mo naman sinasubstantiate (It's so unfair to accuse someone of cheating without substantiating your claim)," Robredo said on Tuesday.
RELATED: Miriam questions VP election results
Source: KAMI.com.gh