James Reid at 23; fulfills 2 wishes
James Reid celebrated his 23rd birthday a day earlier on May 10 at the Asociacion de Damas de Filipinas, a 103-year-old child care facility for orphaned, neglected, abandoned, and foundling children.
James sang, danced and provided food and gifts for the children who were ecstatic to see him face to face. In return, the children organized a production number and taught James to sing and dance the birthday song. "I feel like I'm celebrating my third birthday."
However, today, May 11, is his actual birthday.
He said, "Last year, I supported a similar foundation for children. I felt that this year, I'm doing so well, so I will do the same thing, give back again. I always liked kids. I feel like a kid again." "I had a very nice upbringing that's why I wanna give back."
James' birthday wish is that his film with Nadine Lustre, entitled This Time, will become a blockbuster and that he will be awarded a Platinum album.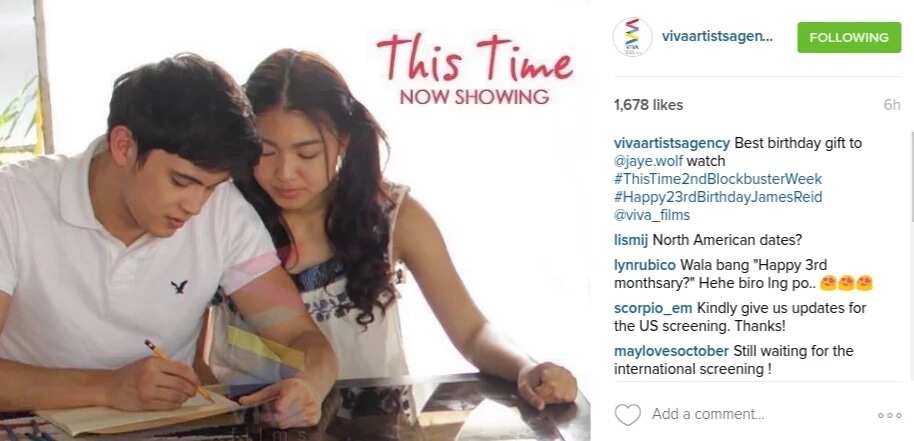 It was a pleasant surprise for him when last Sunday, May 8, he received a Platinum award for his Reid Alert album while guesting on ASAP.
"I'm so happy. That's one of the things I wished for, a Platinum album. And the same day I said it, it came true. My first birthday wish was the success of This Time and it came true, so I'm happy. I can't just really explain it. I'm just happy, happy for Nadine as well and for the fans. I've only seen it once, sa premiere. I'm very proud of the movie." James gushed.
"The film has a lot of content. It's not a typical kilig movie."
In addition to that, James also wishes for a small break before he and Nadine leave for their concert tour in America and Canada this Thursday, May 12.
"I want to rest. We'll leave for the US the next day, so I have to rest and get ready for the tour. My personal wish is to stop time. I wish everything could slow down... just a little bit."
He also added that he has a new movie project with Dreamscape coming up.
That's not all. James is also getting ready to move into his new 7-bedroom house at Loyola Grand Villas. He bought it so he and his family could spend time in one place together.
He plans on transferring to his new house around July or August, after his world tour with Nadine. While he's away, his brother and father are left in charge of the construction of the new swimming pool that James added to the home.
RELATED: 5 reasons to watch JaDine's "This Time"
Source: KAMI.com.gh