A recap on PH 2016 presidentiables
It's been a long, hard journey with so many close calls, but it looks like Davao City Mayor Rodrigo Duterte is set to be the next President of the Republic of the Philippines.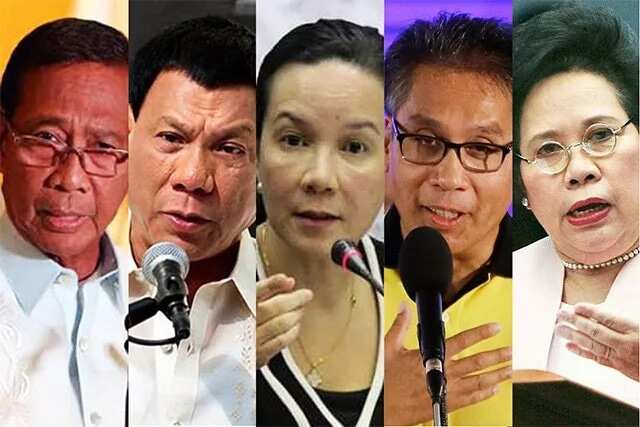 RODRIGO DUTERTE
Duterte's tough talking and unruly demeanor really got under people's skin, but for many others this is just a mask that hid his kind and sensitive soul.
While we rejoice at the rise of the first President from Mindanao, and are excited for what lies in the next six years with him, let's take a moment to remember the other Presidentiables who gave this election their all, who put their best into their campaigns - but unfortunately, were not enough.
MAR ROXAS
Let's look at Duterte's closest contender, former DILG Secretary Mar Roxas. His bid for presidency started off shakily because people remind them of the past administration – the "Daang Matuwid" which they no longer wanted to continue journeying on. It is safe to assume that his ties to the incumbent administration were eventually what pulled him down, even though he had solid support coming from Visayas.
Maybe, as some Roxas supporters would say, continuing the journey down "Daang Matuwid" would have been good for the people. Maybe we did need stability, not another President with new platforms and new ideals. Not wild promises and change and excitement. But now we will never know.
Perhaps Secretary Roxas' campaign is a reminder to all of us that sometimes, we need to let go of the people who hurt us in order to move forward and be the best version of ourselves.
GRACE POE
To many she was a traitor to the country, a deserter who returned purely to capitalize on her father's popularity. However, she slowly proved herself capable of being a fine president – she renounced her American citizenship – and for the most part has provided solid answers during the presidential debates. She promised a government with a heart, and she inspired many with her hopes and dreams for the Philippines.
But everybody knows the heart is not enough. Haunted by her citizenship issues, inexperience, and ties to the administration, she, too, lost her bid.
JEJOMAR BINAY
Vice President Jejomar Binay is starkly brave. He is brave because despite his lingering corruption issues, he still had the courage to run. He does have firm economic platforms. His governance in Makati is certainly outstanding. Yet, all the good he has done could not make the people forget the unresolved issues of fraudulence.
No one can run from the past forever, and now the ghosts of his past is after him. Maybe if he had just opened up about these things instead of brushing them off, the Philippines would have understood his way better.
MIRIAM DEFENSOR-SANTIAGO
Dubbed as "the best president we never had" by netizens. Senator Miriam Defensor-Santiago's credentials, both national and international, makes her more than qualified to be president that even Mayor Duterte said she'd be a great one herself.
However, voters questioned her choice of friends – like her running mate – Senator Bongbong Marcos – and a few inconsistencies in her stances. She looked like she was hanging out with the wrong crowd and giving promises she would never fulfill. This was most likely what dragged her down eventually, more than concerns on her health and welfare.
Despite our misgivings about her, she is definitely a strong woman. She is that one friend we are most likely to end up with in another life, if only we didn't always leave her in the background. Senator Santiago devoted her life to the Philippines and its people, and for that we are forever thankful.
THE PHILIPPINES' FRONTRUNNER
Congratulations to Mayor Duterte, for being the clear winner of the presidential elections and making history as the first president from Mindanao. Your supporters are deeply loyal to you, have fought hard for your reign.
Hopefully, you'll prove your haters wrong. You're more than the raging, guttural executioner they claim you are. You're secretly a beauty behind the mask of a beast. And you'll make your supporters proud by making the Philippines a safer, stronger place - the legal way.
Source: KAMI.com.gh