While presidential frontrunner Rodrigo Duterte continues to widen lead in the partial and unofficial presidential results of the May 9 election, netizens anticipates the P 5-M worth of cake a chef promised to bake once Duterte wins the highest post in the Philippines.
Duterte supporters must have clearly remembered Mr. Jack Labang, the chef and owner of Quim's Cake Bakeshop and Café. More than owning the newest cake café for the sweet-tooth in the heart of Tomas Morato, Quezon City, Mr. Labang is also the chef who promised to bake a cake worth 5 million pesos if Duterte takes over the presidency.
He assured that he will create the tastiest cake in the Philippines costing five million pesos and even confidently announced to distribute them free of charge if Duterte wins.
As the partial and unofficial results of the May 9 national election unfolds that Davao City Mayor Rodrigo Duterte tops the tally, netizens are calling the attention of Chef Labang while craving for the expensive cake he guaranteed.
Followers of Duterte are now reclaiming the pledge in sarcasm and even reviewing the store's official Facebook page in a tempting behavior.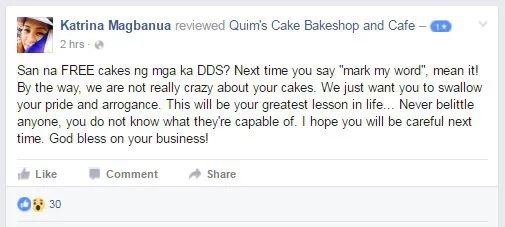 Facebook page)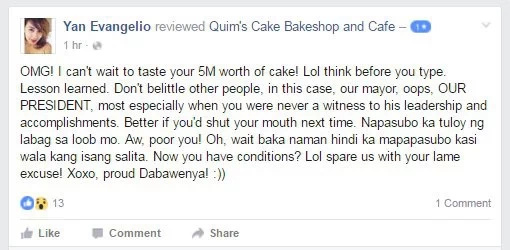 "A promise is a promise," said one netizen.
While another asked to rather share the cake to those living in the streets.

The biggest question of Duterte supporters is: "Where is he now?" to stay true to his promise of sampling 5 million worth of cakes
On the other hand, Quim's Cake Bakeshop and Café posted in its Facebook page that it will give away cakes as long as Duterte ensures his promise as a president. "As promised we will be happy to share our cakes for as long as he will also deliver his promise to solve criminality in 3-6 months," it said in the page.
Source: Kami.com.ph