There is unrest in the social media as netizens are claiming that election fraud is going on and Liberal Party is initiating its alleged "Plan B".
While Davao City Mayor Rodrigo Duterte is leading the presidential race with huge numbers, people are seeing a tight race for the vice presidential position. The battle is between Senator Ferdinand "Bongbong" Marcos, Jr. and Naga Representative Leni Robredo.
Some people are caught by surprise since Bongbong Marcos was leading the race by 11pm last night. However, the tables were turned in the dan of May 10. Robredo, not only managed to close in the gap, got ahead of her rival in a small margin.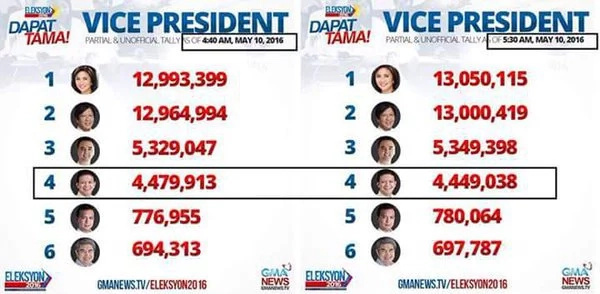 Twitter and Facebook users are posting photos showing the votes of Senator Chiz Escudero decreasing, which led to speculations that his votes are being transferred to Leni Robredo. Some people are saying the Liberal Party is initiating its "Plan B" after it saw that presidential bet Mar Roxas cannot even close the gap with Duterte.
Rumors claimed that the yellow political party is pushing Robredo's win and has future plans to overthrow Duterte's presidency via impeachment, so Leni will takeover.
#BBM4VP and DuterteMarcos trend on Twitter as supporters of the pair took it to social media to express their grievances.
Meanwhile, the four other vice presidential candidates concede and congratulate the presidential frontrunner Duterte and encouraged Filipinos to accept results and start healing.
Source: Kami.com.ph