Presidential bet and Davao City Mayor Rodrigo Duterte has consistently led the unofficial poll tallies. One day after the election, let us revisit his promises of change that had seemed extremely far-fetched and bordering on radical throughout his campaign.
As of May 10, 2016, 8:59 am, Duterte is the clear front runner of the presidential race, with 15,155,775 votes. Trailing him is Liberal Party's presidential bet, Mar Roxas, with only 9,112,889 votes.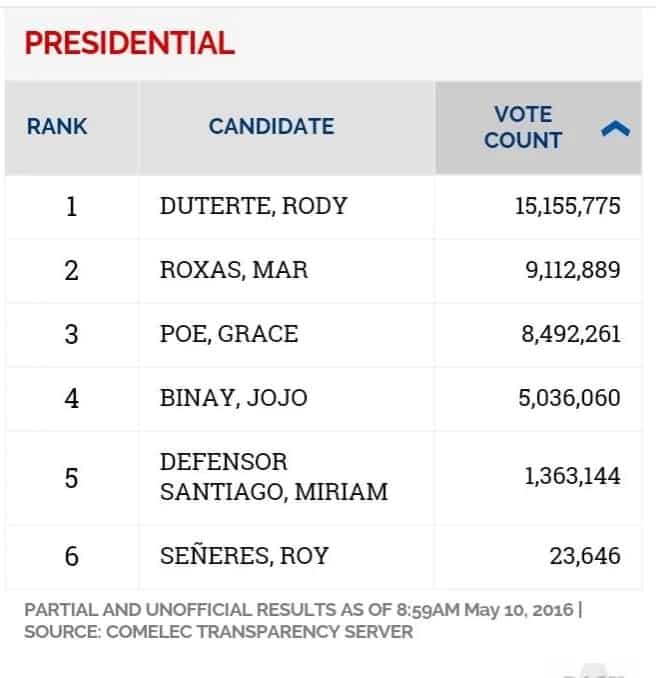 (Photo credit: abs-cbn)
With Mayor Duterte's seemingly clear future as the next Philippine president, let's have a rundown of some of the interesting promises he has made and the unconventional stances he has taken, and reflect on whether they are things we are really willing to ask for from our leader.
1.
There are pros and cons to the death penalty that have been debated on for centuries all over the world. If we do allow him to pass it, let's make sure he captures criminals who really are worthy of such a sentence.
2.
While this seems ideal, let's remember that a considerable amount of our work force work at night. Call center agents, manufacturing plants and processing facilities employees and hospital medical staff, for example. This will be a considerable inconvenience for these people, if ever it is implemented.
3.
In relation to this, he maintains that his presidency will be "bloody" because of his tough stance on drugs and crime. He has even announced that if he does not fulfill this promise, he would be ready to die.
He has repeatedly advocated personally organizing mass murder of criminals and is considering providing a shoot-to-kill order for policemen.
On October 27, 2015, Mayor Duterte ordered drug personalities to leave the city within a 48-hour ultimatum. It followed after Duterte issued a shoot-to-kill order against all suspected drug dealers, users and pushers within the area.
Stories of shoot-to-kill orders gone wrong in Davao City have circulated in social media.
While he later took it all back and said him dying was just a metaphor, the high likelihood of injuring civilians or maybe shooting the wrong person, should this order push through, is alarming. In case he does plan on pushing through with this plan, it is our duty as his citizens to make sure he at least follows due process and a code of ethics, even if the lowering of crimes rates would take longer than 6 months that way.
In our condemnation of criminals, let us not forget that they, too, have rights.
4.
Duterte, a self-confessed womanizer, promised that if he becomes president, he will legalize polygamy, a practice that is not allowed under Philippine laws as well as the laws of the Roman Catholic Church.
5.
The mayor has repeatedly opposed American presence in the country and categorically declared he will not allow drones in Davao City.
However, he added,
If he maintains his rise in polls, he will definitely be the next President of the Philippines. As his constituents, let's be critical of the kind of changes that he wants to bring and ensure that he doesn't overstep his boundaries.
Let's not stop at just being responsible voters; let's be responsible citizens as well.
RELATED: Philippines Election 2016: List of Proclaimed Winners
Source: Kami.com.ph