BREAKING: Leni overtakes Marcos in VP Race
UPDATE: LENI ROBREDO WIDENS LEAD FURTHER AT  POLLS WITH A 31,000 VOTE LEAD, 4:22 A.M.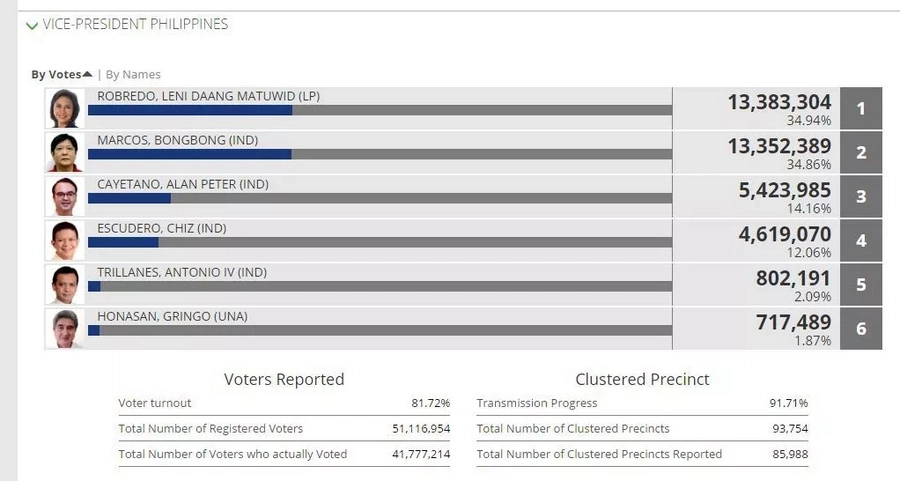 The dust is beginning to settle. The Vice Presidential race is nearing its end. It has been gritty. It has been highly contested by two front runners. Now, with the election returns from low transmission precincts beginning to arrive in the headquarters of the Commission on Elections, Liberal Party's champion for the Vice Presidential position Leni Robredo emerges just on top of Bongbong Marcos. According to COMELEC's official page for the 2016 elections, Robredo leads Marcos in a too close for comfort margin of just over 31.000 votes.
Early on in the counting, Ferdinand "Bongbong" Marcos Jr. was a consistent poll topper, denying Leni Robredo the top spot. Marcos has taken a majority of Luzon provinces as he denied Leni a victory in vote rich areas in Luzon save for his party leader's hometown, President Benigno Aquino, Tarlac. With this, Leni leads just a mere 0.01% in the polls, raising the stakes infinitesimally higher. It can be expected that whoever wins or loses, allegations of cheating will emerge from their respective parties. However, if this current trend continues, Leni Robredo may be able to solidify her lead in a substantial margin that will mark a decisive win over Marcos, denying him and his family the chance to regain further control over a government they once squandered.
Leni herself led a solid counter attack in Tarlac and the southern areas of Luzon, especially her hometown Camarines Sur where she crushed Marcos with an 85.6% lead. While the Solid North still remains as solid as ever, many regions in the country are fighting back vote to vote in this year's Vice Presidential elections.
Leni Robredo received reports from her own watchdogs that she will win the tight VP race. She remains hopeful that the polls will continue the way they are, to further distance herself from the dictator's son, Bongbong Marcos.
Source: Kami.com.ph