Presidential race front runner Davao City Mayor Rodrigo Duterte sent a message to his fellow candidates and told them it is time to move on from the damage the election has brought.
"Let us be friends. Forget about the travails of elections," Duterte said after casting his vote on Monday afternoon.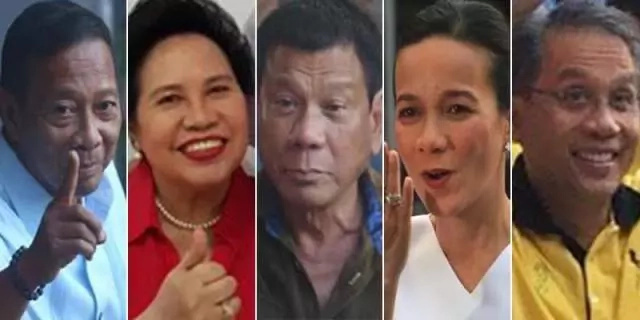 (Photo credit: gmanews.com)">
"I would like to reach out my hands to my opponents. Let us begin the healing now," Duterte encouraged his rivals via a press conference held at the Royal Mandaya Hotel.
Duterte believes that the last days of the election campaign has been "quite virulent". It is the time where black propaganda and accusations surfaced and were thrown by one candidate to another.
While the mayor remains "hopeful" in winning the presidency, he says he is not assured of the seat until the results of today's election will reveal such.
"I ain't there until I am there," he said.
The mayor has never seen a defeat in his entire political career. "This will be my 11th election in my life, I never experienced defeat. Maybe this time, if it's God's will. But If I win I'll do my job," he said.
Duterte was the last of the five presidential candidates to cast his vote on Monday at his assigned precinct at the Daniel R. Aguinaldo National High School.
The reason for his late voting is that the mayor is known to be nocturnal. Peter Laviña, spokesperson for Duterte and head of his media team, said that the mayor "sleeps at daytime."
Furthermore, Laviña said that the mayor would want to be out of sight as much as possible, both from the public and the media, until he casts his vote.
"He will show up when he comes to the polling precinct. This is partly due to security reason," Laviña said.
He arrived at the school at 3:05 p.m., as reported by the Philippine Daily Inquirer.
RELATED: Mar Roxas casts vote; confident of election results
Source: Kami.com.ph