- Confessions of harassment in Miss Earth have shaken the entire Philippines
- The recent allegations were not isolated as reports of previous cases have also surfaced
- It was alleged that these incidents did not only occur recently but have been happening since 2005
PAY ATTENTION: Click "See First" under the "Following" tab to see KAMI news on your News Feed!
It looks like the harassment scandal that rocked this year's Miss Earth pageant was not an isolated incident.
Earlier this month, three Miss Earth 2018 contestants came forward with stories of alleged harassment they experienced at the hands of one of the pageant's long-time sponsors, Amado Cruz.
This inspired at least five other contestants, even from previous years, to also share their experiences of harassment and predatory behavior while competing at Miss Earth.
KAMI learned that the revelations began on November 7, when Miss Earth Canada 2018 Jaime Vandenberg and Miss Earth England 2018 Abbey-Anne Gyles-Brown wrote on Instagram about their experiences of harassment and bad management at Miss Earth 2018.
Without naming the sponsor yet, Vandenberg and Gyles-Brown shared that the sponsor would call them and ask for their hotel room numbers.
Both of them said the sponsor also promised to advance them in the competition in exchange of intimate favors.
Vandenberg also wrote that while at Manila Yacht Club for a sponsor event, he offered to bring the delegates to Boracay "as long as we don't tell anyone."
When Vandenberg and Gyles-Brown approached the Miss Earth management to report the sponsor, they were told that it is important to be "friendly to the sponsors."
Gyles-Brown was also told that she shouldn't cry because she'll ruin her make-up.
On Gyles-Brown's Instagram post, Miss Earth Wales 2017 Sophie Bettridge commented, "This unfortunately also happened to many of the 2017 delegates, for myself when visiting Manila yacht club to meet sponsors."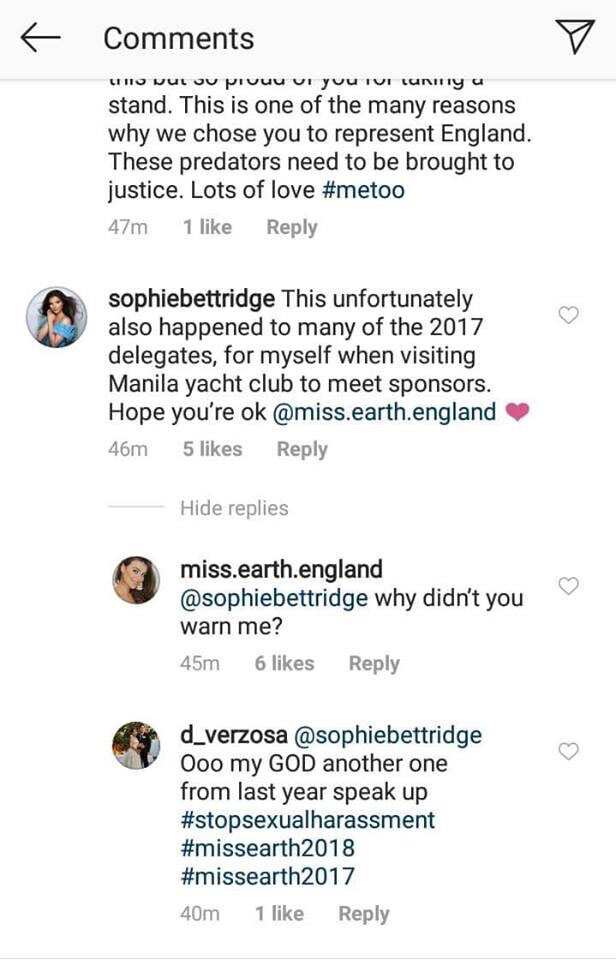 On November 8, Miss Earth Guam 2018 Emma Mae Sheely also recounted her experience of harassment at the competition.
She was the first to name the sponsor alluded to in these stories: Mr. Amado S. Cruz.
She also mentioned being invited to Boracay.
She wrote that Cruz "grabbed [her] bare backside" during one of the pageants and insisted that she should not report any of these instances to the Miss Earth management. Cruz would also tell her and some other candidates to dance for him.
Joining the women making a stand, and perhaps inspired by the support the candidates received, Miss Earth England 2017 Charlotte Sophie Brooke, Miss Earth Guatemala 2016 Stephanie Sical, and Miss Canada 2016 Tamara Jemuovic also voiced their thoughts and experiences on Instagram.
In a post on her own Instagram page, Brooke called Cruz a "predator" and said that he "approached many of the girls, offered them luxury holidays, trips on his private yacht, nice dinners and expensive handbags."
After repeatedly denying him and asking him to leave her alone, Brooke would still allegedly find Cruz at her hotel, where he would continue to pester her.
Brooke also mentioned that she and her friends at the competition warned Carousel Productions about him.
PAY ATTENTION: Using free basics app to access internet for free? Now you can read KAMI news there too. Use the search option to find us. Read KAMI news while saving your data!
"They said that he would be removed as a sponsor, that he wouldn't do this again," she wrote.
Despite their promise, Cruz continued to be a sponsor in Miss Earth 2018.
On her Instagram Story, Sical wrote that during the Miss Earth 2016 competition, the delegates were made to have dinner with a "group of old Asian sponsors," where one of them had even asked for her friend's room numbers.
When she reported this to the management, she was told to just "play along and be polite."
Sical also commented this on Gyles-Brown's post. Jemuovic replied to this with "Yep. This is real, that was my year. 2016."
She also responded to backlash on the post saying, "We shouldn't be teaching our girls to 'cover up,' we should be teaching our boys that harassment IS NOT OKAY… #StopBlamingTheVictim."
At the height of the revelations, Miss Earth Cuba 2018 Monica Aguilar tried to refute the stories of the women, claiming that harassment did not happen.
However, on her Instagram story, she confirmed that the candidates were invited to Boracay.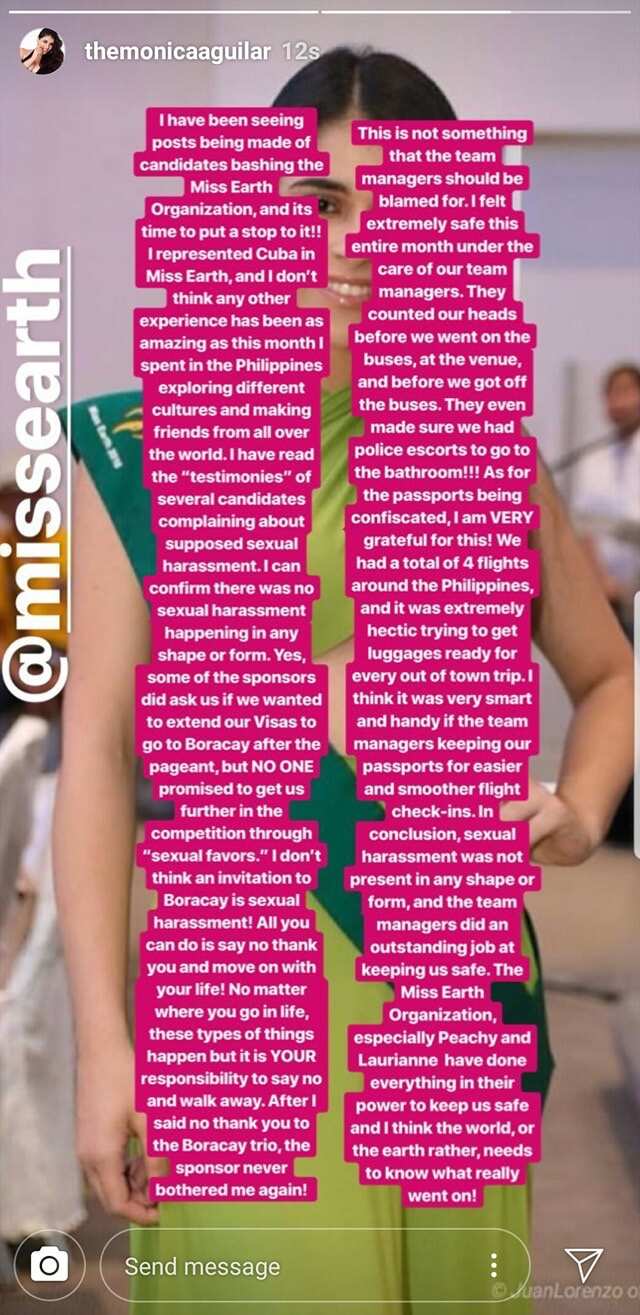 She also had a post on her Instagram page trying to refute the claims, but she has since deleted it.
As reported by ABS-CBN News, two fellow candidates sounded off in the comments, calling out Aguilar for attempting to discredit Vandenberg, Gyles-Brown, Sheely, and the other former candidates who came forward.
Miss Earth Tonga 2018 Maria Otalau Aholelei said, "It is harassment if [sponsors] continuously appear [at] sponsor dinners and continuously ask after being turned down many times. She (Vandenberg) did complain, but the [team managers] did nothing. I've experienced it myself first-hand and we got told 'don't be rude and accept it… We were still being followed everywhere by the sponsor."
Aholelei also chided Aguilar for siding with Carousel Productions, the management.
"It is their fault. Why are you standing up for them? The organization was informed. This has been happening for years but they still bring the same sponsor into the pageant, putting every candidate every year in unsafe situations," Aholelei commented.
Aholelei also said that the management could have done by to end the situation, such as removing the sponsor when the issue arose—but Cruz continued to be on the pageant.
"Think of the photo ops when they come stand in between the girls. No one is behind us, so it's easy for him to slide his hands down girls' b***s if he wanted to talk (whisper) to the girls. Think about that. Remember, the impossible is possible. If there's a will, there's a way," she commented.
Miss Earth Bahamas 2018 Samia McClain also commented on Aguilar's now-deleted post.
She responded to a netizen who had suggested that the national directors should speak on behalf of the candidates. "How could a national director that wasn't present account for an incident that took place? Is a first-hand account not more reliable than a secondary one?" she wrote.
On her personal Facebook account, McClain also wrote, "For those victim blaming and shaming Miss Earth Guam, Canada and England, please unfriend me. You were not there, therefore you were not privy to the internal environment of the pageant. This is why women frequently do not speak up about harassment… Each and every contestant had a unique experience from the other, some were negative, some were 'positive.'"
On the same day, Miss Earth Malta 2018 Yanika Azzopardi posted on her personal Facebook, writing that Cruz also allegedly approached her in the Yacht Club.
He also had allegedly invited her and other candidates to join him in his room at their hotel later for drinks and foot massages, and he supposedly emphasized that the women should keep this from their team managers.
Azzopardi did not accept this invitation and of course went straight to her room, but that night she received a call from another candidate who said that she was invited by a manager (not Cruz) to join her and her "single guy friend." Azzopardi's friend also did not accept the invite.
When this manager was reported, she was immediately removed for the Miss Earth organization. However, despite multiple reports against him, Cruz stayed on as a sponsor.
On her personal Facebook page, Miss Earth Canada 2005 Katie McClure also chimed in on the issue of harassment within the Miss Earth pageant. While she denied that she experienced harassment, she wrote: "There was an unwritten rule in pageantry regarding sponsors. They're the bread and butter and so your job is to keep them happy."
She revealed: "At every event there would be a sponsor or multiple sponsors. We would be dressed up and in our sashes and we would be expected to mingle and make nice. Have a drink in your hand but don't get drunk. Look provocative but not s****y. Make nice with the sponsors but don't get in too deep. I thought everyone knew that this was the game we were playing when we signed up. I went in with eyes wide open and I never had to decide how bad I wanted it, but I know that some girls did."
"Here's the thing, of all the examples I know of each girl had to make one decision (sic), do I want it this much? If you didn't, you could reject them and hope to have enough favour to potentially take a hit. Depending on the size of the sponsor this could cripple you but you could also walk away relatively unscathed. But if you really wanted to go home with a crown then sponsors could be your golden ticket," she wrote.
McClure's account reinforces the notion that sponsors had the power to get Miss Earth candidates further in the competition.
However, she implies that candidates who say no to sponsors can get written out of the pageant.
She also says that it is the Miss Earth candidates' job to please the sponsors—sometimes in ways the beauty queens themselves are not comfortable with.
In a competition where candidates are only vying for the Miss Earth crown—and not a place in any sponsor's bed—it is alarming how the alleged behavior continued under the pageant's management, Carousel Productions.
Enjoyed reading our story? Download KAMI's news app on Google Play now and stay up-to-date with major Filipino news!
Filipinos Answer Funny Tricky Questions Tagalog: Who Is Neil Armstrong? | HumanMeter On KAMI YouTube Channel
Source: Kami.com.ph