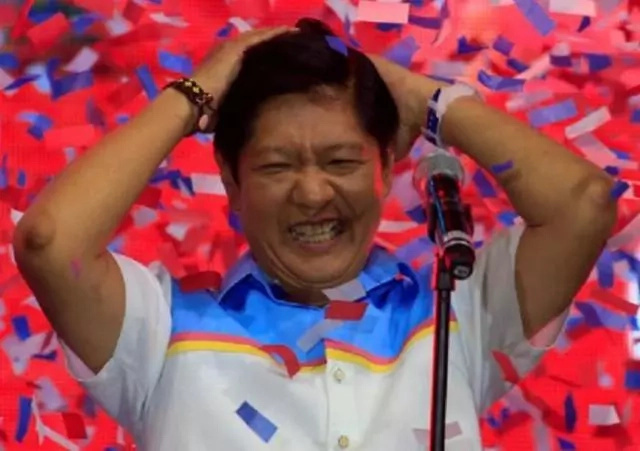 Vice Presidential candidate Senator Ferdinand "Bongbong" Marcos cast his vote Monday morning at the Mariano Marcos Memorial Elementary School in Bagac, Ilocos Norte and said the process went smoothly for him.
"Wala namang problema, 'yung resibo sakto naman sa binoto," the senator said in his press briefing, after casting his vote together with wife Lisa and son Sandro.
"I was watching the procedure very closely at mukhang simple lang pala. I hope kung ano ang nangyari sakin ganun din sa iba," he added.
The senator, who previously expressed that he can only lose the elections if cheating will happen, acknowledged that other precincts may face problems given the scope of the elections.
"Sa dinami-dami ng presinto na pinag-uusapan milyon-milyon. Kahit papano magkakamali pero sana handa na ang Comelec (Commission on Elections) na kahit ano mang problema ay mabilis na ayusin at hindi maapektuhan ang kredibilidad," he said while remaining hopeful.
In the days leading to the elections, the son of the former dictator expressed concern over reports of supposed cheating in the overseas absentee voting and massive vote-buying.
Marcos also claimed that the Liberal Party (LP) has a "plan B" to cheat in the May 9 national elections.
He also floated the idea that people in the administration party may already have given up on the winning chances of its standard-bearer Mar Roxas and instead, would just ensure a win for Robredo in the vice presidential elections so that in the event that Davao City Mayor Rodrigo Duterte wins, the Liberal Party can impeach him and replace him with Robredo.
This was immediately denied by the Liberal Party candidates and asked Marcos to fight fair and square and to stop spreading lies just to court Duterte voters.
After casting his vote, Marcos went to the nearby Batac church to pray.
"I prayed that God's will may be done. After all that should be what the elections should be about," he told reporters later at the Marcos Mansion across the church.
Feeling confident about his chances of becoming the next vice president, he said: "I'm feeling that by all indications, this (vice presidential run) is successful."
Source: Kami.com.ph