Two voters died when a shooting spree erupted inside Lagayan town precinct in Abra today, May 9.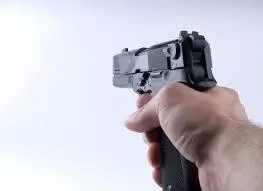 A deadly shooting spree erupted inside an Abra Lagayan town precinct at the start of the elections. According to the Commision on Elections, it has reportedly killed two voters as firefight allegedly arose between supporters of the Luna and Crisologo families at a polling precinct.
Abra's election supervisor Atty. Mae Richelle Belmes-Barolla said the report was transmitted from Barangay Pangot in a text alert on Monday.
She added that Army soldiers are currently pursuing the gunmen.
Because of this, Comelec has prohibited candidates from setting up "help desks" at voting centers in the province. Atty. Belmes-Beronilla ordered all poll precincts to prohibit any political parties or candidates from setting up help desks and command centers near the perimeter of voting areas.
In addition to this, she prevented barangay officials from entering the voting centers after receiving reports that some of the village leaders have been intimidating voters.
The province's mayoral candidates are Jodel Crisologo, Jendricks Luna, Aguinaldo Suben, Antia Seares and Berna Sibayan.
The town of Abra has had a history of unsafe elections. To prevent any more violent election related incidents this 2016, as well as to cater to complaints of harassment and vote-buying, it has been placed under the control of the Comelec.
It has been classified as an election watchlist area (EWA). Provinces that are given this classification are places with intense political rivalries, rising cases of political violence, presence of threat groups and high number of licensed and unlicensed firearms.
Last 2010, a Polish priest from the Society of the Divine Word and two nuns from the Sisters of the Immaculate Heart of Mary were taken and held "hostage" in remote Tineg town in Abra.
Tineg resident were barred from leaving the town as well.
It started when around 50 men wearing Army uniforms and brandishing firearms barged into the fiesta celebration in Barangay Agsimao, searching for a mayoral bet. They later fired their guns in the air.
The Army denied that their soldiers were the ones "terrorizing" the villagers of Tineg.
RELATED: Philippines Elections 2016: LIVE BLOG
Source: Kami.com.ph