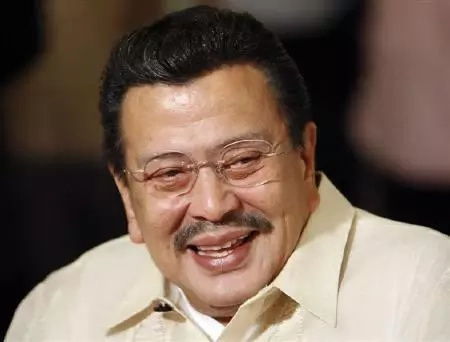 Re-electionist Manila Mayor Joseph "Erap" Estrada expressed confidence in winning the mayoralty race in Manila even if former mayors Alfredo Lim and Lito Atienza have joined forces against him.
Estrada cast his vote at 10 a.m. at P. Burgos Elementary School and was joined by his wife former Senator Luisa "Loi" Ejercito.
During the Pwerse ng Masang Pilipino (PMP) miting de avance held in Tondo, Estrada said he would win big over his rivals because of the projects he was able to implement during his first term as mayor of the capital city. He also described the "hasty alliance" between Lim and Atienza is "a desperate move to bring him down."
"They are panicking, as indicated by the fact that they are changing alliances–which shows I am the stronger contender," said Estrada.
Estrada said it was during his tenure that the debts incurred during Lim's term as Mayor was paid for.
"I paid off all of the debt [Lim] left the city with," he said.
The deposed former President added that he has been looking forward to develop Manila further, with focus on peace and order, and bringing down the city's crime rate.
During the last week of April, Estrada's rival to the mayoralty post Alfredo Lim dropped his running-mate, Rep. Benjamin Asilo, and endorsed the candidacy of Ali Atienza for the vice mayoral position who is running with Amado Bagatsing.
Lim said that there was a growing clamor from supporters to form a Lim-Atienza tandem, especially after survey results show Ali leading the vice-mayoral race.
The announcement came after Lim announced his endorsement of Lito Atienza's Buhay party-list and got Atienza's endorsement of his mayoral candidacy in return. The two wish to "bring back the old glory of Manila," having both served the capital city as Mayors in the past.
Lim was the Manila mayor from 1992 to 1998, while Atienza was elected to the post for three terms, from 1998 to 2007. The two faced off in 2001, after Lim lost in the Presidential Elections of 1998 to now incumbent Manila Mayor Joseph Estrada.
Source: Kami.com.ph