The Commission on Elections (COMELEC) recently launched www.pilipinaselectionresults2016.com, a new website that shows the electoral results that will be transmitted to the central server of the poll body.
(Photo credit: pilipinaselectionresults2016.com)
It is readily accessible to the public and can be opened on both computer and mobile devices.
Comelec spokesperson James Jimenez announced that the Commission promises to make this the most transparent elections the Philippines has experienced thus far.
"Mas handa ang Comelec ngayon kaysa sa ibang halalan. Ang sabi nga ng chairman naming, ang kaniyang pangako, na ito ang magiging pinaka-transparent na halalan sa kasaysayan ng Comelec."
(Comelec is more prepared now that in any of the previous elections. Our chairman said that his promise was this would be the most transparent elections in the history of Comelec.)
"Very importantly, we feel that on election day, we will be 100 percent ready to conduct the elections... So far, no hitches." He added.
The public website will show election returns by geography (ER) and certificate of canvass by geography (COC).
Jimenez assures voters that the website is safe from any hacking attempts because of a state of the art platform adjustment, in addition to the constant and rapid changes that will be constantly made on the website based on the results of the polls.
As of today, the website only reads:
"Precinct results and canvassing results for the 2016 National, Local and ARMM Regional Elections will be available after closing time on election day.."
Meanwhile, the original Comelec website www.comelev.gov.ph is not accessible at the moment due to technical problems. This problem was reported to have started early on election day.
When opened, the link only displays a blank page. However, Comelec's hotlines are open to address any questions from voters.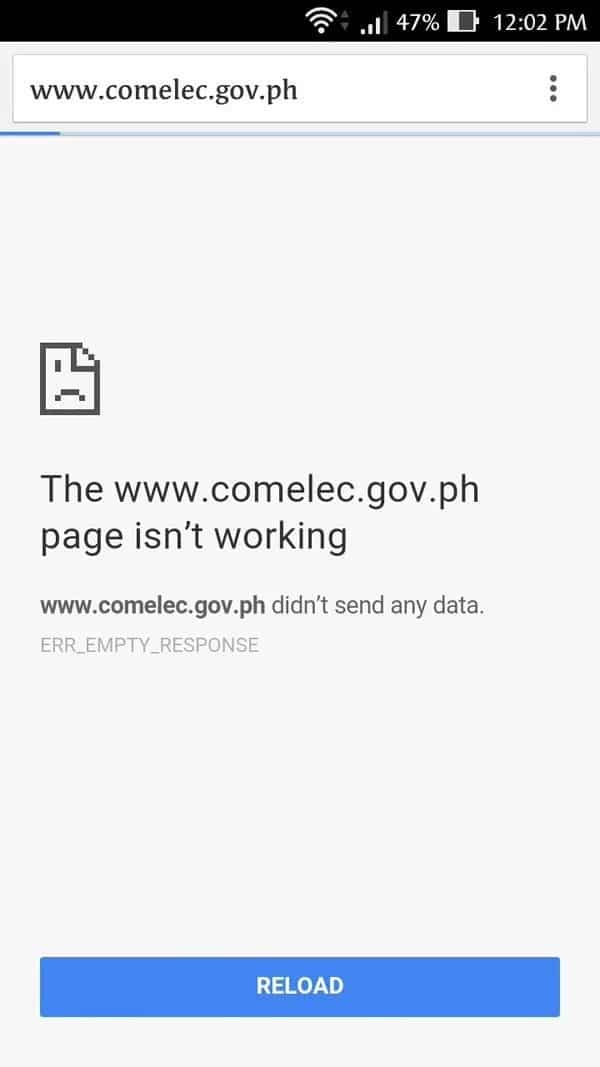 (Photo credit: comelec.gov.ph)
GMA's precinct finder is also encountering website problems because of the huge number of people trying to access it.
RELATED: Philippines Elections 2016: LIVE BLOG
Source: Kami.com.ph