5 nat'l issues Harry Roque went from opposition to being the voice of Duterte
- Harry Roque was once an opposition before he served as a Presidential Spokesperson
- Reports have been around that things were not going will between Roque and President Rodrigo Duterte
- There are national issues that Roque commented on before as human rights lawyer that changed as he became a Presidential Spokesperson
PAY ATTENTION: Click "See First" under the "Following" tab to see KAMI news on your News Feed!
Things have been rough between President Rodrigo Duterte and his Spokesperson Harry Roque. Recently, it has been reported that Roque told the President that he will be resigning from his post after the announcement of his leave. This news came after when Roque was not aware of the President's medical whereabouts.
Days later the issue sparked, it has been reported that Atty. Salvador Panelo would be replacing Roque as the spokesperson.
KAMI has learned that Roque started off as a human rights lawyer. He was involved in known cases like what happened to transgendered woman Jennifer Laude and US marine Joseph Scott Pemberton. Roque also worked with the victims of Ampatuan Massacre.
Roque then became a congressman. He was the representative of Kabayan Party list in 2016. The party-list represents the marginalized people as well as PWDs, senior citizens and OFWs.
When he was still studying at University of the Philippines, he stayed in Kalayaan Residence Hall where Vice President Leni Robredo dormed as well. They both attended the Kalayaan Batch '82 reunion.
Known to have different principles since the beginning, Roque assumed the post of being the voice of Duterte during his birthday last October 2017.
Since then, his perspectives on various national issues have changed. Here are some of the issues as reported by Rappler:
West Philippine Sea vs. China
Back in 2015, Roque has stated that China has used "unlawful" forces to claim a bigger part of West Philippine Sea. During that time, Roque was one with fishermen whose livelihood were taken when China decided to take on Scarborough Shoal, therefore, he filed a petition against China.
"The perpetrators of the human rights violations are China's state agents consisting of the members of the Chinese Coast Guard and other maritime agencies of China who patrol the fishing areas in Scarborough Shoal," he said.
However, when he became the Presidential Spokesperson, he made a statement that shocked the many. He said that maybe one day, Philippines will be thanking China for the islands.
"There will come a time when China's might has ceased, when we will have to thank them for those islands….Clearly, eventually, those artificial islands will be ours if we can ask China to leave," Roque said.
PAY ATTENTION: Using free basics app to access internet for free? Now you can read KAMI news there too. Use the search option to find us. Read KAMI news while saving your data!
Human rights vs. 'War on Drugs'
Known to be a human rights lawyer, Roque used to advocate against extrajudicial killings. In fact, during a forum regarding Ferdinand Marcos' Martial Law, he urged people not to vote for President Duterte for he was a 'self-professed' murderer.
"Please, I want you to go out and not just vote against him but convince your neighbors and friends that because the right to life is the most important of them all, please do not vote for this murderer, this self-professed murderer," Roque said.
When an audience said, "But sir, Duterte is a very charismatic figure and a lot of people like him."
He answered, "Well, Hitler was charismatic and so was Marcos."
However, things turned out differently when he commented on the same issue, but as Presidential Spokesperson this time. He said that Duterte administration's 'war on drugs' was a success in the Philippines that even other countries think of us as a model.
"Let us not underestimate the success of the President in the war against drugs. In fact, other countries now look to us as a model....It's been hugely successful. I think the communities are safer and our young people are better protected against drugs," Roque stated.
Roque was even slammed by his former colleague and a lawmaker at the House of Representative, Albay Rep. Edcel Lagman that he took a "180 degrees turnaround" regarding the issue and became the President's "leading apologist" regarding the issue.
Martial Law
During the time of former President Benigno "Noynoy" Aquino III, Super Typhoon Yolanda lashed the entire country. However, it was not an enough reason for the former president to declare martial law in Central Visayas. In this issue, Roque commended the former chief executive for not using his power and become a dictator.
"A despot would welcome any opportunity to infringe on civil liberties, I am happy that PNoy rejected the temptation to exercise powers of a dictator," Roque said.
Back in May 2017, President Duterte has declared Martial Law all over Mindanao after terrorists sieged Marawi City. For Roque, "with martial law in place, our defenders can establish a tighter net against these rebels and terrorists who will not stop until they are completely defeated."
Freedom of Expression and of the Press
In 2016, Roque said that he has been advocating for free expression in the country.
"In my years as a lawyer working in various ASEAN states to promote free expression, I have seen various shades of repression in the name of law and order. And it is not pretty," Roque stated.
However, during the administration of President Duterte, broadcasting network such as ABS-CBN, newspaper Philippine Daily Inquirer and online news publication Rappler have been under fire for releasing critical news regarding the President. The government even revoked the license of Rappler for alleged violation of Philippine Constitution.
The increasing number of DDS (Duterte Diehard Supporters) has been evident recently.
"The reason why social media in the Philippines, the DDS has grown as big as it is, is in reaction to the fact that traditional media really does not report the truth," Roque stated.
Trillanes' amnesty
More recently, it has been reported by KAMI that as per Proclamation No. 752, President Duterte has revoked the amnesty of Senator Antonio Trillanes IV given by former President Aquino back in 2010. There were alleged irregularities with the amnesty like the senator did not file for it nor did he comply with the requirements.
As previously reported by KAMI as well, Roque has confirmed that he was no longer friends with Senator Trillanes.
"We parted ways [noong] tuluyan siyang naging Dilaw because I was never really Dilaw, and we parted ways because he engaged in a witch hunt against Jojo Binay," Roque said.
"Now we're completely irreconcilable now that I'm with President Duterte," he added.
Years ago, Roque has signed the petition President Aquino to grant amnesty to the ex-mutineers, including Sen. Trillanes. On that note, Roque has never denied his friendship and support to Trillanes before.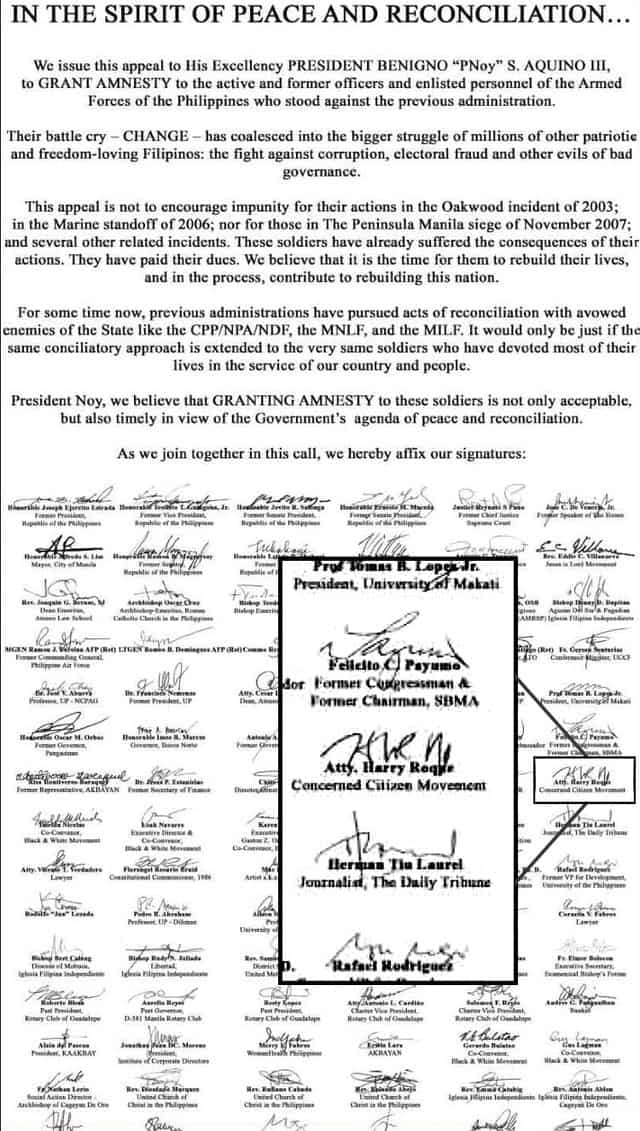 Despite all the changes regarding statement regarding these national issues, Roque has made it clear that he was just doing his job and his personal opinions are not as important anymore.
"I speak for the President now. In this capacity, I have no personal opinions," he said.
When asked if he could still do his job and continue his legacy and advocacies, he answered, "Nope. It's a job."
At the present, Roque has been eyeing a seat at the Senate.
Philippines tricky questions: can you answer these tricky questions? Today we are going to ask Philippines strangers some very funny Tagalog tricky questions! Do you think you can answer them correctly? These individuals from the Philippines have their answers! If a Ship Sank, Where Would You Bury The Survivors? This questions might sound easy, but in reality, they are pretty tricky and it is easy to make a mistake! – on KAMI HumanMeter YouTube channel!
Source: KAMI.com.gh