COMELEC denies pre-marked RoRo ballots
Comelec has officially denounced claims that pre-marked ballots with pink line would automatically count votes for Mar Roxas and Cong. Leni Robredo as fake.
Comelec spokesperson James Jimenez tweeted that the ballots with pink line code were "clearly photoshopped" and that no such ballots were given for the public.
When Twitter user Nokie Villanueva sent him a message and asked him to tell the difference between a ballot with a pink line and a ballot without, he answered
The rumor-mongering started when a certain Facebook user Mbaid Nayre posted that ballots with pink line code would automatically count votes for Roxas and Robredo.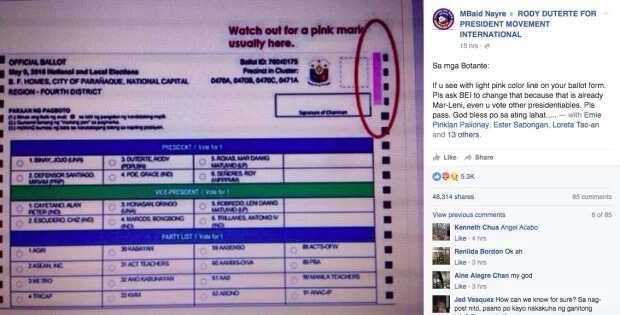 She posted the image of the "pink-lined" ballot, with the caption:
As of today, Nayre's post has been shared by over 48,000 users.
Jimenez expressed his disappointment with the continued spread of black propaganda and false information regarding allegedly pre-marked ballots.
"That stupid pre-marked ballot story again. Offensive because it assumes voters are dumb enough to accept a pre-marked ballot."
Prior to this, there have been other similar unverified allegations that have been made concerning the ballots. One was an overseas ballot that highlighted the names of a specific pair of candidates. An OFW in Lebanon was allegedly not informed that ballpen ink could not be scanned, while she filled out the form with a ballpen. Another claimed that when they voted for Mayor Duterte, Roxas' name was instead reflected in the receipt.
As of today, most of these allegations have officially been debunked or have been deleted by their owners in an attempt to hide from public scrutiny and further investigation.
RELATED: Election violence taints end of campaign period
Source: KAMI.com.gh