Duterte, ready to be PH father; vows mass murder
Presidential candidate and Davao City Mayor Rodrigo Duterte on Saturday, May 6, asserts readiness to be PH father as he vows to "butcher" criminals during his miting de avance in Luneta, Manila.
"I'm ready to be your father…I promise you a comfortable life," Duterte promises the 300, 000 supporters who attended the grand rally. "There will be no corruption in government. If you don't believe just go to Davao and see," he said.
The straight-shooting mayor from Davao City reaffirms his vow to end criminality and illegal drugs within the first six months of his administration, including his vow to forget human rights if he wins Monday's election. "Forget the laws on human rights," said Duterte, in a typical savage tirade. "When I say I will make (a criminal) eat a bullet, you must believe me," he added.
Duterte, in an earlier announcement, had made remarks that he will pardon himself for murder.
The presidential favorite in his claims to replicate to the Philippines what he has done for Davao City said, "I am not your perfect option. But I am your last card. I promise you I will get down and dirty just to get things done. I will get things done. I will do it for the Filipino people."
Among the attendees was 84-year-old housewife Zenaida Gobangco, who said she would vote for Duterte.
"He is sincere. When he says he will kill criminals, it is just right that we have a leader people fear," she said.
Manila-based political analyst Earl Parreno, however, countered circulating claims of Duterte's victory over PH presidential bid by saying that he lacks the sophisticated political machinery of some of his rivals and is not guaranteed victory.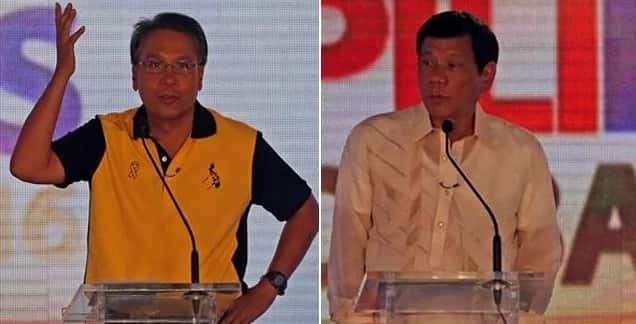 According to Parreno, Roxas is in the strongest position to challenge Duterte in the presidential bid as he has the machinery of the Liberal Party to get people into voting booths and boost voters' share to about five percentage points.
"We also still have the undecided. It's going to be a very, very close fight," he added.
RELATED: Miriam: 'Duterte is PH most dangerous candidate'
Source: KAMI.com.gh