EU ambassador: PH on good track, now has to make a choice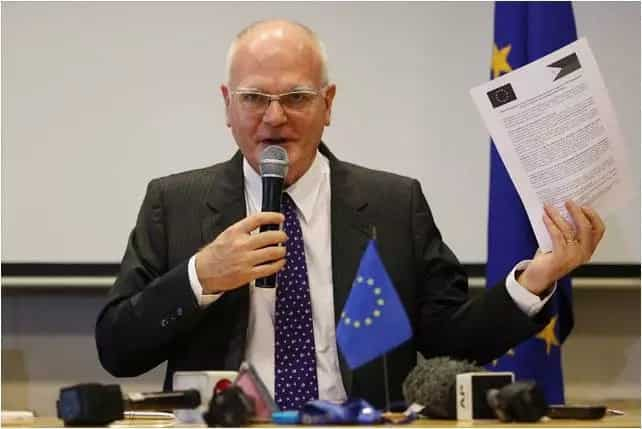 European Union (EU) ambassador Franz Jessen opined that the Philippines is on a good track, but is set to direct its future course with the upcoming May 9 national elections.
"The saying 'It is more fun in the Philippines' is correct. But the Philippines is also facing important choices that will set the future course of the country," Jessen said in a speech during the Europe Day celebration held at the Dusit Thani in Makati City on Thursday.
"The country is on a good track, one of the fastest growing economies in Asean (Association of Southeast Asian Nations), and a country with a great potential that should be unleashed," he added.
The EU ambassador noted that the Philippines will have to make an important choice given that the new administration can formulate new policies.
"These are historic times.  You will in a couple of days' time elect a new President, a Vice President, and a Congress.  We will see a new administration take shape, and new policies being formulated.  It is an important time in your history," he said.
Jessen noted that political cooperation facilitated for strong bilateral relations between EU and the Philippines in the past 25 years since the union first opened its office in the country.
"The Philippines and the EU are working together bilaterally and with Asean to address the global challenges that we both face," he said.
Towards the end of April, four European states approved a preferential deal with the Philippine government under the Aquino administration, which is wrapping up its term of office with the election of a new President in a few days.
The first round of negotiations with the 28-member European Union for a similar free trade agreement, which will be held from May 23 to 27 this year, can help the country establish a strong foothold in one of its biggest markets to date and also attract more investments from Europe.
The EU is currently ranked as the country's fourth largest trading partner, third largest import source and fourth largest export market.
Source: KAMI.com.gh