Hackers deface MTRCB website over anti-Duterte ad
A group of individuals who called themselves – Pinoy Hackers – defaced the website of the Movie Television Review and Classification Board (MTRCB) on Saturday morning in protest over supposedly "malicious" ad against Mayor Rodrigo Duterte.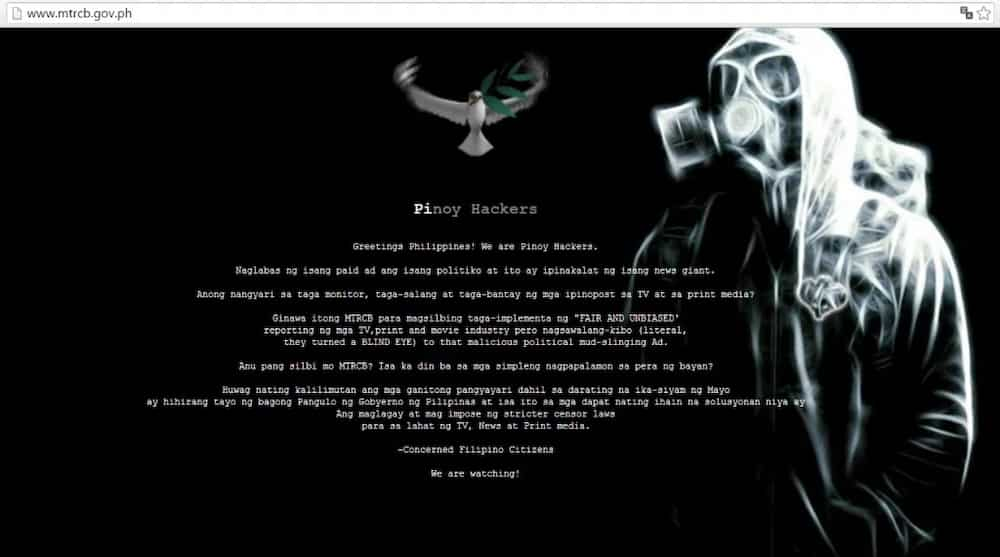 Pinoy Hackers blamed the MTRCB for the broadcast of an "attack ad" that aired on television network ABS-CBN on Thursday.
"Naglabas ng isang paid ad ang isang politiko at ito ay ipinakalat ng isang news giant (A politician released a paid advertisement and it was aired via a news giant). Anong nangyari sa taga monitor, taga-salang at taga-bantay ng mga ipinopost sa TV at sa print media(What happened to the group in charge of monitoring, filtering and judging what is being posted both on TV and print media)?," the group said in a statement posted on MTRCB's homepage.
"Ginawa itong MTRCB para magsilbing taga-implementa ng "FAIR AND UNBIASED' reporting ng mga TV, print and movie industry pero nagsawalang-kibo (literal, they turned a BLIND EYE) to that malicious political mud-slinging Ad (The MTRCB was established to implement a 'FAIR AND UNBIASED' reporting of TV, print, and movie industry, pero they literally turned a BLIND EYE to that malicious political mud-slinging Ad)," it added.
This hacking came after MTRCB Chairman Eulogio Villareal released a statement clarifying that the power to supervise the political ads broadcast on television belongs to the Commission on Elections (COMELEC).
"The MTRCB wishes to inform the general public that it is the Comelec which has jurisdiction in all instances to supervise and regulate political advertisements broadcast over television, whether promoting or opposing the election of a candidate, pursuant to the Fair Elections Act (RA 9006) and its Implementing Rules and Regulations for the 09 May 2016 National and Local Elections (Comelec Resolution No. 10049)," Villareal said in a statement.
On Friday, vice presidential candidate Alan Cayetano filed a Temporary Restraining Order (TRO) against the showing of the alleged controversial ad before the Taguig City Regional Trial Court.
The 30-second ad is a video clips compilation of Duterte's controversial remarks during his campaigns. It features children asking questions if Duterte is the kind of leader they should follow. The said ad was sponsored by vice presidential candidate Antonio Trillanes IV.
Meanwhile, Duterte supporters criticized the involvement of children in the alleged "malicious" advertisement.
Source: KAMI.com.gh