Merlie Neluna, a Roxas-Robredo supporter, shared a website link to the Philippine embassy in Jordan on May 4, showing an election list with no registration for OFW voter, Karen Cabase.
With the overseas voting officially underway, black propaganda and VCM (vote counting machine) issues continue to rise and to alarm the rest of the electorate, especially with the alleged redirection of votes.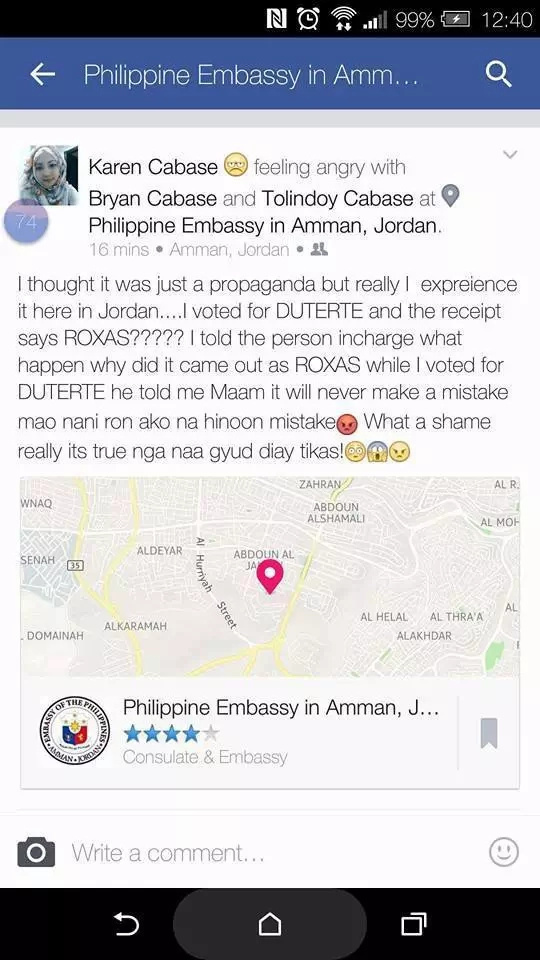 Karen Cabase, junior HR executive officer at Technoserve Trading LLC in Amman, Jordan, complained that during the overseas elections, her voter's receipt showed that she went for former DILG Secretary Mar Roxas, when, in reality, she casted her vote for Davao City Mayor Rodrigo Duterte.
This raised suspicions that the government is conspiring against Duterte so Roxas could win.
However, a netizen uncovered evidence that Cabase's accusations were false and are merely black propaganda.
On May 4, Merlie Neluna, a RoRo supporter, shared the website link of the Philippine embassy in Amman Jordan. This page contains the PDF file of the certified list of overseas voters for the 2016 national elections.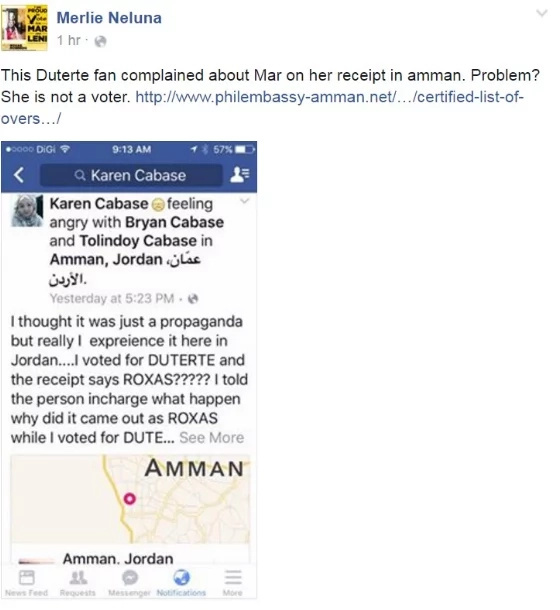 Cabase was not on the list. No OFW voter was registered under the name Karen Cabase or Karen Cabase Al-omari in Amman, Jordan. This made many netizens angry at Cabase for her fabricated story, and many suggested that Cabase be reported to the authorities for deliberate disinformation and manipulation.
With netizens are hot on her trail, Cabase quickly changed her Facebook name from Karen Cabase to Karen Cabase Al-omari, and deleted the phony election post.
In the Philippines, during the testing of the VCMs in the province of Lanao del Sur, a Congressman Karlo Nograles posted a status update, claiming that during their final testing, the votes for Duterte were indeed credited to Roxas.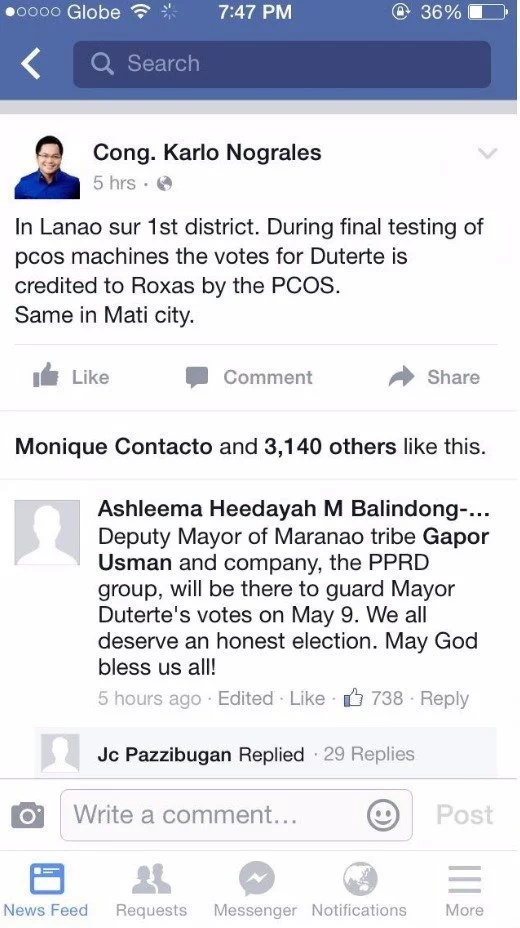 Photo credit: fightformar.wordpress.com
However, a COMELEC lawyer investigated and announced that "the reports circulating in social media are unverified. However, some VCMs have been found to be defective, and we have already informed the National Technical and Support Center (NTSC) to fix or replace them."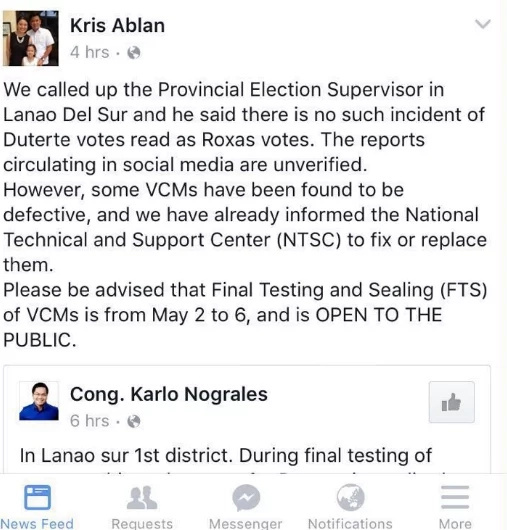 While Cabase's report and Congressman Nograles' posts have proven to be a sham, COMELEC has yet to cater to other similar complaints from both OFWs and voters within the country.
In a news conference towards the end of April, Senator Ferdinand Marcos Jr. announced that he had received several reports over the weekend about votes that were cast for him being credited to vice presidential candidate Senator Gregorio Honasan of UNA instead, who has been trailing behind on opinion surveys.
Marcos and Romualdez raised the alarm when voters from Hong Kong, Guam, Dubai, and Okinawa, Japan flooded their office with reports that their actual votes did not match the votes reflected on the receipt.
In a separate news conference, UNA presidential candidate, Vice President Jejomar Binay, also complained of similar incidents – according to him, the votes that were supposed to be his were counted for Roxas instead.
A lawyer for Duterte in Sarangani announced reports of a vote counting machine in Barangay Balus, Kiamba town showing "results counted for [Mar] Roxas when [Rodrigo] Duterte was voted for in the ballot."
RELATED: Robredo: I'd rather lose than win an anomalous election
Source: Kami.com.ph