- Teacher groups Teachers' Dignity Coalition (TDC) and Alliance of Concerned Teachers (ACT) Philippines have now spoken up in regards to teachers' undermined roles in the sector
- They argue that Filipino teachers are the most underpaid laborers in the education workforce because of the burdensome roles they take aside from hefty workload imposed by DepEd
- The groups are also concerned not only with the physical, but also the mental well-being of teachers who are underpaid under painful circumstances
PAY ATTENTION: Click "See First" under the "Following" tab to see KAMI news on your News Feed!
Teachers' groups made released separate statements with regard to the hefty "pressure" and "too much workload" imposed by the government on public school teachers. Teachers' Dignity Coalition (TDC) and Alliance of Concerned Teachers (ACT) have underlined that teachers must be spared from being "too exhausted."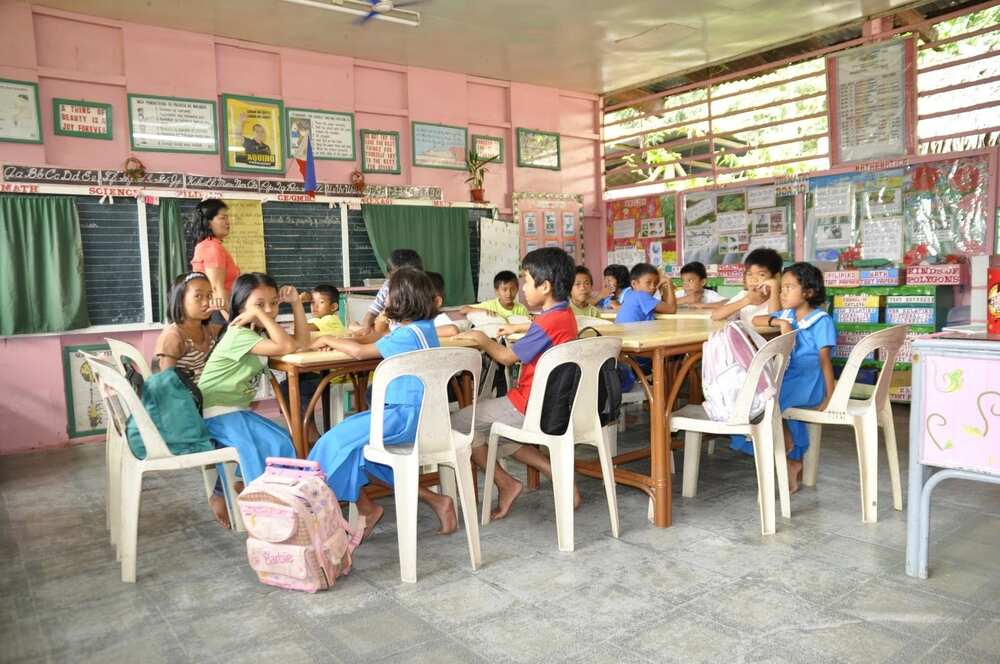 KAMI learned that both groups have been calling on the Department of Education (DepEd) to abolish other 'clerical' tasks given to teachers that the groups think are hampering their passion to be good at what they do.
TDC said "Please liberate our teachers from clerical tasks and burden of lesson preparation," the group appealed."
The group also argued that the lesson preparation's abolition and of other clerical tasks will enable teachers to better their work's quality output and most of all, their mental health and well-being.
"We will ensure their efficient and effective teaching, we could guarantee their physical and mental health and most of all, they will face everyday teaching full of enthusiasm and passion."
On the same note, ACT has come out to speak out against the decades-long "implementation of policies that demand greater effort and non-implementation of those that secure ample rest have wrung the labor power out of our mentors' beings."
The group stated that government teachers have been subjected to "more and more burdensome [workload] over the years."
According to TDC, DepEd Sec. Leonor Briones should implement a more "simplified lesson log," instead of more detailed lesson plans that they think are making teachers unproductive.
"We stand by the fact that the more detailed the lesson plan is, the more the teachers become unproductive because they have to spend an overnight just to comply with the requirements of a 'good' lesson plan." They added that teachers are "exhausted during the most important part of teaching- classroom instruction."
They deem fit that "only lesson preparation is directly related to classroom teaching" but it does not mean "that teachers should be burdened with lesson preparation."
On the other hand, ACT is also calling on Briones to revisit the education department's policies due to the group's citation of several reasons "why teachers are overworked."
ACT reasoned that due to DepEd's abolition of the many other non-teaching and education support jobs, the other bulk of workload are passed to the teachers. Thus, "our teachers are forced to wear a variety of hats in school—registrar, clerk, librarian, nurse, guidance coordinator, custodian, security guard, and janitor."
"These difficult conditions take a toll on our teachers. It is high time that the government recognizes that teachers are human beings that are entitled to basic labor rights." ACT also added.
"The need to be liberated from such oppressive policies and inhumane working conditions is urgent and imperative," according to them.
In a report by Manila Bulletin, the two teachers groups marked mention the downsides to the policies being strictly followed by teachers. "With two recent suicide cases attributed to extremely tiring workloads, the DepEd must, once and for all, review its policies on teachers' working condition." TDC said in an interview.
The group also noted that last year, one teacher from Bicol committed suicide, who "reportedly hanged self after a series of complaints regarding lesson plans." In addition to what happened, July this year, another educator from Leyte died from suicide as well.
"The reason, according to her close friends is the burden she had to endure every day." TDC also noted that this teacher of many grades in a barrio, who was newly-hired, needed "to prepare at least 24 lesson plans daily to comply with the requirements of her work."
The two groups also noted that due to their worsening working conditions, they had no choice but to leave their profession behind and find another career path elsewhere, mostly abroad.
"While some would argue that they have their own circumstances, there is no denying that, in one way or another, their working conditions have something to do with their untimely deaths." ATC said in the same report.
Lastly, the groups also lament the meager compensation being received by public school teachers, which are way below their Asian counterparts, such as that of in Singapore, Thailand, Japan, China, and Korea. "Sufficient budget should be allotted to address the shortages in the education system."
The groups call on the Congress to also give premium on the budget allotment for the education sector this coming 2019 National Budget."Most importantly, teachers should be justly compensated for their work's worth." ACT announced.
This episode is dedicated to a very important issue – the safety of our children. Filipino Kidnapping Social Experiment: Are Your Children Safe? | HumanMeter on KAMI youtube channel!
Source: Kami.com.ph